Dena Galyean sizzles as preacher's daughter Elaine in 'Arsenic & Old Lace'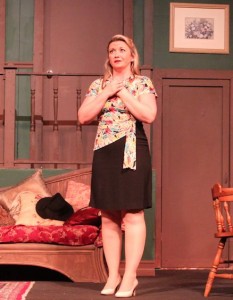 On stage now in the Hinman Auditorium is the CFABS Community Players' production of Joseph Kesselring's classic comedy noir Arsenic & Old Lace. Playing the role of Mortimer Brewster's girlfriend/fiancée, Elaine, is Dena Galyean.
Galyean's character is a preacher's daughter and she veritably brims with repressed sexual energy and tension. Not only is Mortimer Brewster tall, dark and handsome, he offers her the life of theater, notoriety and fine dining that she craves. Although hers is but a supporting role, Galyean does a lot with the part, morphing from sweet to sassy to sexy to surly and back as her boyfriend inexplicably goes from bended knee to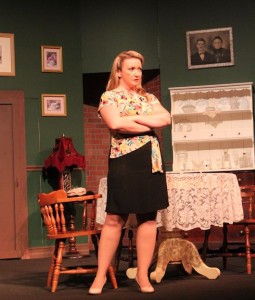 inattentive to cold to determined to get rid of her before she discovers that his innocent-looking spinster aunts are actually disassociated serial killers.
Dena has been incredibly busy in just the past nine months. Last summer, she starred as Louise in Lab Theater's summer stock production of Steve Martin's The Underpants. She followed that performance with her memorable portrayal of Vixen, the indignant, conflicted and quietly resigned victim of Santa's sexual harassment and assault in Lab Theater's Christmas hit, The Eight: Reindeer Monologues. In between, she has been an understudy on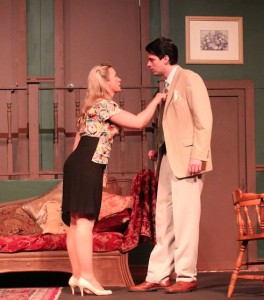 the Seminole Gulf Railway Murder Mystery Train and completed her reign as Matlacha's Mermaid Queen. Other credits include Jane Tate in It Runs in the Family (at Stray Dog Theater in Tinley Park, Illinois), Eleanor in The Middle Ages (at Moraine Valley in Palos Hills, Illinois) and a slurry of other wonderful shows in her beloved home state of Illinois. Her work ethic has paid off as her portrayal of Elaine evinces a very discernible improvement in her theatrical craft, particularly in the areas of delivery, body language and subtle nonverbal cues, not to mention a refinement of her already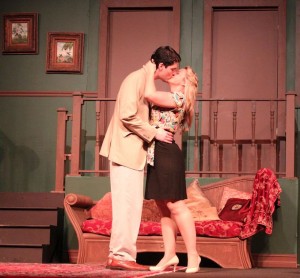 formidible skills when it comes to stage presence and command.
By way of example, it is easy to provide facial and physical affectations while swathed in the beam of the house lights, but Dena continues to act after she moves to the periphery and the audience's focus shifts to other characters as they take center stage. And in Arsenic & Old Lace, she has just as much chemistry with Mortimer's crazy aunts, Abby and Martha, and his maniacal brother Jonathan as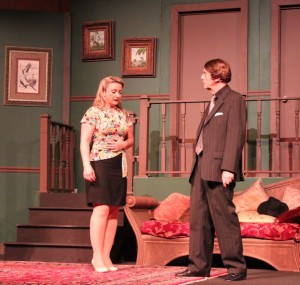 she does with her fiancé.
Arsenic is a story that has always been near and dear to Dena's heart, and it shows in her sexually-charged portrayal of Elaine Harper. But don't take this reviewer's word for it. See Arsenic & Old Lace for yourself. But hurry. Only five performance remain, including tonight's show.
Published March 12, 2016.