'Nunsense 2' play dates, times and ticket information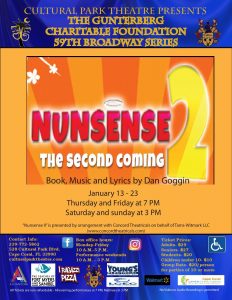 Play:  Nunsense 2: The Second Coming
Book, Music & Lyrics:  Dan Goggin
Genres:  Musical, Comedy
Synopsis:  Nunsense 2: The Second Coming takes place six weeks after the sisters have staged their first benefit. The sisters are back presenting a "thank-you" show for all the people who supported them in the past. But now, they're a bit slicker, having been "bitten by the theater bug." Things get to off to a rousing start as the sisters sing Nunsense, the Magic Word, but before long. chaos erupts. Two Franciscans come to claim Sister Mary Amnesia (who has won the Publishers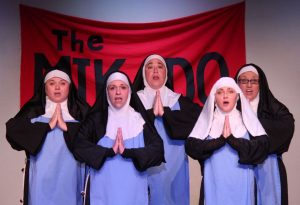 Clearing House Sweepstakes) as one of their own. At the same time the nuns hear that a talent scout is in the audience to see them strut their stuff.
Director: Tony Saracino
Cast:
Rev. Mother: Cassy Terwilliger
Sister Hubert:  Margie Bowman
Sister Robert Anne:  Cassie Sampson
Sister Mary Amnesia:  Aimie Naughton
Sister Mary Leo:  Katie Freeman
Play Dates and Times: January13-23, 2022; performances are Thursdays/Fridays at 7:00 p.m. and Saturdays/Sundays at 3:00 p.m.
Tickets:  $29 adults; $27 seniors; $20 students; and $10 children under 10.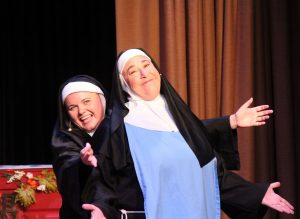 Please telephone the box office at 239-772-5862 between 10:00 a.m. and 5:00 p.m.
Location:  Cultural Park Theatre, 528 Cultural Park Boulevard, Cape Coral, FL 33990.
More Information: Please telephone 239-772-5852 or visit culturalparktheater.com
January 4, 2022.