'Nunsense' play dates, times and ticket information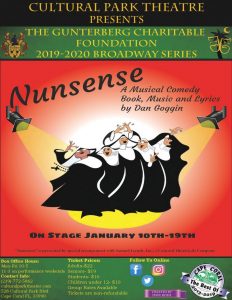 Play:  Nunsense the Musical
Playwright:  Dan Goggin
Synopsis: Nunsense is a hilarious spoof about the misadventures of five nuns trying to manage a fundraiser. Sadly, the rest of the sisterhood died from botulism after eating vichyssoise prepared by Sister Julia, Child of God. Thus, the remaining nuns – ballet-loving Sister Leo, street-wise Sister Robert Anne, befuddled Sister Mary Amnesia, the Mother Superior Sister Regina, and mistress of the novices Sister Mary Hubert – stage a talent show in order to raise the money to bury their dearly departed. This show will make you laugh till you cry with pure enjoyment.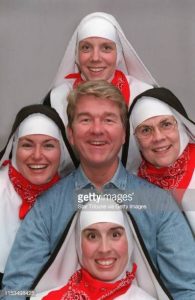 Director: TBA
Cast:
Mother Superior Mary Regina:  TBA
Sister Mary Hubert: TBA
Sister Robert Anne:  TBA
Sister Mary Leo:  TBA
Sister Mary Amnesia:  TBA
Play Dates: January 10-19, 2020
Tickets: Adults $22; Seniors $19; Students $16; and children under 12 $10. To reserve your seats, please telephone 239-772-5862 or visit http://www.culturalparktheater.com.
Place:  Cultural Park Theatre, 528 Cultural Park Blvd, Cape Coral, FL 33990.
December 22, 2019