'Same Time, Next Year' play dates, times and ticket info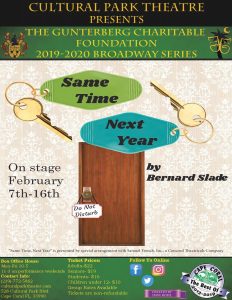 Play: Same Time, Next Year
Playwright: Bernard Slade
Synopsis: In 1951, at a small California inn, George (a married New Jersey accountant) and Doris (a housewife) have an affair. Instead of writing it off as a one-night stand, the pair decide to meet at the inn every year for a romantic retreat, away from their respective spouses and families. In the decades that follow, both George and Doris face their own personal struggles and hardships, and together they develop a level of love and intimacy that exceeds the ones found in their own marriages. Twenty-five years of manners and morals are hilariously and touchingly played out by the lovers against the backdrop of the changes in politics and lifestyles taking place in America over a quarter of a century.
Awards: One of the most popular romantic comedies of the century, Same Time, Next Year ran four years on Broadway, winning a Tony Award for lead actress Ellen Burstyn, who later recreated her role in the successful motion picture. It remains one of the world's most widely produced plays.
Director:
Cast:  Aricka Shuck plays Doris; Dave Rode plays George.
Play Dates and Times:  February 7, 8, 14 & 15 at 8:00 p.m. with 3:00 p.m. matinees on Sunday February 9 & 16.
Tickets:  $22 adults, $19 seniors, $16 students and $10 children under 12. To reserve your seats, please call 239-772-5862 or visit the box office at 528 Cultural Park Blvd, Cape Coral, FL 33990.
February 1, 2020.