'Visit to a Small Planet' was first show Cultural Park ever produced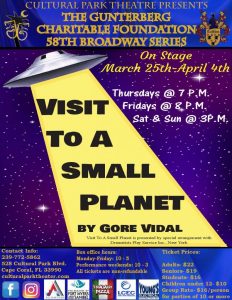 Cultural Park Theater opened in 1963 with Gore Vidal's Visit to a Small Planet. It's bringing the show back March 25 through April 4 to help celebrate its 58th anniversary of bringing quality entertainment to Cape Coral and the Greater Fort Myers metropolitan area.
Vidal, of course, is best known for the 1960 political satire The Best Man. But three years earlier, he also penned Visit to a Small Planet. It actually debuted as a television production before being adapted by Vidal for the stage. In it, an alien by the name of Kreton comes to Earth from another dimension to observe human warfare, specifically at the Battle of Bull Run. Finding that he has arrived in 1957 rather than 1861, he decides to trick the Earthling into a new war for his amusement and edification.
The civilization from whence Kreton hails is highly advanced. They've cured all diseases, including aging. Since people no longer die, they've given up having babies and, along with that, passion as well. "We gave it up," Kreton remarks. "Sometimes I think we were a bit hasty."
Among his many powers is the ability to read both human and animal minds, levitate objects, surround himself and his spaceship with an impenetrable force field, and bend people to his will, including his hosts, a television newscaster and his wife, their daughter and her farmhand boyfriend, an Army general and an above-average Siamese cat. Since he has missed the Civil War, Kreton decides to start his own war and sees no reason why a few million people wouldn't be happy to die for his viewing pleasure. Can his hosts stop him or will humankind perish in a nuclear holocaust?
Performances are Thursdays at 7:00 p.m., Fridays at 8:00 p.m. and Saturday and Sunday at 3:00. Tickets are $22 for adults, $19 for seniors and $16 for students, and may be reserved by calling 239-772-5862 or visiting culturalparktheater.com.
March 2, 2021.