Tim Miller in town to workshop with FGCU theatre students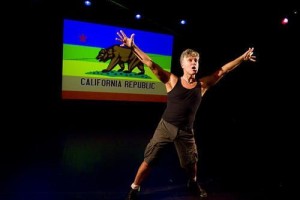 Tim Miller is an internationally acclaimed performance artist whose creative work over more than 35 years explores the artistic, spiritual and political topography of his identity as a gay man. He is in town for nine days as an artist in residence to workshop with students enrolled in the Devising Performance class (TPP 3293) that is offered by the Theatre Program in the Bower School of Music &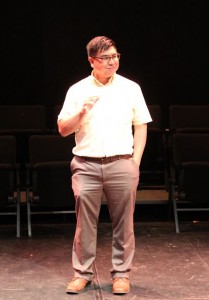 the Arts at Florida Gulf Coast University.
Although many know Miller through his own solo performance pieces, new generations of performance artists are getting to meet Tim up close and personal through artist residency workshops that he has conducted at more than 500 colleges and universities in 46 states and abroad. Since the beginning of this year, Miller has worked with students at the University of North Carolina School of the Arts-Winston-Salem, Vanderbilt University and the University of Minnesota Minneapolis. After leaving FGCU, he heads to Bowling Green State University in Kentucky and Ohio Wesleyan University before going to Paisley Arts Centre in Scotland.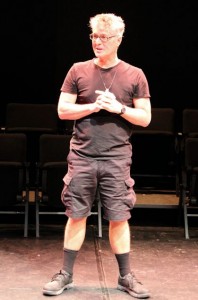 "I'm here to engage the students at Florida Gulf Coast University," Miller explained at the welcome reception that FGCU threw in his honor on March 30. His workshop includes 16 theater students from Assistant Theatre Professor Dan Becalzo's Devised Performance class. "Over the course of my 9-day stay, we will develop an original devised performance piece that comes out of the heat of things these students are thinking about, passionate about, troubled by, excited by, turned on by, and freaked out about – which is what all creative impulses lead from."
Southwest Florida theater-goers need look no farther than to the Rauschenberg Project Play produced in 2016 by Lab Theater for an example of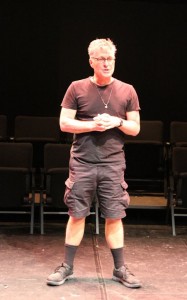 a quasi devised performance piece. In that instance, the "workshop" was comprised by more than 150 Southwest Florida LGBTQ youths and young adults aged 12-24. By virtue of a grant provided by the Robert Rauschenberg and Southwest Florida Community Foundations, Lab Theatre Producing Artistic Director Annette Trossbach and a team of interviewers met with and collected the participants' personal stories at area high school and college GSAs. Their typed interviews were then provided to a team of playwrights, who turned them into a tightly woven ensemble piece that was performed by Juan Alejandro, Cantrella Canady, Rosie DeLeon, Isaac Espinoza, Joel Hawkins, Sage Meyers, Luke Nelson, Kendra Weaver, Dave Matthew Chesebro and Ben Lamoureux. In all, 186 LGBTQ youth and young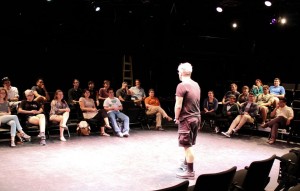 adults participated in the project, which gave those who attended the performance piece a bird's eye view of what it is like to be young and gay, lesbian, bisexual or transgender right here in Southwest Florida. On whole, it was a candid, frank and sobering snapshot that proved to be transformative for both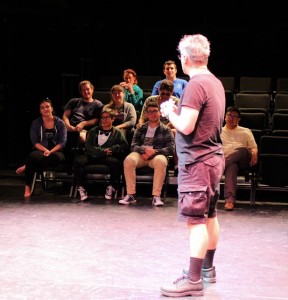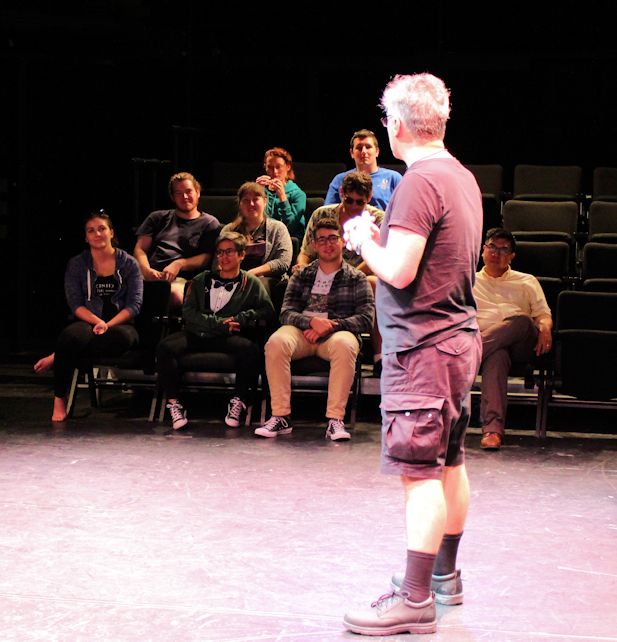 participants and spectators alike.
While there was some overlap between interviewees, playwrights and performers in the Rauschenberg Project Play, devised performance pieces are typically crafted and performed by a smaller, more cohesive group like the 16 students involved in the artist-in-residency workshop.
Here's how it works.
Early on, Miller functions as a facilitator, helping students identify and articulate the issues, challenges,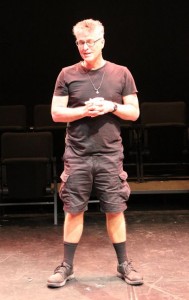 hopes and desires they want to share with each other and the community at large. "At a certain point, they'll make a decision about what they want to bring forward – the urgent values they need to express, the stories they need to tell. Then we'll shape them into the individual and ensemble pieces they will perform here at Florida Gulf Coast University over the course of three days."
The participants will certainly codify their discussions in a script, but Miller's workshops are not scriptwriting sessions. "It starts improvisationally before it's focused down to the material they create," amplifies Miller. "Devised performance pieces are more ensemble in nature – work that's informed, challenged and deepened by the presence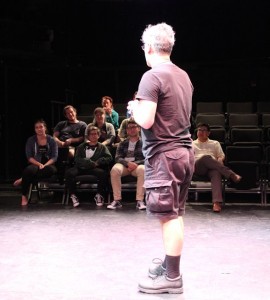 of the others in the room. Some playwrights spend time with performers, but usually they create alone at their computers. By contrast, devised pieces are more interactive, which changes the nature of what's performed and written out of the work they do with each other. Tomorrow night, for example, they'll all be sprawled on the floor with giant pieces of paper, drafting and creating a storyboard."
The highly-interactive process places a premium on openness, honesty and trust – in Miller, each other, and the process of devising a performance piece that will be performed for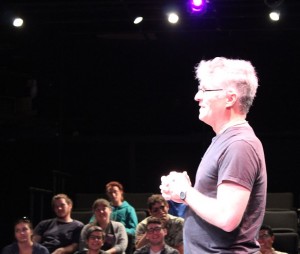 audiences consisting of family, friends, students, faculty, administrators and the local theater-going community. While no subject is off limits, FGCU has a policy that bans nudity in any form.
Early on, Tim tries not to single out individual students. That said, several distinguished themselves at his very first meeting with the group. One student came dressed as the character Ilse from Frozen.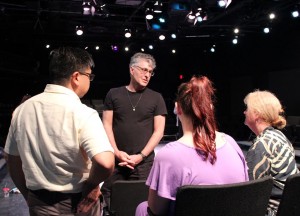 "It was beautifully sassy, funny and fun and made the room lively in an interesting way," Miller remarked. "When we went around the circle and talked about things that were really important to each of them, another (Ghostbird Theatre Group playwright and actress Hanny Zuniga) spoke passionately about an incident that is driving her crazy and fills her with terror. A friend's father was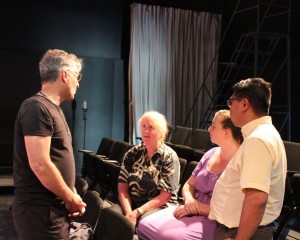 literally grabbed from his house and deported a week ago. That rang out. Her voice was shaking. Moments when someone's voice shakes are big, and she let her voice tremble when she said that she wanted to enrage audiences to make them wake up to what we're doing right now and what's happening."
While the nature and scope of the performance piece is yet to be worked out, it's clear that the content will be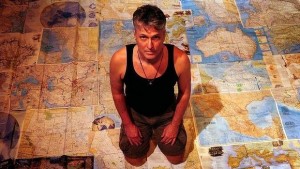 deeply personal.
"It will explore the centrality of gender because, after all, when you're 18 to 22, those cylinders are cooking in a very particular way," Miller predicted. "You're still trying to figure out who you are and what you want your life to be about."
Miller also told WGCU's Julie Glenn on Gulf Coast Live that climate change is a topic that has been coming up a lot.
"Of course, sea level rise is part of the reality in Southwest Florida in spite of a complete absence of leadership in Washington to do anything about climate change before it destroys most of coastal America as well as the rest of the world," said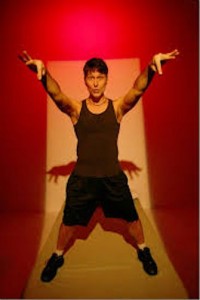 Miller on the program. "After Katrina [and Super Storm Sandy], climate change is coming more and more frequently into the work young artists and performers are creating. Students of color are also concerned about the overt racism that's creeping into our discourse that is encouraged in the highest levels of our government."
The three student-based performances take place at 7:30 p.m. on Friday and Saturday, April 7 and 8, and 2:00 p.m. on Sunday, April 9.
"People who come to these performances are going to learn first-hand what this particular group of students is concerned about and challenged by and excited about – and how they externalize it and bring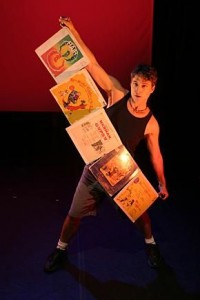 it out for the audience. It will be engaging and intense and anyone who comes is going to come away with a real sense of what it's like to be a young person living now in this political and socio-economic climate. You know [while older audience members] have been through a number of socio-political changes, for 18 to 22 year olds, this is the first time they've felt the country shift wildly to the right in sort of a capricious, destabilizing way."
While each group of students is unquestionably unique, Miller believes that the 16 students with whom he is working at Florida Gulf Coast University are nonetheless representative of 18 to 22-year-olds across the country.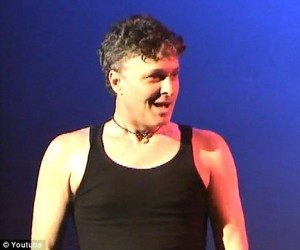 "As a group, 18-22 year-olds are smart, committed, internet and Social Media savvy way beyond what you or I can ever hope to be, and they're concerned about their future and the possibility that they're going to see large and dramatic changes," says Miller, who has had the benefit of interacting with the thousands of Millennials who've taken his devised performance workshops. "As a group, they are hopeful and more in touch with their feelings.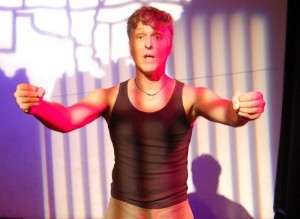 While the rap on Millennials has long been that they're self-involved and apathetic, they've become more engaged and more concerned over the past two years about the world in which they live and want to live in going forward. They have a big generational challenge and it's going to take a long time to undo the damage that is likely to occur over the next four of years."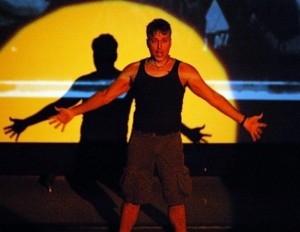 In Miller's estimation, the performance piece the students are going to perform represents an incredible opportunity to spend some time in the mind and hearts of our rising performance artists.
"It's a rare opportunity to see where young people are living and how they occupy this moment in time."
April 3, 2017.
RELATED POSTS.