'Footloose' play dates, times and ticket information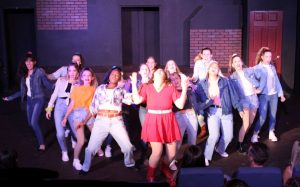 Play:  Footloose
Book: Dean Pitchford, Walter Bobbie
Synopsis: Moving in from Chicago, newcomer Ren McCormack (Theo Ross0) is in shock when he discovers the small Midwestern town he now calls home has made dancing and rock music illegal. As he struggles to fit in, Ren faces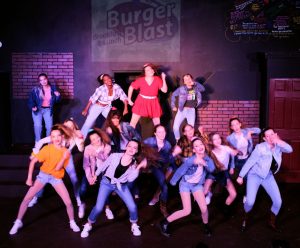 an uphill battle to change things. With the help of his new friend, Willard Hewitt (Ben Herrera), and defiant teen Ariel Moore (Nayda Baez), he might loosen up this conservative town. But Ariel's influential father, Reverend Shaw Moore (Parrish Danesh), stands in the way.
Music: Tom Snow, Jim Steinman
Lyrics: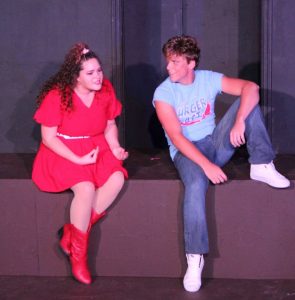 Dean Pitchford
Songs:
Act I
Footloose – Ren and the Company
On Any Sunday – Rev. Shaw Moore and the Company
The Girl Gets Around – Chuck, Ariel, Travis, and Lyle
I Can't Stand Still – Ren
Somebody's Eyes – Rusty, Urleen, Wendy Jo, and the Company
Learning to be Silent – Vi and Ethel
Holding Out for a Hero – Ariel, Rusty, Wendy Jo, and Urleen
Heaven Help Me – Shaw
I'm Free/Heaven Help Me – Ren, Shaw, and the Company
Act II
Let's Make Believe We're In Love – Irene and her Country Kickers, *Ren, *Ariel, *Rusty,
Cowboy Bob, & Willard
Let's Hear It For the Boy – Rusty and the *Company
Can You Find It In Your Heart – Vi
Mama Says (You Can't Back Down) – Willard, Bickle, Garvin, Jeter, and Ren
Almost Paradise – Ren and Ariel
Dancing Is Not A Crime – Ren, Willard, Bickle, Garvin, and Jeter
I Confess – Shaw
Can You Find It In Your Heart (Reprise) – Shaw
Footloose (Finale) – The Company
Director: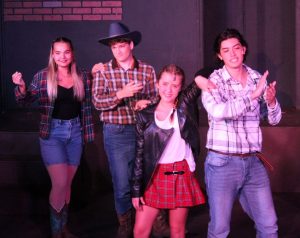 Robin Dawn Lynn
Choreographer:  Robin Dawn Lynn
Assistant Choreographer: Jordan Hahn
Cast:
TEENS
Ren – Theo Rosso (understudy Lucas C)
Ariel – Nayda Baez (understudy Sherry N)
Rusty – Emma Kane (understudy Zaria B)
Willard – Ben Herrera (understudy Andrew M)
Urleen – Zaria Brown
Wendy Jo – Sherry Niekamp
Chuck – Lucas Campero
Bickle – William Urban
Jeter – Andrew Muench
Gavin – Colin Smith
Travis – Brian Dworkin
Cowboy Bob – Aaron Martin
Cowboy Chet – Andrew Muench
Dani – Rebecca Porter
Lindsay – Emily Kidd
Stevie – Will Wright
Marty – Mackenzie Thomas
Cowgirl Jude – Camilla Motley
ADULTS
Reverend Shaw – Parrish Danesh
Vi Shaw – Jessica Long
Ethel – Lisa Clark
Principal Clark – Kristen Wilson
Coach Dunbar – Chris Wilson
Betty – Jennifer Porter (understudy Sherry N)
Eleanor – Kristen Wilson
Cop – Aaron Martin
Wes – Aaron Martin
Lulu – Marissa Wells (understudy Jennifer P)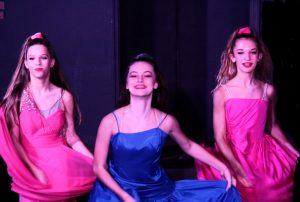 ENSEMBLE
Camilla Motley | Rebecca Porter | Kate Wilson | Nora Drake | Emily Kidd  | Mackenzie Thomas | Zoey Domingo | Ella Godfrey | Lyla Walker | Emily Feichthaler |Nikita Danesh | Andrew Muench | William Urban | Will Wright | Brian Dworkin | Colin Smith | Lucas Campero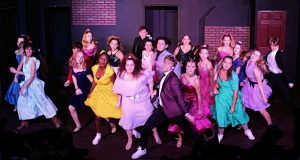 Play Dates and Times:
September 3rd 7:00 p.m.
September 4th 7:00 p.m.
September 5th 7:00 p.m.
September 10th 7:00 p.m.
September 11th 7:00 p.m.
September 12th 2:00 p.m.
September 17th 7:00 p.m.
September 18th 7:00 p.m.
September 19th 2:00 & 6:00 p.m.
Tickets:  Please call 239-323-6570 or visit https://www.ticketor.com/ctw/upcomingevents?PageId=138301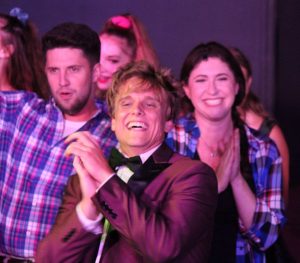 Location:  Fort Myers Theatre, 16120 San Carlos Blvd #5, Fort Myers, FL
COVID Mandate/Protocol:  Fort Myers Theatre does not require its cast and crew to be vaccinated, nor does it require them to produce negative COVID tests prior to or during the course of a show's run. The audience is not required to wear masks during performances. Please call the theater for a full explanation of their COVID precautions and protocols before deciding to attend a performance.
September 2, 2021.