Chance Cintron sounds off on Miles, acting and his time at FSW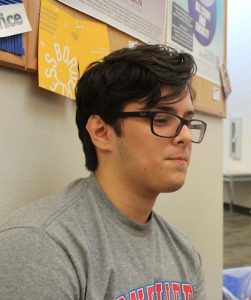 The Florida Southwestern State College Theatre Program is producing Qui Nguyen's fantasy romp, She Kills Monsters, this spring. I had a chance to catch up with FSW Theatre student Chance Cintron, who plays the role of Miles.
If you're not familiar with the storyline, She Kills Monsters tells the story of Agnes Evans, a young woman who is grieving for her deceased sister, Tilly. The two girls weren't particularly close, and there's much that Agnes doesn't know and never knew about her sister. Like the fact that Tilly loved to play Dungeons and Dragons. In fact, she was so good at the game that she was something of an online gaming ingénue. Agnes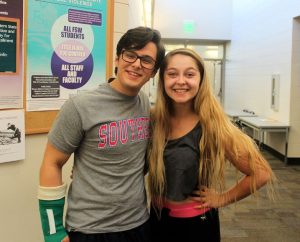 also discovers a notebook her sister left behind that contains a game scenario or "module" she created. In order to unlock her mysterious young sibling's many secrets, Agnes recruits a "dungeon master" named Chuck to help her understand Tilly and grieve her passing.
Miles is Agnes' boyfriend. And he's not thrilled with Agnes' sudden interest in D&D. In fact, he suspects she's having some kind of illicit affair with the dungeon master who's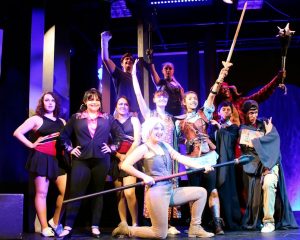 helping her negotiate the module Tilly created.
"He's lazy, not very ambitious, a complainer, the kind of guy who'd rather whine about a situation than do something positive or pro-active to rectify or deal with it," Cintron explains. But when asked to dig deeper into his character's personality, Chance modifies his opinion somewhat.
"He's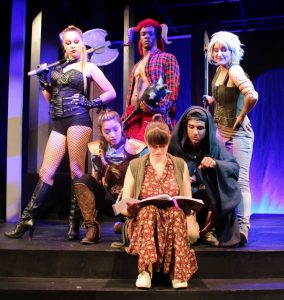 resistant to change," Cintron announces after a moment's reflection. Miles is a creature of habit. "He doesn't have much tolerance for anything that threatens to change his routine. So when [his girlfriend] Agnes finds [Tilly's] journal and wants to play the game scenario [that Tilly created] to get a better understanding of what was going through [Tilly's] head, he's not very receptive to it or to Agnes. He's just not willing to step out of his comfort zone, not even temporarily."
Of course, Cintron readily admits that delving like this into his character's psyche falls well outside of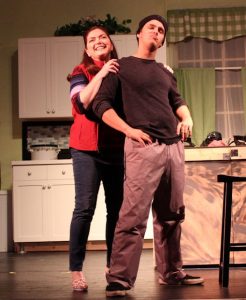 the four corners of the script. Rather, it falls under the heading of creating a backstory for the character to make his lines and scenes more logical, reasonable and, in a word, believable.
"Whatever the reason or explanation, Miles just doesn't want to inconvenience himself, even for his girlfriend," Chance adds. There are lots of people in the world who, like Miles, are basically selfish and self-absorbed. And when he is inconvenienced or taken out of his daily routine, he grows impatient and upset.
Cintron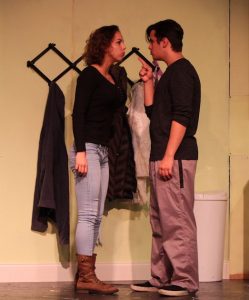 characterizes himself as a guy who's always on the go. But in order to identify more closely with his character, he forced himself to stay at home, sit on the couch and veg out watching TV for several days. He didn't care for that very much, but one area in which he was able to connect with Miles is through their mutual enthrallment with Dungeons and Dragons.
"By the end of the story, Miles really gets hooked and likes playing the game and going on adventures with Agnes," Chance observes. "I played [Dungeons and Dragons] myself when I was younger, and it was fun going back to that period in my life and reliving some of those carefree younger days."
A number of local theater-goers may recall Cintron from Theatre Conspiracy's season opener this past fall, Women in Jeopardy, which starred Stephanie Davis, Liz Abbott and Karen Goldberg. Chance turned in a stand-up performance as the galactically obtuse Trenner, a boy who spends alternate weekends frequenting cannabis social clubs in neighboring Nevada and Colorado. But the role was by no means Cintron's first. Even though Cintron is only a freshman at FSW, he's already appeared in more theater productions than he can count on both hands – dating back to 4th grade.
"Everyone has a passion, and acting is definitely mine," declares Cintron, who is attracted to the art because of the unparalleled opportunity it gives him to walk in the proverbial shoes and thereby come to understand people from many different walks of life and backgrounds. But it's not just the fictional characters he plays that augment his own psycho-social development. Cintron finds that there's just as much to learn from the people with whom he gets to work, whether in the guise of directors, cast mates, stage hands or instructors.
Toward that end, Cintron hopes to make acting his career path. "But even if I end up in some other profession or line of work, I'll always do acting, even if only a hobby." He's ready and willing to do whatever may be necessary to make that happen, even if it includes performing on cruise ships, national tours or, perhaps (like many other area actors), the local murder mystery train. "It's something I definitely want and need in my life."
More education and a degree in theater is also a definite possibility for the aspiring thespian, who lists among his dream roles Clyde from Bonnie and Clyde and, interestingly, Seaweed in Hairspray.
But for now, he's enjoying his time at FSW and making the most of the chance to work with Theatre Professor Stuart Brown, who he describes as incredible. "If this were a four-year program, I'd stay right here."