Douglas Winings' 'Toast on 10'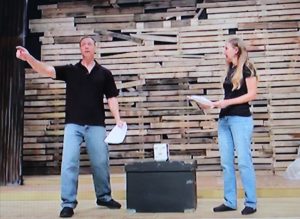 Douglas Winings was one of four writers who participated in Lab Theater's 24-Hour project which for a second consecutive year challenged screenwriters rather than playwrights to pen a script overnight in just eleven short hours between 8:00 p.m. on Friday night and 7:00 a.m. the following morning.  Titled Toast on 10, Wining's screenplay was an endearing homage to anyone trapped by guilt and regret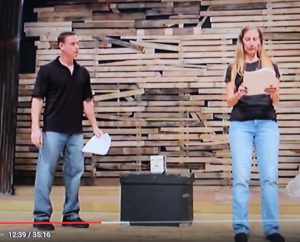 attending the loss of a beloved pet.
In this instance, a woman named Charlene has been on a mission to find her counterpart in another universe, intent on delivering a warning that he absolutely, positively needs to pet his dog Taffy before he goes to work on the day that Taffy dies. Charlie (actually the 50th Charley she's visited, not only doesn't believe that Charlene is his female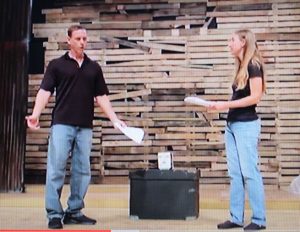 counterpart from another universe (can you blame him?), he doesn't even have a dog and if he ever did would never name it Taffy. Sure, Charlene wants to spare Charlie the grief, guilt and regret that she's been carrying with her since the loss of her own dog (presumably named Taffy). But if she can get Charlie – the right Charlie – to pet Taffy before leaving for work on the day she dies, then she can finally be free of her own guilt and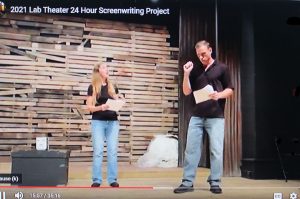 regret.
It's a salient theme in the context of a farfetched sci-fi film, but hundreds of thousands of pet owners struggle with guilt and remorse following the loss of a pet. Many are conflicted about euthanizing their pet in the mid to latter stages of an end-of-life illness or because they lack the funds for expensive treatment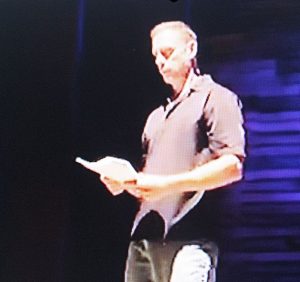 following an injury. Others regret not providing a better quality of life for their pet or spending enough time with them. In this case, Charlene blames herself for missing or ignoring warning signs that seem all to obvious through the application of hindsight.
Volumes have been written to guide those struggling with the loss of a pet to forgive themselves for whatever has given rise to the guilt and remorse they are experiencing. (For example, there's Marianne Soucy's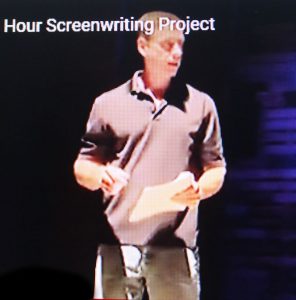 From Grief to Gratitude After Pet Loss.) But it takes a Doug Winings to present time and multiverse travel as a viable option ("like Buddhism on acid"). Doug recently completed a bachelor's degree in anthropology from FGCU.  A class in folklore in that program generated his interest in the stories presented on stage and in the art of the storytellers who create them.
Emarie Wakefield Spiller directed actors Stacy Stauffer and Jesse Stauffer in the film.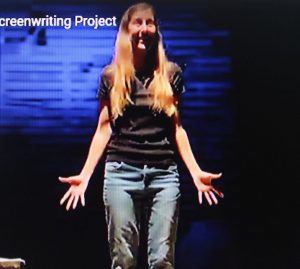 Spiller is an emerging young talent. Her acting credits include God in Bible HerStory for the Alliance Youth Theatre, The Crucible, the captain (#25) of the Wolves indoor soccer team in the summer intern production of Sarah DeLappe's The Wolves, and Cheryl in Lab's production of Evil Dead: The Musical last summer. She was seen most recently as a 16-year-old runaway in Aricka Shuck's offering in the 8th Annual Lab Theater 24-Hour Playwriting Project, A Night in Shangri-Ooh-La-La, which won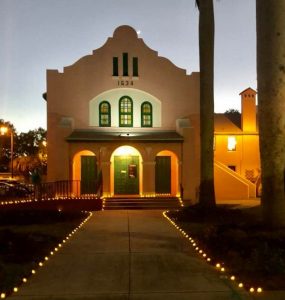 both the Critic's Choice and Audience Favorite awards.
Both Stacy and Jesse Stauffer took time off from their other productions to perform in the film. Stacy is one of ten female actors in the talented cast assembled by Director Rachael Endrizzi and the Alliance for the Arts for Men on Boats. Stauffer is a talented character actor who lives and performs in Fort Myers. Her credits include Sarah Goodwin in New Phoenix Theatre's production of Time Stands Still, Sheila in Joe Simonelli's The Ghost in the Meadow (Cultural Park Theatre),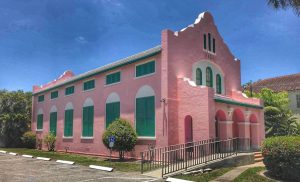 Lab Theater's world premiere production of Zalman Velvel's DMV (various roles, including the mayor) and Bessie in Marvin's Room.
Jesse is on stage now through October 24 at New Phoenix Theatre in the ensemble of Young Frankenstein. Previously, he played the part of the dentist, Mr. Dussel, in The Diary of Anne Frank for Fort Myers Theatre.
There's still time to view and vote for Toast on 10:  https://bit.ly/Vote24HRSWP.
And remember, we are all on toaster time.
October 13, 2021.