Art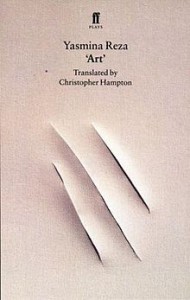 In February, Lab Theater will present Art by Yasmina Reza, as translated by Christopher Hampton. This comedy tells the story of three friends by the names of Serge, Marc and Yvan who find their previously solid 15-year friendship on shaky ground when Serge buys an expensive painting, an abstract that has a few white lines painted across a white canvas. The play focuses on the meaning of art as well as the meaning of friendship, to both the man who bought the painting and the two friends who come to see it. The play won a Tony Award for Best Play in 1998 and an Olivier Award for Best Comedy in 1996. "A nonstop cross-fire of crackling language, serious issues of life and art expressed in outbursts that sound like Don Rickles with a degree from the Sorbonne," said Newsweek, "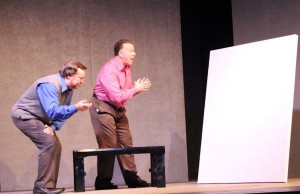 Reza is a fiendishly clever writer. 'ART' sounds like a marriage of Molière and Woody Allen."
The play will take center stage at 8 p.m. on February 5, 6, 11, 12, 13, 18, 19, 20, 25, 26 and 27, with 2 p.m. matinee performances on February 21 and 27. Tickets are available online www.LaboratoryTheaterFlorida.com or by calling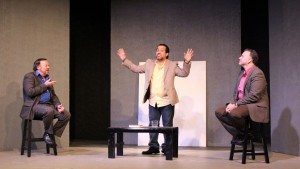 239.218.0481. Tickets are $12 for students and $25 for adults at the door. The theater also offers Thursday night discounts to seniors and military, at $18.50 per ticket online, in advance, or $20 at the door. Seating is limited.
There will also be an art auction fundraiser for the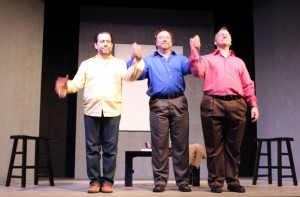 theater on February 20 from 5:30 to 7:30 p.m., followed by a performance of the play. Tickets for that event are also available through the website, starting at $50. Proceeds will defray the theater's operating expenses.
This page contains articles, profiles, news and reviews about the play, the actors who star in it, and director Annette Trossbach.
* * * * * * * * * * * * * * * * * * * * * * * * * * * * * * * * * * * * * * * * * * * * * *
List of artists donating work to Lab Theater 'Je t'aime Paris' fundraiser grows (02-17-16)
The list of artists contributing works to Lab Theater's February 20 Je t'aime Paris silent and live auction fundraiser is growing. Joining Marcus Jansen, Darryl Pottorf, Hollis Jeffcoat, Jonathan Kane and Myra Roberts are Tracy Owen Cullimore, Gordon Warren, Jane Geronime, Marilyn Hedung and Ikki Matsumoto. There will even be a piece by the late Robert Rauschenberg.
The festivities start at 5:30 p.m. at the theater, which will entice your own palette with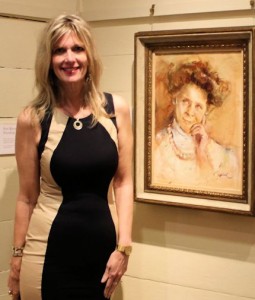 sumptuous French foods and wine. Afterward, stay for Lab Theater's production French playwright Yasmina Reza's Art, a witty comedy telling the story of a man who has found his perfect piece of artwork, though his friends reserve the right to their own opinions.
To purchase tickets to the fundraiser and the following performance of ART by Yasmina Reza, click HERE.
To purchase tickets to the fundraiser only, click HERE.
_______________________________________________________________________________________
Lab Theater to hold art auction fundraiser in conjunction with production of Yasmina Reza's 'Art' (02-16-16)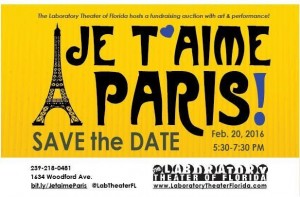 Art collectors search for the perfect piece of art, but when they finally find it, it's magnetic. The artwork pulls you in, starts a conversation, inspires a feeling, makes you wonder. And you keep coming back to it.
It's the thrill of the find.
Laboratory Theater of Florida is holding a
fundraiser where participants can sample sumptuous French foods, sip fine wines and happen upon their next treasured piece of art in Lab Theater's live and silent auctions. Among the artists who have contributed works for the event are Marcus Jansen, Darryl Pottorf, Hollis Jeffcoat, Jonathan Kane and Myra Roberts. It all starts at 5:30 p.m. and afterward, participants can stay for Lab Theater's production of Yasmina Reza's Art, a witty comedy telling the story of a man who has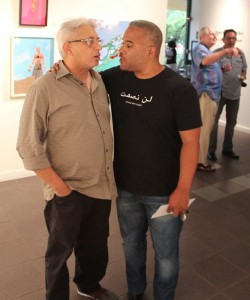 found his perfect piece of artwork much to the dismay and disapproval of his closest friends.
"Indulge yourself in the thrill of the find as you bid on fine art, celebrate Paris and take in a production of an award-winning play," entices Artistic Director Annette Trossbach.
To purchase tickets to the Je T'aime Paris fundraiser and the following performance of Art by Yasmina Reza, click HERE. To purchase tickets to the fundraiser only, please click HERE
________________________________________________________________________
Miguel Cintron wows audience with portrayal of mediating friend Yvan in Yasmina Reza's 'Art' (02-11-16)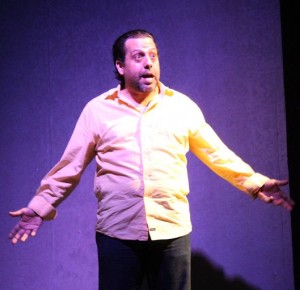 Art resumes at Lab Theater tonight, and audiences will delight in the performance of Miguel Cintron, who plays Yvan, who spends the entire play trying to mediate peace between his warring friends, Serge and Marc, and his family and soon-to-be-in-laws, who are battling over who's to be included and who gets top billing on the wedding invitations.
Part of the reason audiences love Art is that playwright Yasmina Reza has given each of her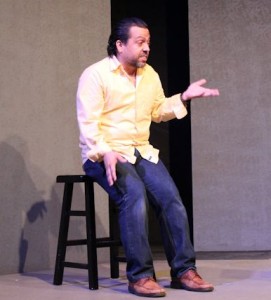 three characters equal opportunity to claim the spotlight with thundering monologues, heady soliloquys and outbursts of anger, frustration and befuddled exasperation. Cintron is so invested in his character that he steals the scenes that he shares with cast mates Scott Carpenter and Mitch Haley. Part of that is attributable to his character, who is the clown of the trio. But the rest is a function of his acting skills. He masticates his lines with the fervor of a steak connoisseur.
Miguel is thrilled to make his Lab Theater debut. Cintron is an actor and comedian who has performed at The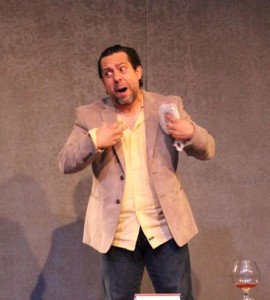 Herb Strauss Theatre, The Broadway Palm Dinner Theatre, Theatre Conspiracy, and the Florida Repertory Theatre. Some of his favorite shows are Into the Woods, Spamalot, Dirty Rotten Scoundrels, Lucky Stiff, Run for your Wife, Joseph and the Amazing Technicolor Dreamcoat, Aladdin, Buddy, My First Time, Shipwrecked, Shakespeare Abridged, Art of Murder, and The Fantastiks. Miguel has also worked as a standup comedian in Florida and New York.
Check Miguel's performance out for yourself. See above for remaining play dates, times and ticket information.
____________________________________________________________________________________
Mitch Haley plays the role of art critic Marc in Lab Theater's production of Yasmina Reza's 'Art' (02-10-16)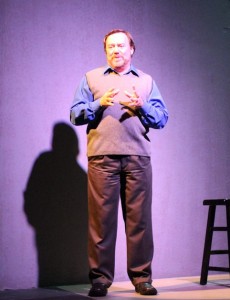 On stage at Laboratory Theater is a play by the name of Art. Written by French playwright Yasmina Reza, it explores the changing dynamics and power structure in a friendship shared by three men after one of them purchases an expensive painting by a popular artist from a trendy gallery in a town near you.
Prior to the painting's purchase, Serge and Yvan had accepted Marc as the smart one in the group, deferring to his opinion and judgment on most matters and all matters that mattered most. But now Serge has upset the status quo. While Marc professes to be concerned with his friend's economic well-being, it turns out that he is actually threatened by Serge's uncharacteristic exercise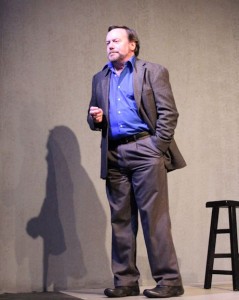 of independent thinking and he employs an arsenal of condescension, ridicule, denigration and mockery to attack and undermine not only his friend's choice of art, but his entire raison d'etre.
Haley acquits the role with distinction, alternately sneering and feigning indignation in his encounters with both Serge and their mutual friend Yvan. While some reviewers and theater critics have chastise playwright Yasmina Reza for failing to provide any reason why these three men would be or remain friends, Haley, Scott Carpenter and Miguel Cintron share a discernible on-stage chemistry. And Haley is the catalyst for all
the tension and conflict that takes place throughout the course of the play.
Haley is honored to once again take a place on the Lab Theater stage. Past performances with the company include Death of a Salesman, Five Kinds of Silence, Women Beware Women, and Talk Radio. A Fort Myers resident since 1982, Mitch has had the opportunity to perform with a number of area theater companies, including Theatre Conspiracy, Florida Repertory Theatre, The Pirate Playhouse, The Old Schoolhouse Theater and Cultural Park Theater in a wide variety of roles.
You can see Mitch Haley as Marc in Yasmina Reza's Art at the Laboratory Theater in the Downtown Fort Myers River District. Please see above for remaining play dates, times and ticket information.
____________________________________________________
Scott Carpenter is Serge, art connoisseur with a heart (02-09-16)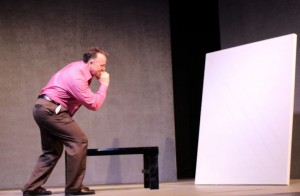 On stage now at Lab Theater is Yasmina Reza's Art starring Scott Carpenter as Serge, a middle-aged dermatologist who buys an expensive painting that has three white diagonal lines painted on a pure white canvas. Marc, his engineer friend, played by Mitch Haley, thinks his naive friend got talked into buying a worthless piece of shit by a slick gallery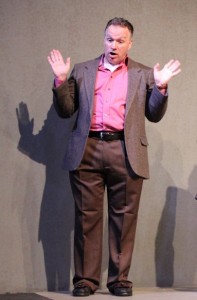 owner, and Yvan, played by Miguel Cintron, tries to mediate peace between his two friends and, for that matter, the warring factions of his family and soon-to-be-in-laws who are at war over whose names should be included on the invitations to Yvan's impending wedding.
Reza is known for writing actor-friendly roles, and the part of Serge is no exception. It is replete with acerbic one-liners, evocative monologues and sililoquays and emotional outbursts of anger and incredulity. Carpenter is up to the challenge, delivering his lines with razor-sharp precision and timing. But Carpenter also possesses the range and depth to be tender and poignant, as underscored by what he does in the play's denouement (which I won't give away).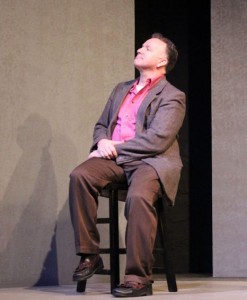 Carpenter has a B.A. in Theater from the William Paterson University and is a member of SAG/AFTA. He was seen most recently on the Lab Theater stage in Cabaret. Past roles include George in Who's Afraid of Virginial Woolf? and Roma in Glengarry Glen Ross. Scott has also directed numerous productions, including Same Time, Next Year, Jekyll & Hyde, the Musical, South Pacific, Mame, and Steel Magnolias.
You can see Scott as Serge in Art on the Lab Theater stage. Please see above for remaining play dates, times and ticket information.
_____________________________________________________________________
Don't tell Marc, but Serge's white painting could be worth $15 million today (02-06-16)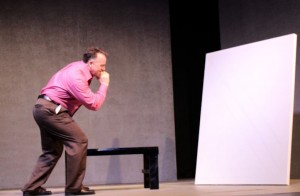 In Yasmina Reza's Art, a middle-aged dermatologist by the name of Serge (played by Scott Carpenter) buys an expensive painting by a fashionable artist from a tony gallery in a town near you. "It's a canvas about 5 feet by 4," says Serge's friend Marc, an engineer (played by Mitch Haley) at the beginning of the play. "If you screw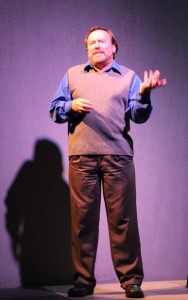 up your eyes, you can make out some fine white diagonal lines," Marc adds pejoratively in his opening monologue. He then tells his over-the-moon friend that he's a fool who has thrown his hard-earned money away on an unadulterated piece of shit.
Serge is affronted, contending that the painting connects with him, resonating on a visceral and intellectual plane. And if it does not speak to Marc, then he must be a flathead who is too obtuse to appreciate modern or abstract art.
While Reza is primarily using the artifice of the painting to explore how the purchase has changed the dynamics of their friendship, how much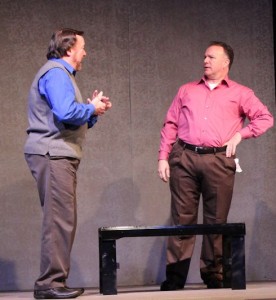 truth people can really tolerate in their personal relationships, and whether we can be friends with people whose views are fundamentally and diametrically opposed to our own, the play does act as something of an indictment of modern art and the people who purchase it.
Like Marc, most of us have a knee-jerk reaction to ridicule and denigrate anything we can't or don't understand. So Marc dismisses Serge's purchase. Weak minded, he was talked into buying the painting by a slick gallerist who convinced him that it was the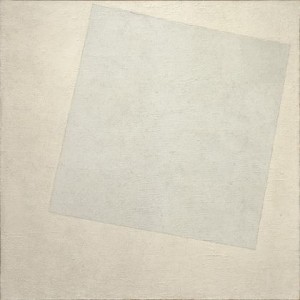 chic, smart, sophisticated thing to do. But regardless of his friend's motivations and explanations, to Marc's way of thinking, an all-white abstract or modernist painting is just not art and anyone who thinks differently is misinformed, misguided and just plain naive.
It would undoubtedly shock Marc to learn that this debate has actually been raging since 1918, when a painting titled Suprematist Composition: White on White (fourth photo, right) by Ukrainian painter Kazimir Malevich was exhibited in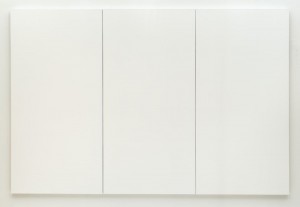 Moscow. Depicting an off-white square on a white background, Malevich contended that the painting expressed distilled feelings so intense that pictorial painting could not achieve them.
Some three decades later, the legendarily irreverent Robert Rauschenberg created five all white paintings (fifth photo, right), simply rolling white house paint onto smooth surfaces which he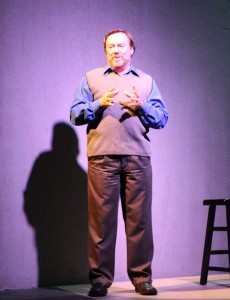 exhibited either alone or in modular groupings. The artworks resonated so much with composer John Cage, that he created a piece of music titled 4'33," which consisted of three movements of silence. In both Rauschenberg's White Paintings and Cage's 4'33", attention was drawn to elements of listening / viewing which lie outside the artist's control – for example, the sounds of the concert environment or the play of shadows and dust particles accumulating on the 'blank' canvas surfaces.
So much claptrap, as far as Marc would be concerned. He'd just be relieved that an artist like Rauschenberg was out of his friend's financial league.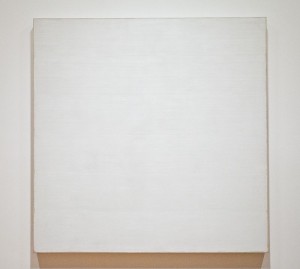 But it was not Rauschenberg who inspired the fictional piece by Antrios that lies at the heart of the debate between Serge and Marc in Art. Rather, Reza was thinking of a contemporary of Rauschenberg's by the name of Robert Ryman. The cult conceptualist began painting his own series of white paintings in the 1950s explaining, at the time, that "with white, you can see more of a nuance; you can see more." At the time Reza wrote Art in 1994, one of Ryman's white paintings could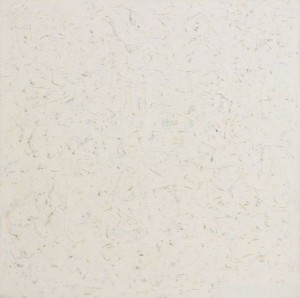 probably have been purchased for as little as $200,000 (or roughly 1,000,000 francs) back then. But had Serge purchased a Ryman back then, he would have had the last laugh on Marc because that painting would now be worth millions! No shit. In November of 2014, one of Ryman's white paintings (eighth photo, right) fetched $15 million at auction in New York (the collector who sold it paid $550,000 for the painting in 1988), and others have sold for between $5 and $9 million.
How is that possible?
Clearly, collectors are motivated by myriad factors when they decide to purchase blue chip paintings. Some buyers are well-heeled institutions, like Qatar Museum, which paid a private Swiss collector $300 million in early 2015 for Paul Gauguin's 1882 When will you marry? (which he painted during his first trip to Tahiti) and $274 million (adjusted for inflation) for Paul Cezanne's The Card Players (considered a Post-Impressionist masterpiece) or benefactors like Ronald Lauder, who purchased Gustav Klimt's Portrait of Adele Block-Bauer I for the Neue Galerie in New York for the then-record sum of $158.4 million (adjusted for inflation). Others are the super-rich (like hedge fund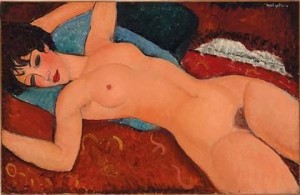 billionaire Steven Cohen, who paid $162.4 million for Willem de Kooning's Woman III and $158.5 million for Pablo Picasso's Le Reve) for investment and prestige. But often it is the auction market, dealers and gallery owners who drive the price of record-setting blue chip artworks like Amedeo Modigliani's Reclining Nude (sold at Christie's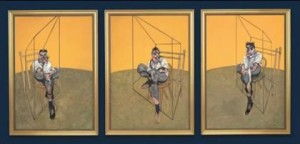 New York for $170.4 million), Francis Bacon's Three Studies of Lucian Freud (sold by Christie's New York for $145 million) or Edvard Munch's The Scream (sold by Sotheby's New York for $119.9 million).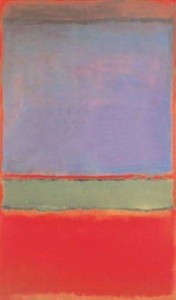 But perhaps Marc could reconcile these works because they are either representational or quasi-representational. No doubt, he would go out of his mind listening to Serge or even Yvan try to justify the $186 million that Russian billionaire Dmitry Ryboloviev paid for Mark Rothko's Violet, Green and Red or the $165.4 million paid by someone (Mexican lawyer David Martinez?) for Jackson Pollock's paint drip painting No. 5.
In the case of Ryman's white canvases, the prices recently paid for his works was set arbitrarily by Sotheby's without regard to the works' intrinsic or historical value.
"The most probable reason for the price [of the Rymans] lies outside the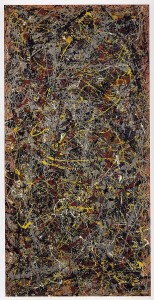 realm of art, even defined broadly as a symbiosis of painting and explanation," states art critic Leonard Bershidsky writing for Bloomberg Review. "Alexander Rotter, co-head of the contemporary art department at auction house Sotheby's, simply decided that Ryman needed a push. 'I thought there was really something to be done with the market, that's why it's been priced so high,' the New York Observer quoted him as saying of the untitled painting. 'The public needs a great piece to elevate the market and give it an indication of where it could go. The sky is the limit for this painting.'"
Perhaps Yasmina Reza will write a play one day exploring the controversy that erupts among a given set of children who inherit a painting that turns out to be worth mega-millions. Oh wait, that story's already been told. Written by Alexi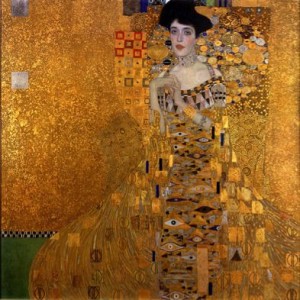 Kaye Campbell, directed by Simon Curtis, and starring Helen Mirren, Ryan Reynolds, Daniel Brühl, Katie Holmes, Tatiana Maslany, Max Irons, Charles Dance, Elizabeth McGovern, and Jonathan Pryce, the 2015 British film Woman in Gold tells the real-life story of the late Maria Altmann, an elderly Jewish refugee living in Cheviot Hills, Los Angeles, who, together with her young lawyer, Randy Schoenberg, fought the government of Austria for almost a decade to reclaim Gustav Klimt's iconic painting of her aunt, Portrait of Adele Bloch-Bauer I, which was stolen from her relatives in Vienna by the Nazis just prior to World War II.
________________________________________________________________________
Four reasons why Lab Theater audiences are going to love Yasmina Reza's 'Art' (02-05-16)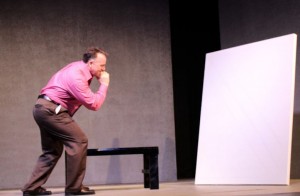 Yasmina Reza's Art opens tonight in the River District. Produced by Lab Theater and directed by Annette Trossbach, it stars Mitch Haley (Death of a Salesman, Five Kinds of Silence) as Marc, Scott Carpenter (Cabaret, The Altruists) as Serge, and Miguel Cintron (who is making his main stage debut at The Lab but known by his work on other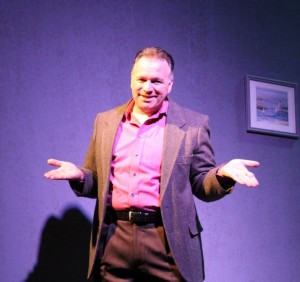 Fort Myers stages) as Yvan.
This play will appeal to audiences for four reasons.
First and foremost, the acting is powerful, yet delightfully nuanced. Reza's script provides each character with pithy dialogue replete with meticulously-crafted zingers and scene-sizzling angst, and Carpenter, Haley and Cintron give mesmerizing performances that tantalizingly vacillate between quietly delivered asides and raw, emotional outbursts.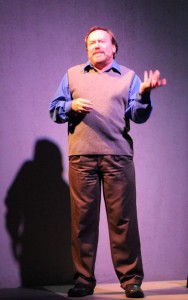 Secondly, Art playfully pokes fun at modern art and postulates that people buy it not because they understand it, not because they really connect with it, but more because it is a badge of their sophistication and indicia that they've made it in their chosen profession or occupation. It is precisely this type of pseudo-intellectualism or pretention that Reza has made a career of lampooning. The white-on-white painting could just have easily been an exotic car like a Lamborghini or McLaren, a little black multi-thousand-dollar Carolina Herrera or Dolce & Cabana cocktail dress or Rolex watch. All are markers of seeming sophistication and self-indulgent success. All carry the implied message that the owner is better in some or many ways than the rest of us poor slobs.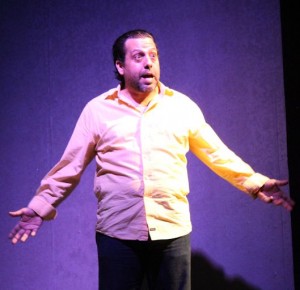 And the latter aspect proximately leads to the third reason audiences will enjoy this play. Although Serge expects his friends Marc and Yvan to validate his good taste and art-buying acumen, Marc and Yvan regard it as an affront, as a thinly-veiled declaration by Serge that he is now somehow better than his friends.
Look, lots of guys are competitive in their relationships with their buddies. Whether fueled by testosterone, narcissism or the insecurity-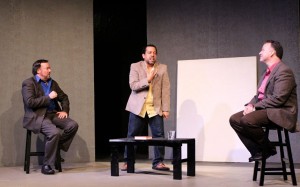 driven need for constant validation, many men strive to be and be seen as the alpha dog in their personal, business and other relationships. But what Reza is getting at in Art is how the dynamics of those relationships suddenly change when the power rankings of the participants suddenly shift because of a promotion, award or, in this case, the purchase of a marker of sophistication and success.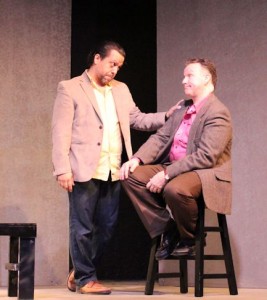 Since Art opened in 1994 at the Comédie des Champs-Elysées in Paris, audiences have reveled in the power struggle that ensues following Serge's purchase of the expensive 5 x 4' white-on-white Antrios painting. Translated from French to English by Christopher Hampton with considerable input from Reza, it then ran in London for eight years beginning in 1996 with a succession of all-star casts starting with Albert Finney, Tom Courtenay and Ken Stott. It enjoyed almost equal success in New York where it ran for 600 performances and picked up a Tony award for best new play. So it is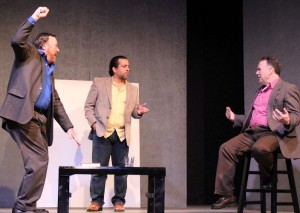 admittedly an exercise in chutzpah to question any aspect of the plays' characterization or dialogue but, frankly, American men don't act or talk the way that Serge, Marc and Yvan do. That may be a function culture. Remember, Reza is a woman raised on the periphery of French culture by a Russian-born Jewish engineer and a Jewish Hungarian violinist. Or it may be that the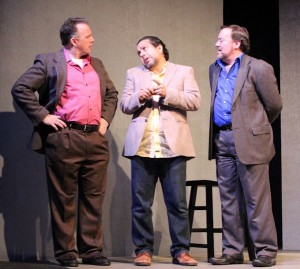 playwright has infused her male characters with decidedly female traits and sensibilities. I mean, really, three guys getting together to dine at an upscale restaurant before going to the movies together? Too girly. Reza or her American translator would have been better served to have them heading out to a steak place or sports bar for microbrews and wings before sitting courtside at a Knicks, Lakers or Heat game. At least that way there'd be an answer to the question raised by a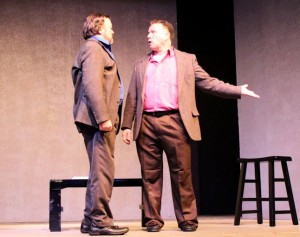 host of critics and reviewers about what in the hell drew and bound these three male friends together in the first place.
But this aside, the play also calls into question how much truth and honesty human beings can stand. "The play starts with Marc bluntly spitting out his views and ends with Serge telling a necessary lie in order to preserve their relationship," wrote Michael Billington for The Guardian in 2014. "Just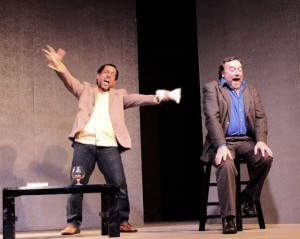 like Molière in The Misanthrope, though without the same virtuosity, Reza is examining whether private relationships and public affairs depend upon a certain skillful hypocrisy. 'Sincerity in society,' Somerset Maugham once wrote, 'is like an iron girder in a house of cards.' And Reza's point, not unlike Molière's, is that we only continue to function as social beings by playing the accepted rules of the game."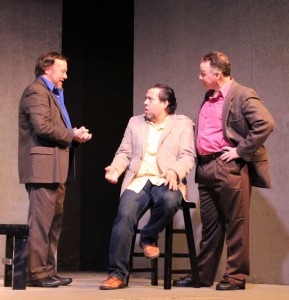 Astonishingly, Reza manages to pack all of this angst, bravado and weighty dissection of pretension and the power dynamics associated with male friendships into a tight, condensed three-actor play, and that brings us to the fourth reason that Lab Theater audiences are going to appreciate this play. In this age of short attention spans and instant gratification, the play runs just 90 minutes – leaving plenty of time to get to the nearest restaurant or après-theater bar where the critiques and discussion can last well into the night.
Please see above for play dates, times and ticket information.
_____________________________________________
Spotlight on 'Art' director Annette Trossbach (02-04-16)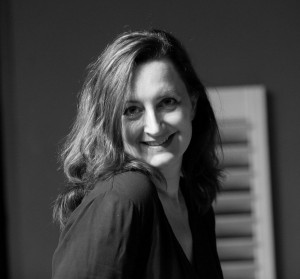 Art by Yasmina Reza opens Friday night at Lab Theater. The play stars Mitch Haley (Death of a Salesman, Five Kinds of Silence), Scott Carpenter (Cabaret, The Altruists), and Miguel Cintron (who is making his main stage debut at The Lab but known by his work on other Fort Myers stages) and is directed by Annette Trossbach.
Trossbach is Lab Theater's Artistic Director and founder. Her directing credits include last season's critically-acclaimed production of Diary of Anne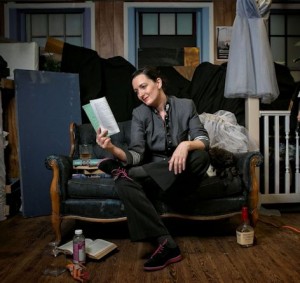 Frank, Miss Witherspoon, Glengarry Glen Ross. Othello, Romeo & Juliet, The House of Bernarda Alba and The Last Days of Judas Iscariot for Lab Theater, Much Ado About Nothing for The Naples Players, and Inherit the Wind for The Charlotte Players. She directed in England and Germany before moving to the United States.
Annette's also an accomplished actor. She starred earlier this season in Stage Kiss. Last season, she gave a command performance in My Brilliant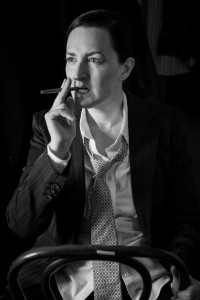 Divorce, a one-woman show in which she played 20 separate characters. Among some of the other favorite roles she has played are Sylvie in Intimate Exchanges, Yelena in The Wood Demon, and Netta in Cavalcade.
Classically trained at the innovative East 15 Drama School in London, U.K., Annette has worked with Margaret Walker (What a Lovely War), international combat choreographer Mike Loades, director Terry Johnson, Alasdair Ramsey and actor Tony Scannell.
Annette has been teaching theater and acting skills for more than 20 years. At Laboratory Theater of Florida, she and her company continue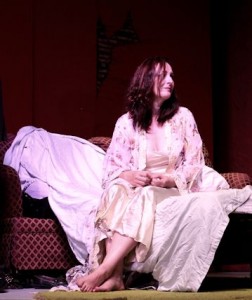 the East 15 focus of teaching core theatrical skills such as character development, stagecraft, combat, textual analysis, voice and physicality to new actors of all ages.
Annette is also a founding member of the Gulf Coast Shakespeare Festival. She is a 2010 recipient of the Gulfshore Business 40 Under 40 Award and a two-time Zelda Fichandler Award nominee.
Please see above for play dates, times and ticket information.
___________________________________________________________________________________
'Art' playwright Yasmina Reza uses little incidents to illuminate larger psycho-social matters (02-03-16)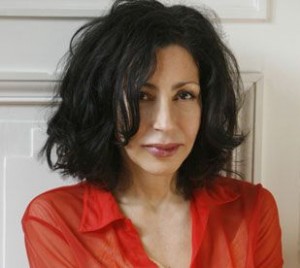 Art opens at the Lab Theater on Friday. It is an insightful play about the meaning of art and friendship written by French playwright Yasmina Reza.
The play is described to American audiences as a comedy. Don't tell Reza that should you ever enjoy the good fortune of meeting her in person. "My plays have always been described as comedy, but I think they're tragedy," Reza uniquivocally declared to a journalist in 2000. "They are funny tragedy,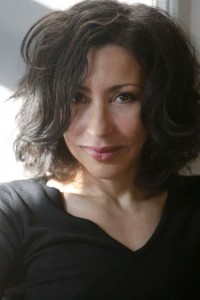 but they are tragedy. Maybe it's a new genre."
In fact, after attending the premiere of Art in London in October, 1996, she turned to the man who had translated the script and asked him accusatorily, "What have you done?"
Reza has been pilloried by French, British and American theater critics for much of her career, and it's not that she's lost her sense of humor as a result of the constant barrage of negativity, but rather that seriousness is more highly regarded than laughter in French culture.
It is Reza's immersion in French culture, though, that explains in large measure her commercial success. Her dad was a Moscow-born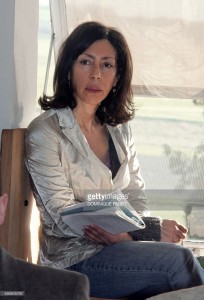 Iranian Jew who became an engineer with a passion for the piano. Her mother was a Hungarian-Jewish violinist from Budapest. They relocated to Paris when Yasmina was a child and although she says she "feels French" and is fluent in her country's socio-economic subtleties, Guardian correspondent Elizabeth Day surmises that "her perspective remains that of an acute and wryly interested observer." And that explains why her plays excoriate pretension, hypocrisy and emotional carelessness with the precision of a neurosurgeon, prompting at least one reviewer (Michael Billington) to hail her as a "born satirist." That's as it should be in Reza's opinion. "Theater is a mirror, a sharp reflection of society," she has been quoted as saying.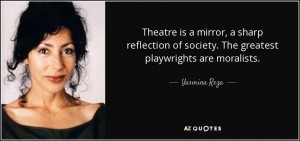 No matter how it evolved, Reza possesses the rare talent of being able to make people laugh at themselves. "In France, they call her humor Angelo-Saxon. She calls it Jewish," wrote Agnes Poirer for The Independent in 2008. "Others have described it as incisive, cruel, bitter, furious,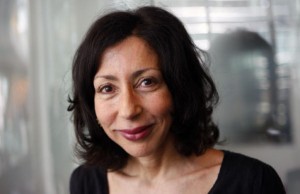 narcissistic, compact, vicious and stinging. She … dissects the bourgeoisie with the playfulness and insouciance of a child discovering life by dismembering insects. She then crucifies her characters as a lepidopterist pins butterflies to a board … She pulls no punches; the Muhammed Ali of French theatre."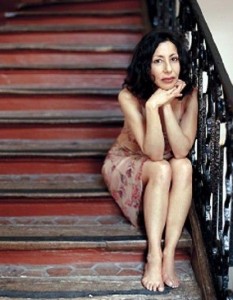 In spite of her popularity among actors, directors, producers and audiences, critics have sardonically branded her the queen of "big ideas lite" and "little-black-dress theater." But according to The Guardian's Elizabeth Day, Reza adamantly eschews the notion that she sets out to write plays with big ideas. "What motivates me most is writing about people who are well brought up and yet, underneath that veneer, they break down," Reza explains. "Their nerves break down. It's when you hold yourself well until you just can't anymore, until your instinct takes over. It's physiological."
What sparks Reza's creative imagination are the little things, like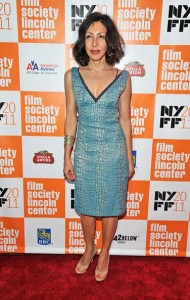 the reaction of two sets of parents who get together to civilly discuss what to do about their sons after one of the boys suffers a broken tooth in a schoolyard fistfight (a real life episode that spurred God of Carnage, which Reza wrote in just three months). Nowhere is this more evident than in Art, which tells the story of three friends by the names of Serge, Marc and Yvan who find their previously solid 15-year friendship on shaky ground when Serge buys an expensive painting, an abstract that has a few white lines painted across a white canvas. The play focuses on the meaning of art as well as the meaning of friendship, to both the man who bought the painting and the two friends who come to see it.
But it is through these little incidents that she is able to illuminate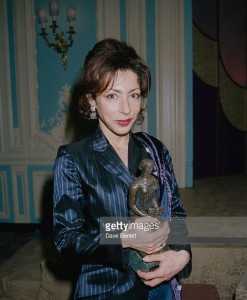 something bigger.
Her formula undoubtedly works. Her plays not only resonate with audiences. They garner numerous prestigious awards. God of Carnage, for example, received the Viennese Nestroy-Theatreprize for best German-language performance in 2007, the Lawrence Olivier Award for Best New Comedy, and a 2009 Tony for Best Play. Art went on to win the Moliere Award for Best Author, the 1996-1997 Lawrence Olivier Award and Evening Standard Award and a Tony for Best Play. Since its premiere in 1994, Art has been translated and performed in 35 languages and grossed more than 200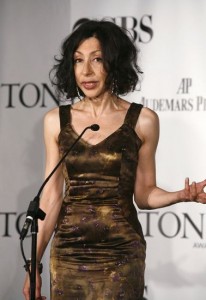 million pounds worldwide.
In all, Reza has penned seven plays. The other five are Conversation after a Burial (which won a Moliere Award for Best Author), Winter Crossing (which won a Moliere Award for Best Fringe Production), The Unexpected Man, Life x3, and A Spanish Play. Add to that three novels (Desolation (2001), Adam Haberberg and On Arthur Schopenhauers Sledge), two memoirs (Hammerklavier (1997) and Nulle part), a nonfiction account of a year spent on the campaign trail with French presidential candidate and eventual winner Nicolas Sarkozy (Dawn, Dusk or Night), and a dramatic translation of Franz Kafka's Metamorphosis for director Roman Polanski. Her film credits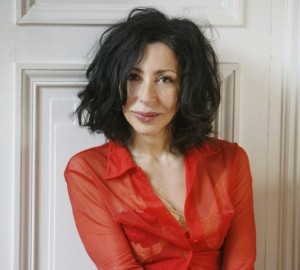 include Le Pique-Nique du Lulu Kreutz directed by Didier Martiny and Chicas, which she wrote and directed herself.
Judge for yourself. See above for play dates, times and ticket information. But remember: Art is a tragedy. While you are encouraged to laugh your ass off inside the theater, out of respect for the playwright, tighten up and wipe all smiles and smirks from your face as you leave the premises.
_______________________________________________________
Tony winner 'Art' coming to Lab Theater stage in February (01-19-16)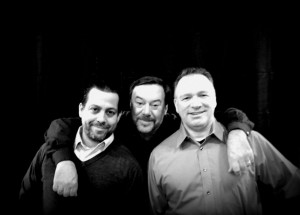 February's play at Lab Theater is Art by Yasmina Reza, which won the Tony Award for Best Play in 1998 and Olivier Award for Best Comedy in 1996. The play stars Mitch Haley (Death of a Salesman, Five Kinds of Silence), Scott Carpenter (Cabaret, The Altruists), and Miguel Cintron (who is making his main stage debut at The Lab but known by his work on other Fort Myers stages), and is directed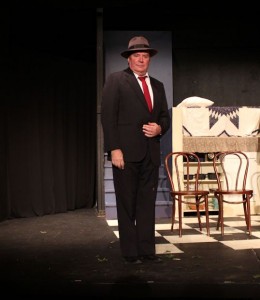 by Annette Trossbach, who has previously directed The Diary of Anne Frank, Othello, Romeo & Juliet, The House of Bernarda Alba and The Last Days of Judas Iscariot for Lab Theater, Much Ado About Nothing for The Naples Players, and Inherit the Wind for The Charlotte Players. The play is sponsored by Art Zupko.
This comedy tells the story of three friends by the names of Serge, Marc and Yvan who find their previously solid 15-year friendship on shaky ground when Serge buys an expensive painting, an abstract that has a few white lines painted across a white canvas. The play focuses on the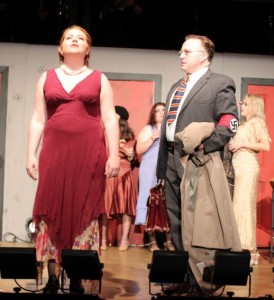 meaning of art as well as the meaning of friendship, to both the man who bought the painting and the two friends who come to see it.
"Art is in the mind of the beholder," remarks Trossbach, echoing the old adage. "The play is smart and outrageously funny with its witty banter. Reza is questioning what we perceive as art or artful, and also the nature of friendship."
"A nonstop cross-fire of crackling language, serious issues of life and art expressed in outbursts that sound like Don Rickles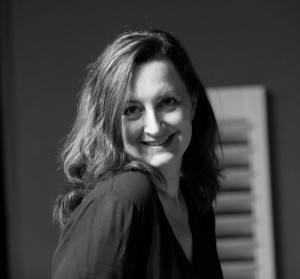 with a degree from the Sorbonne," wrote Newsweek. "Reza is a fiendishly clever writer. 'ART' sounds like a marriage of Molière and Woody Allen."
Performances will be on February 5, 6, 11, 12, 13, 18, 19, 20, 25, 26, 27 at 8 p.m., with 2 p.m. matinee performances on February 21 and 27. Doors open a half hour before each performance.
Lab Theater is located at 1634 Woodford Avenue in the Fort Myers River District.