Supporting actors contribute to 'Twelfth Night' success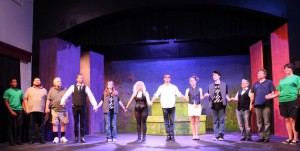 On stage at Lab Theater for just three more performances is William Shakespeare's Twelfth Night. Considered one of the Bard's most enduring comedies, Lab Theater's production of Twelfth Night boasts an synchronous cast of twelve members. Holly Hagan (who plays Olivia), Justin Blake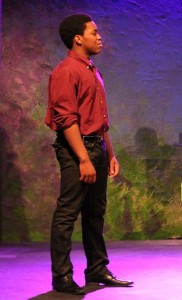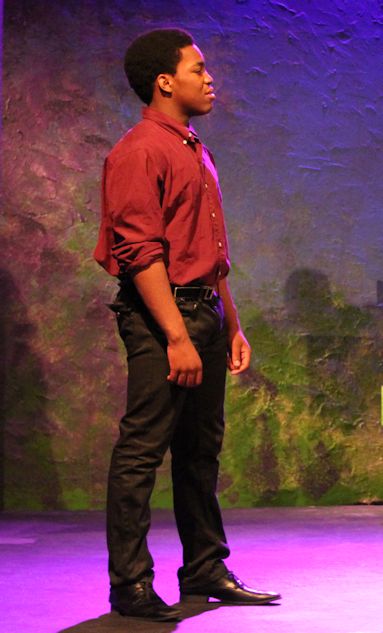 Larsche (Duke Orsino), Kylee Stobb (who plays Viola and Cesario), John D. Strealy (who is brilliant as Malvolio), Rosie DeLeon (who plays the jester, Feste), John Repa (who plays Sir Toby Belch), Ken Bryant (who plays his sidekick, Sir Andrew Aguecheek), and Char Loomis (who plays the chambermaid Maria) have been profiled elsewhere. Rounding out the cast is Mike Edouard, Palmer Haffner, Jonathan Andrew Perez and Kendra Weaver. Each makes a significant contribution to the overall success of the play.
Mike Edouard plays the part of a gentleman in the court of Duke Orsino. Twelfth Night is Mike's Lab Theater debut. Previous credits include Romeo and Juliet and Shrek at Florida Rep. and Dogfight and James and the Giant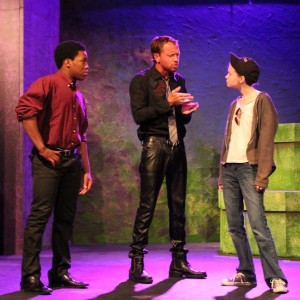 Peach at City Scenes.
Palmer Haffner plays the dual roles of Roderigo and Sabastian. The latter one of two twins who are washed up on the shores of Illyria after the ship that carried he and his sister, Viola, sank in a storm. He's told that his sister perished, and so he plans to travel through Illyria with his close friend and protector, a man by the name of Antonio. In this production, there seems to be a romantic relationship between the two men. When the audience first meets them, the two men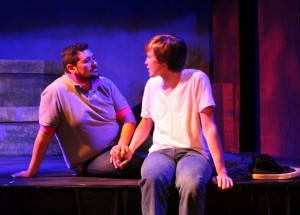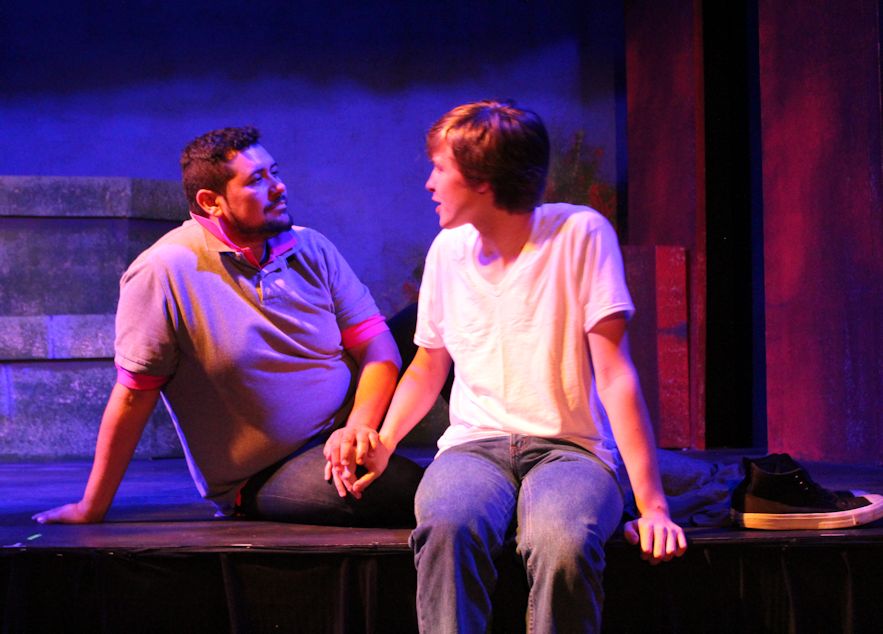 touch tenderly and share a passionate kiss. While Antonio is tending to other matters, Sebastian begins exploring Illyria on his own. He soon encounters a number of people who think they know him. Two, in particular, Sir Toby Belch and Sir Andrew Aguecheek, want to fight him, but another, Olivia, wants to bed and marry him, much to Sebastian's surprise and delight. In fact, one of the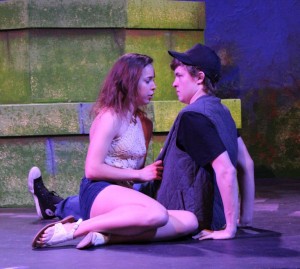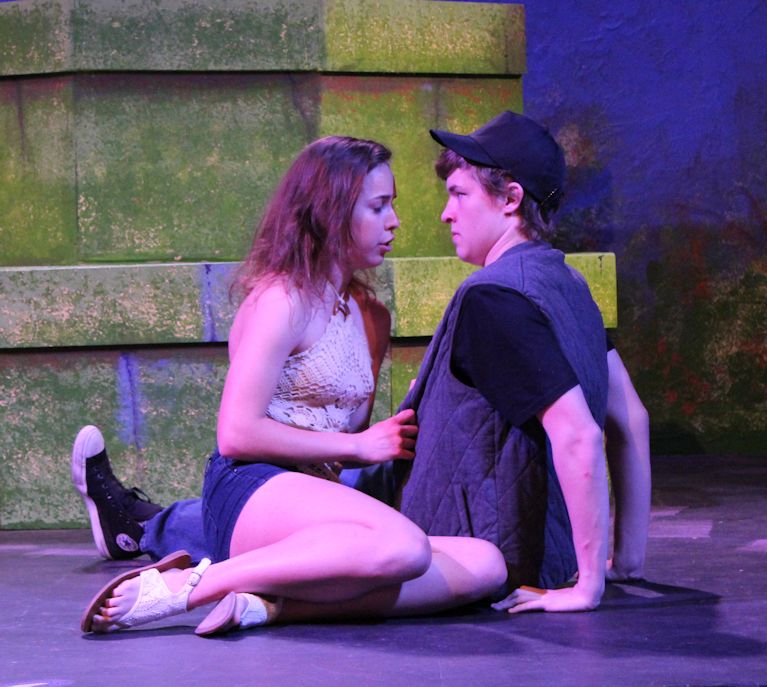 most memorable sight gags in this Shakespearean farce is the can-you-believe-what-I've-fallen-into look Sebastian gives the audience after Olivia lays him out with a kiss.
Haffner's previous acting credits include Dogfight with City Scene, Jekyll & Hyde at Fort Myers High School, and Romeo & Juliet with Florida Rep.
As mentioned, Antonio is the man who rescues Sebastian following his shipwreck. However,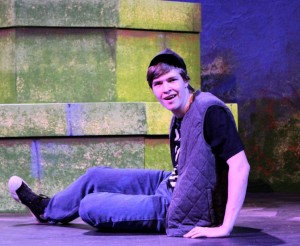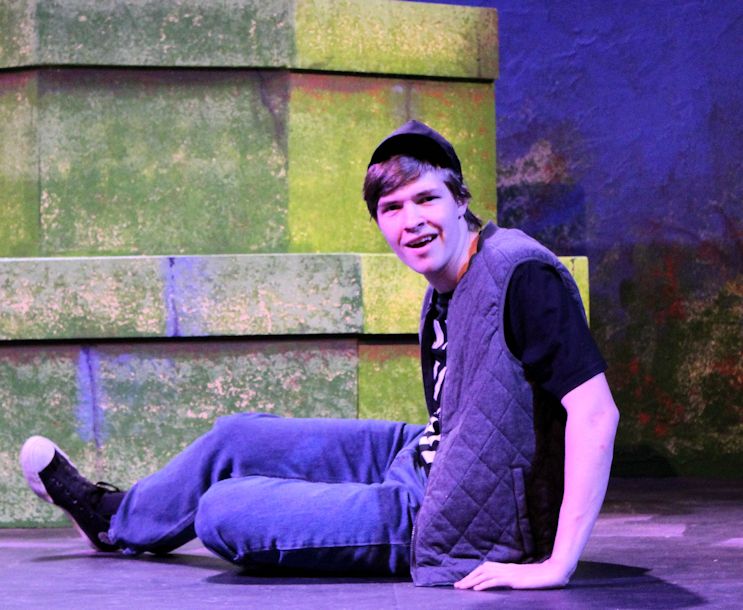 in this comedy, all of the unions that take place at the play's end involve heterosexual couples. So in the end, his love goes unrequited and he is lead away in chains. Rutgers and Florida Gulf Coast University graduate Jonathan Andrew Perez plays the part of Antonio. Perez has previously played Judas in The Last Days of Judias Iscariot and multiple characters in The Laramie Project.
Kendra Weaver is the Captain, who saves Viola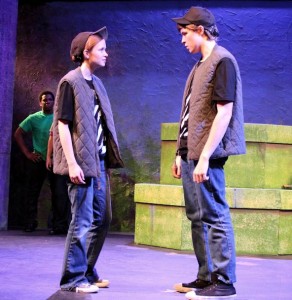 after his ship goes down. She also helps Viola become Duke Orsino's page. This has been a busy time for Kendra, who wrapped up her role in The Rauschenberg Project Play a mere matter of days before Twelfth Night opened. When she isn't on stage, she works in the front of the house and strives to continue learning new theater skills such as stage management and set design and construction.
Related Articles.