'And the Winner Is' play dates, times and ticket info
Playwright: Mitch Albom
Synopsis: And the Winner Is …tells the comic story of Tyler Johnes, a self-obsessed movie star, who is finally nominated for an Oscar, then dies the night before the awards of a coronary infarction. Outraged at his bad luck and determined to know if he wins (even though he's dead), he bargains with a heavenly gatekeeper to return to earth for the big night. Along the way, he drags his agent,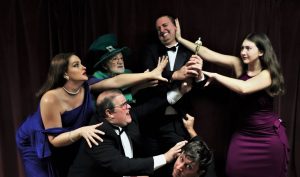 his acting rival, his bombshell girlfriend and his ex-wife into the journey, in a wildly twisting tale of Hollywood, the afterlife, and how we are judged.
Director: Carmen Crussard
Cast: Tyler Johnes: TJ Albertson along with Danielle Channell,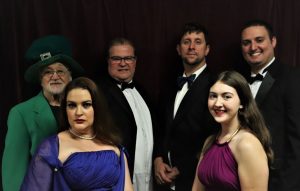 Dave Yudowitz, Maddy Hayes, Todd Lyman and Michael Andrew.
What the Critics Said:
"WINNER shares with Albom's best-selling Morrie and The Five People You Meet in Heaven the subject of life and the lessons it teaches." – LA Times.
Play Dates and Times: And The Winner … Is runs from February 22 to March 16. Performance dates are February 22, 23, 28 and March 1, 2, 7, 8, 9, 14, 15 and 16 at 8:00 p.m., with 2:00 p.m. matinees on February 24 and March 3, 10 and 16.
Special Events:
February 21st: half-price preview night.
February 23rd: Pizza with cast & crew and a free show for teenagers, starts at 6:30 p.m., reservations required.
February 28th: Community Talkback immediately following the performance.
Tickets: Tickets are available to purchase on Brownpapertickets.com or by calling the box office at 239-218-0481. For additional savings, guests may purchase a 2018-2019 Season Pass.
Sponsor: And The Winner Is… is generously sponsored by Arlene Foreman.
Location: 1634 Woodford Avenue, Fort Myers, FL 33901.
February 18, 2019.