Havana-born Isaac Osin brings depth of understanding to character of Santiago Alcalar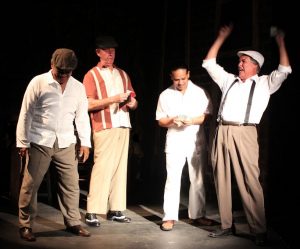 In celebration of National Hispanic Month, Lab Theater in downtown Fort Myers is producing playwright Nilo Cruz's period play, Anna in the Tropics. Set in 1929 Ybor City, the action takes place in a small family-owned cigar factory owned by Santiago Alcalar. His is but one of more than 200 such concerns turning out cigars by the thousands on a daily basis.
Santiago Alcalar is a man prone to excesses. Although it's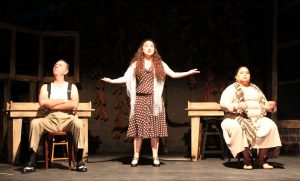 Prohibition, he indulges liberally in drinking, gambling and living the good life. But the gambling has become a problem when it comes to his company. Not only is he absent from the factory for days at a time, his half-brother, Cheche, has been covering his gambling debts in exchange for shares of the company. A surly, volatile outsider,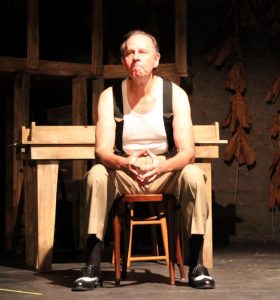 Cheche wants to automate the factory and eliminate such time-honored traditions as having a lector read to the workers as they roll cigars. Cheche's looming co-ownership and modernist ideas don't sit well with Santiago's wife, Ofelia, which leads to an argument in Scene 4 of Act 1 that is mediated by their youngest daughter, Marela.
The exchange that ensues is one of the most immediate, intimate and endearing in the entire play. Santiago has come to a reckoning, a moment of self-realization, as a result of what he's heard in the lector's reading of Anna Karenina.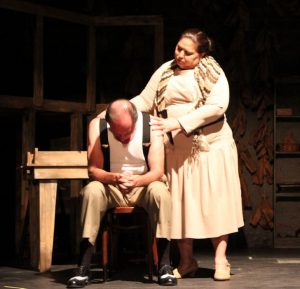 "I'm ashamed of myself and I'm angry and bitter," he confesses to Ofelia.
Theirs is a longstanding marriage marked by contentedness if no longer by passion. But reflecting the transformative power of literature (an enduring theme expressed by playwright Nilo Cruz in Anna in the Tropics), Anna Karenina has rekindled the embers of dignity and compassion that apparently marked Santiago when he was a younger man.
Without the benefit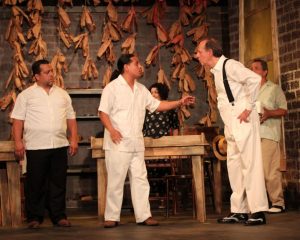 of so much as an AA or a Gamblers Anonymous meeting or sponsor, Santiago does an about face. He negotiates a loan, pays off Cheche and tells his half-brother "this time I'm betting my money on the factory." And in recognition of the impact that Tolstoy has had on him, he announces that the new cigar the factory will be introducing in order to gain market share and improve its profitability will be called the Anna Karenina.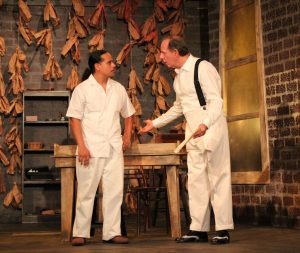 Regrettably, he doesn't realize the impact his decision will have on his half-brother or just how disaffected Cheche has become. Those consequences play out in the final scene of the play and beyond, although it's not clear that Santiago will ever become fully aware of just how far-reaching they extend.
Isaac Osin plays the part of Santiago Alcalar and could not have done a better job of playing a man who wears his passions on his sleeve.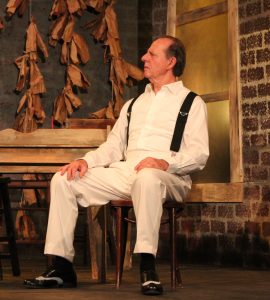 He's so genuine and suited to the role that the audience comes to love the crazy old fool just as much as Ofelia does.
Perhaps one reason that Osin seems to understand his character so completely is that Isaac was born and raised in Havana, Cuba himself. As a schoolboy, he made trips to the local radio stations and got his first taste of acting. He came to the United States as a 12-year-old refugee and served in the Army during Vietnam. Later, in Los Angeles, he studied acting at the Lee Strasberg Theatre Institute, and met his future wife. He did stand-up comedy and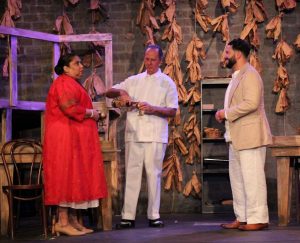 later was Master of Ceremony at The Place Pigalle in Miami Beach, where he introduced the legendary Pearl Williams. He left acting for many years, but is grateful to Lab Theater for the opportunity to return to his first love.
There exists an interesting parallel between Isaac's early life experiences and those of Vicente Martinez-Ybor, who is credited with founding the cigar industry in Ybor City. In 1856, Martinez-Ybor founded his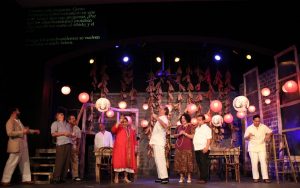 own cigar company in Havana, Cuba and began manufacturing his El Principe de Gales ("Prince of Wales") brand. The brand quickly became popular, and Martinez Ybor's factory was soon producing 20,000 cigars a day. While focusing on his business he also focused his efforts on helping Cuba break away from Spain. His political views and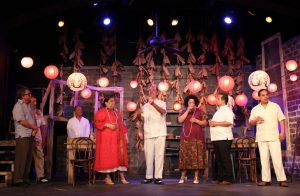 advocacy were not popular with the Spanish government, which ruled the island at the time with an iron fist. He was sentenced to death but escaped to Key West as a political refugee. He tried to establish a cigar company in Key West, but had a hard time keeping rollers, so on the advice of a friend, he moved to Tampa, purchased 40 acres from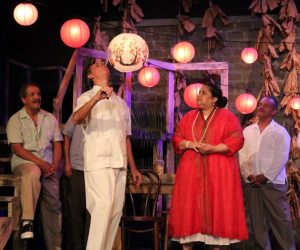 the city, and built the biggest cigar factory in the world in 1886.
Martinez-Ybor believed that in order for the cigar industry to be successful he needed to encourage others to get involved in manufacturing cigars. The industry in Ybor City grew quickly to 200 cigar factories, which accounted collectively for the production of 600 million cigars annually. But the golden age of cigar manufacturing ended with the Great Depression and the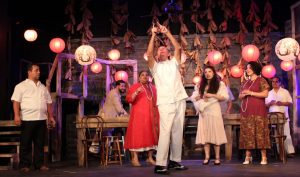 rise of the cigarette industry. Hand-rolled cigar making lingered in Ybor City another three decades, but after the U.S. imposed a trade embargo on Cuba in 1962, nearly 200 of the original manufacturers were forced to close their doors.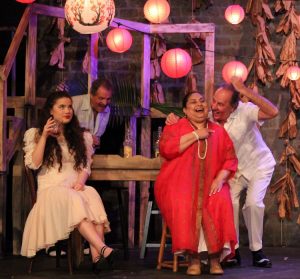 September 17, 2018.
RELATED POSTS.