'Hush Up Sweet Charlotte' feud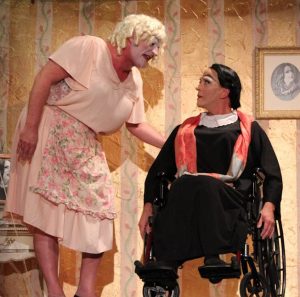 Last summer, Randall Kenneth Jones and Rob Green slayed Southwest Florida with over-the-top portrayals of the Hudson sisters in Lab Theater's campy parody of the 1962 Bette Davis-Joan Crawford cult classic film Whatever Happened to Baby Jane. Just as director Robert Alrich decided to follow Baby Jane with a similar story of a woman who manipulates a relative for personal gain, Artistic Director Annette Trossbach and the Lab Board chose to parody Hush Hush Sweet Charlotte this season. Randall Kenneth Jones was on board, but what to do about Rob Green.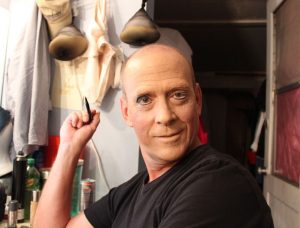 "I'm a Pepsi guy," said Rob, who was reached at a party in Key West for this story. "I can't abide Coke or anyone who drinks that swill …. So no way was I going to sign on to do Hush Up Sweet Charlotte."
Besides, having played the victim last time around, he wanted to be conniving Cousin Miriam and Trossbach had already promised the role to Jones. So when Rob passed on the show, Trossbach dusted off her passport, headed for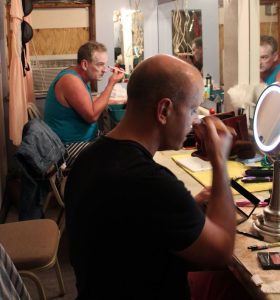 RSW and hopped a plane to Switzerland to try and talk Brian Linthicum into playing Jones' latest victim …..
By now, you've hopefully figured out that none of this ever actually happened. Rather it's a tongue-in-cheek spoof of the events that really took place during the filming of Hush Hush Sweet Charlotte. Here's how the real story goes.
Anyone who's seen Feud knows that not only were Bette Davis and Joan Crawford rivals, there was bad blood between the two.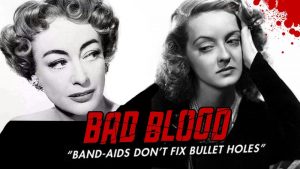 One incident that really got under Davis' skin took place on Oscar night in 1963. Davis was nominated for Best Actress in a Leading Role for Baby Jane. The other nominees in her category that year were Katherine Hepburn for Long Day's Journey into Night, Lee Remick for Days of Wine and Roses, Geraldine Page for Sweet Bird of Youth and Anne Bancroft for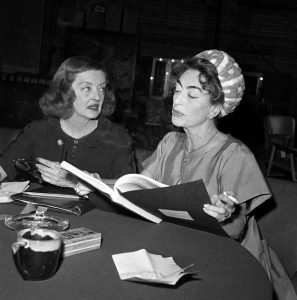 The Miracle Worker. Bancroft won but was not present, and Crawford accepted the Oscar on her behalf. Davis was incensed. It was more than just a catty snub by a co-star. Davis believed Crawford had somehow ensured Bancroft would win so she could upstage her.
Davis was still fuming when Robert Aldrich asked her to do Hush Up Sweet Charlotte, and only agreed to accept the role after Aldrich promised her a producing credit. He also had to assure Davis that he and Crawford were not then and had never had a sexual relationship.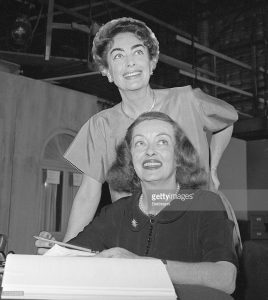 Some of the film was shot on location at an old mansion on a plantation near Baton Rouge, Louisiana. The production company and Davis got off to a bad start with Crawford from the get-go. First, no one picked her up at the airport when she arrived for the shoot. Then, when she arrived at the Belmont Hotel, her room wasn't ready and she had to sit in the lobby for an hour while housekeeping prepared her bungalow. To make matters worse, her bungalow was located next to the dumpster. Nor did it help that Davis' bungalow was slightly larger and more luxurious than Crawford's room.
When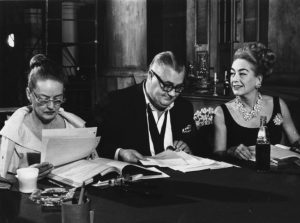 she complained, Bette Davis rebuked her. "Oh Joan, pull yourself together," she chided. "This is Baton Rouge, not Beverly Hills."
A world-class clothes horse, Crawford brought an extensive wardrobe to Baton Rouge. "For a goddamn week in Baton Rouge, she brought twenty pieces of luggage," Davis complained. "It was a black-and-white movie but she had color-coordinated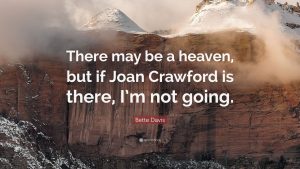 outfits for the daytime scenes, and for the night shots, all of her evening dresses were chiffon, which meant that the wardrobe lady had to spend hours ironing them in the 100-degree weather."
Crawford had been married to Pepsi-Cola president Alfred Steele.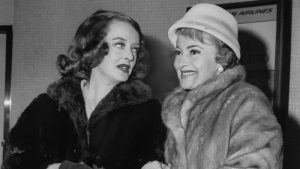 After he died in 1959, Crawford filled his spot on the Pepsi board of directors. So she drank Pepsis on set and even had Pepsi-Cola vending machines installed at the Belmont Hotel and the Fox soundstage back in Hollywood. For spite, Bette Davis had Coca-Cola vending machines installed next the Pepsi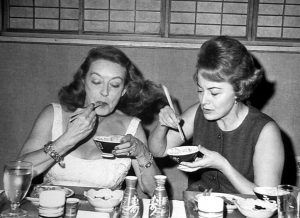 dispensers.
At the mansion, both stars had dressing trailers. Crawford's was set up behind the house and included a golf cart to ferry her back and forth. After completing her scenes on the final day on location, Crawford returned to her trailer in case she was needed for any additional footage. She dosed off. When she awoke a few hours later, it was dark and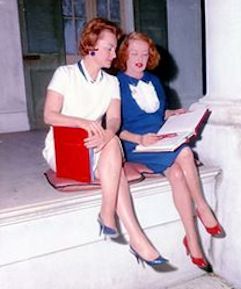 everyone was gone. Not only had the cast and crew left without telling her, they hadn't left either a car or driver to take her back to the hotel.
Outraged, Joan returned to Los Angeles the very next day and checked herself into Cedars Sinai Hospital. She came to the set eventually, but suffered a relapse while resting her in her dressing room and was taken by ambulance back to Cedars Sinai Hospital, where she remained for the next 30 days. The diagnosis: she was sick and tired of working with Diva Davis.
It was common knowledge that Crawford was goldbricking, and the studio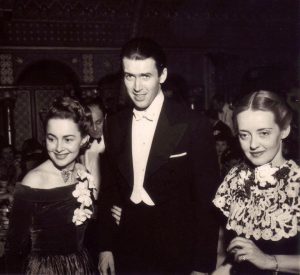 finally issued Aldrich and the production company an ultimatum. Either replace Crawford and complete the film post haste, or they'd cancel the project. Bette Davis wanted Olivia de Havilland to take over Crawford's role. They'd worked before and were friends. So Aldrich flew to Switzerland to try and talk Olivia de Havilland into rescuing his film. It was not the kind of part or type of film that she would normally consider. (In fact, she expressed regret later in life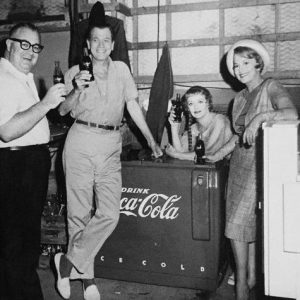 that she did the picture, which she thought diminished her legacy.) It took him four days, but de Havilland finally agreed to play Miriam in the film. According to some reports, on their first day together on set, Davis and de Havilland did a "Ding Dong the Witch is Dead" routine after which they toasted each other with Coca Colas. (Other accounts indicate that it was Aldrich, Davis and Joseph Cotten (who plays Charlotte's family doctor) who toasted Crawford's replacement with Coca-Colas.)
To add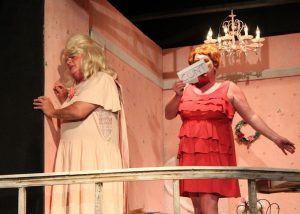 insult to injury, no one from the film bothered to contact Crawford, who learned of her replacement while listening to the news on the radio.
Now under a severe time crunch that didn't allow for new costumes to be made, de Havilland had to wear many of her own clothes in the film. That turned out to be a stroke of good luck, as the cosmopolitan glamor and gentility she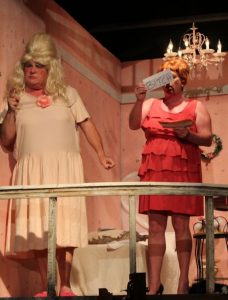 brought to the role perfectly offset Davis' unhinged look, replete with spindly braids and flowing nightgowns.
Hush Hush, Sweet Charlotte was released in December of 1964. It was a smash at the box office, but a number of reviewers panned the movie. The New York Times chief critic, Bosley Crowther, in particular, called the film "grisly, pretentious, disgusting and profoundly annoying," roundly criticizing the exaggerated acting styles displayed by most of the cast members. In fact, he complained in his review that Agnes Moorehead "is allowed to get away with some of the broadest mugging and snarling ever done by a respectable actress on the screen.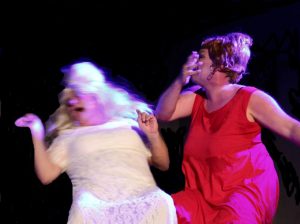 If she gets an Academy award for this performance—which is possible, because she's been nominated for it—the Academy should close up shop!" (She didn't win the Oscar, but did receive the Golden Globe for Best Supporting Actress.)
Happily, no such drama existed at The Lab in connection with either parody. Randall Kenneth Jones and Rob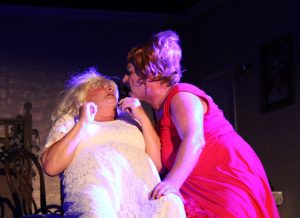 Green are good friends, and Green was at dress rehearsal to cheer on both Jones and Linthicum, who get along famously as well. As many actors do from time to time, Rob is just taking some time off to recharge his creative batteries after completing emotionally-draining performances not only in Whatever Happened to Baby Jane – A Parody of the Horror, but An Act of God and Burn This! as well.
But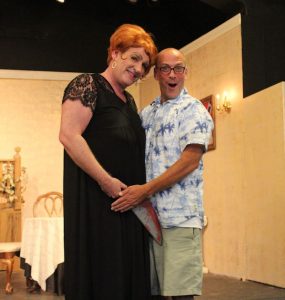 while the dressing room may be a zany place of refuge, the stage is anything but. As Charlotte Hollis and her conniving cousin Miriam, Brian Linthicum and Randall Kenneth Jones let it all hang out. Get in on the action. Hush Up Sweet Charlotte is on stage now through July 1.
June 2, 2018.
RELATED POSTS.