Meet 'The Wolves' youthful cast members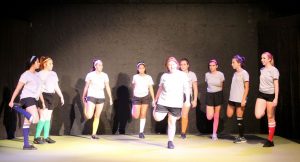 Opening tomorrow at the Laboratory Theater of Florida for just five performances is Sarah DeLappe's The Wolves, directed by Madeleine Wright. The all-female cast features students enrolled in Lab's summer intensive camp. While some of the members have prior theatrical experience, for one-third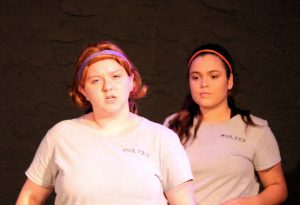 of the cast The Wolves is their very first production. Judging from the quality of their performances on stage, each cast member has a bright future in acting and community theater.
Emmie Spiller is number 25, and captain of the Wolves indoor soccer team. The Wolves marks Emmie's return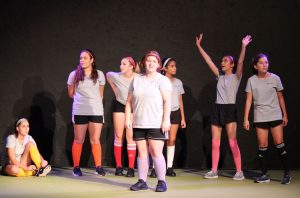 to the Lab boards. She was previously seen as Cheryl in Lab's production of Evil Dead: The Musical last summer. She would like to thank her little sister Nova for rehearsing, and Maddy as well as her cast for making an amazing experience.
Geovanna Berguin (00) is ecstatic to be performing at the Lab.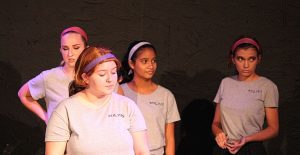 This is her first ever production anywhere. A high school junior, Geovanna hopes to attend college in New York in two years, where she'll pursue a degree in medicine.
Brianna Guido is #2 on the Wolves. She appeared last summer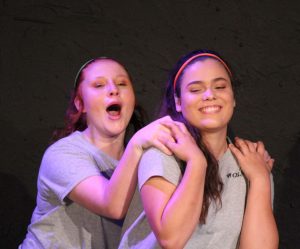 on the Lab boards in Evil Dead: The Musical. Just 14, Brianna would love to pursue a career in theater. She'd like to thank Annette for giving her the opportunity to be a part of the Lab summer intensive camp, her dad for being her biggest cheerleader (and for driving her to the theater every day), and her sister and mom for being encouraging.
Wearing the #7 jersey for the Wolves is Tatum Bates, who is a Theatre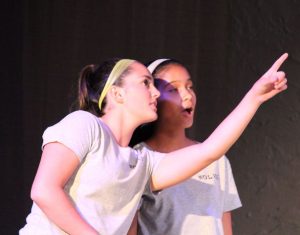 major at Cypress Lake High School. Like Emmie Spiller and Brianna Guido, Tatum is very excited to be returning to Lab for her second production. She was Linda in Evil Dead: The Musical. You may have also seen her as Dr. Knef in Radium Girls. She would like to thank her family, friends, and boyfriend for all their support.
Sporting the #8 jersey in The Wolves is Eren Sisk. An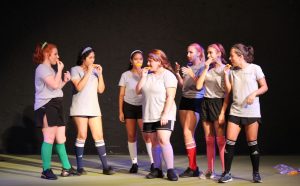 aspiring actor, Eren is currently attending Florida SouthWestern State College. Eren is the most experienced member on The Wolves cast, having taken over the role of Barblin in Andorra when Danica Murray went down with a life-threatening illness during the second weekend of the show's run in May. She's also a summer intensive camp veteran,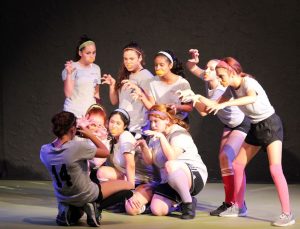 having reprised the role of Annie in Evil Dead: The Musical last summer. Go here for all of Eren's previous stage, television and stage management credits.
Aileen Diaz wears #11) for the Wolves. This is her first ever production. The high school junior wants to practice art conservation following her college graduation, and would like to thank Rachel Spiller.
Lucky 13 for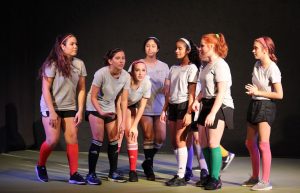 the Wolves is Lilli Orr, who is also making her Lab Theater debut. She is looking to participate in more shows in theater and thanks Maddy and Emmie Spiller for encouraging her to go to summer intensive camp.
Wearing #14 is Madalyn Brown, who is appearing in her first production at the Lab. She aspires to be an actor and thanks her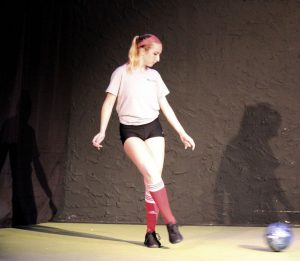 mother, grandparents, and Maddy Hayes for their love and support.
Aaliyah Jackson, #46, is thrilled to be performing The Wolves at the Lab Theater. While this is her first production at the Lab, she has been featured most recently in the Home of the Great Pecan at Canterbury School as well as Selfie with Creative Theatre Workshop. She would like to thank her family for the constant love and support.
Although you won't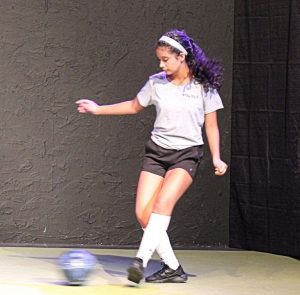 see him on stage, William James Celedonia is The Wolves' Stage Manager. This is his first show at the Lab Theater, but he has previously been in the Addams Family Musical and Peter Pan at the TNT Theater in Warren, Ohio. He would like to thank everyone for this opportunity and the memories of being a part of this production.
July 11, 2019.
RELATED POSTS.