From Miss Tracy Mills to Jeff Goode's Cupid, Clayton Brown brings the heat to every role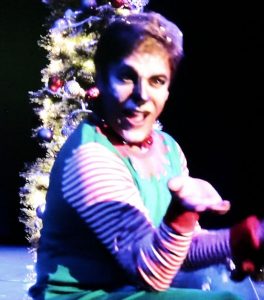 On December 11, 19 and 20, LabTV will broadcast The Eight: Reindeer Monologues. The play was written by Jeff Goode, who has crafted eight clever and imaginatively-conceived monologues that the actors in this accomplished cast deliver with aplomb and panache. That's especially true of Clayton Brown, who plays the role of Santa's reindeer Cupid.
So, you ask yourself, why Santa would name one of the reindeer on his stellar sleigh team Cupid. When Jeff Goode asked himself this question, he came to the only conclusion that he could. Cupid is gay. Mais oui.
In this play,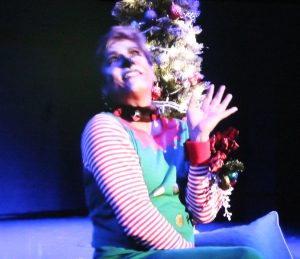 Santa has been very, very naughty – and not in a good way. One of his reindeer has accused the dirty old man of rape. It's not Cupid. Apparently Santa does not roll that way. But the opinionated Cupid has no problem telling the audience what he knows about the accusations and his employer's unseemly behavior.
Goode's Cupid is an outspoken, highly-affected queen, complete with lisp and cackling voice. Keeping it real,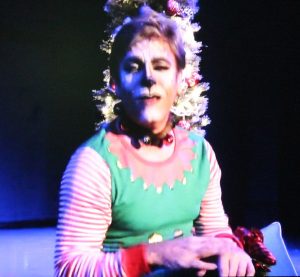 he is a caricature that bears little resemblance to the way in which the vast majority of gay reindeer dress and act.
"Cupid is the camp character of the play," observes Director Brett Marston. "[Clayton and I] wanted this guy to be as campy and as fun as possible – extraordinarily gay and over the top. We went for that extreme. "
That happens to play squarely into Clayton's wheelhouse. Brown dazzled Lab Theater audiences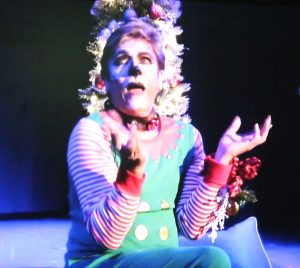 last season as Miss Tracy Mills, the quintessential queen-maker from The Legend of Georgia McBride. Not only did he design all of his own costumes, he brought the heat and burned down the house each night with one glittering lip-synching musical number after another.
Brown's Queen Cupid is hilarious. In fact, Brown cracks himself up, dissolving into a puddle of uncontrollable laughs and giggles on the stage floor, proving once more that a healthy dose of laughter and quirky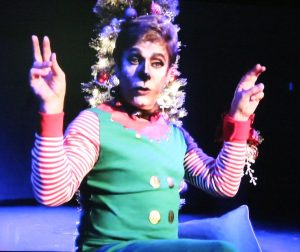 sense of humor is often the only way in which to deal with horrible people and the abominable situations they create.
"Beneath that camp and fun is actually some pain," says Marston. "That's why he's developed this exterior of campiness. We tried to explore that toward the end of the monologue. Cupid has many feelings about Santa Claus, and learned to use his humor and sassiness to maneuver through the political system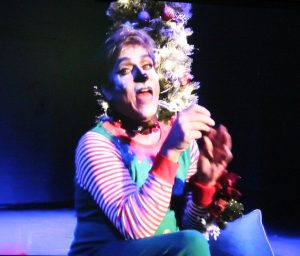 of the North Pole."
It's an adaptive skill that many in the LGBTQ community have developed to help them avoid the mines and pitfalls they routinely encounter in office and other workplaces.
The overarching point of this monologue, in fact, is to draw attention to the fact that it's not just cisgender women who are sexually harassed and assaulted in the workplace and elsewhere by cisgender men.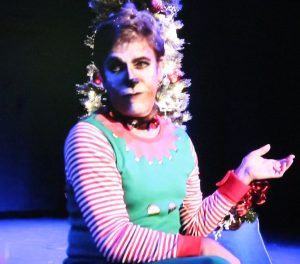 Members of the LGBTQ community face these exact same challenges. Sexual harassment and assault spans the entire gender and sexuality spectrum, and nearly seven in ten LTGBQ people have been sexually harassed at work.
The stats are sobering. Two in five LGBTQ people (42%) report that they've experienced colleagues making unwelcome comments or asking unwelcome questions about their sex life, and more than a quarter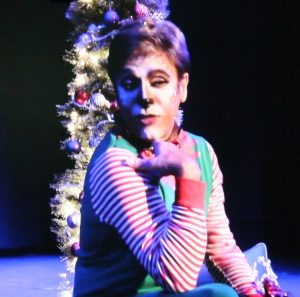 (27%) reported receiving unwelcome verbal sexual advances. The situation is particularly endemic for LGBT women (with one in eight experiencing serious sexual assault or rape) and LGBTQ BME (black and minority ethnic) women (54% reporting unwanted touching, 45% reporting sexual assault and 27% reporting serious sexual assault or rape). But lest you conclude that straight men are exclusively the source of such misconduct, inter-LGBTQ harassment not only occurs, it is severely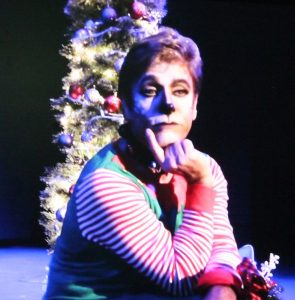 underreported.
But clearly, the experience of LGBTQ folks in and out of the workplace heightens their sensitivity to victims of sexual harassment and exploitation.
Hence Jeff Goode, Director Brett Marston and Clayton Brown's Cupid.
From Kansas City's Starlight Theater and Tallahassee's Evening of Dance to venues in Los Angeles and Mexico, native Chicagoan Clayton Brown has lived and performed all over the United States and beyond.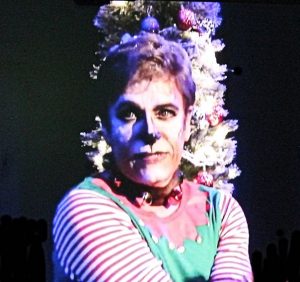 Locally, he has been seen at The Naples Dinner Theater and The Naples Players at the Sugden Theatre, with The Emcee in Cabaret, the Prince in Cinderella and Teen Angel in Grease among his favorite roles. When he's not on stage, Clay divides his time between ClaytonCreations, creating custom murals and paintings, traveling for Chanel as a makeup artist for special events, and singing with Three For All, a professional trio.
December 4, 2020.