'Sweeney Todd' standing ovations well deserved
This past Sunday, I celebrated a milestone birthday. As part of the "observance," I elected to spend 3 of my 24 hours with the cast, crew and audience of Sweeney Todd: The Demon Barber of Todd Street at Lab Theater. It was time well spent.
Our local theaters do a tremendous job choosing thought-provoking and entertaining productions, and their highly-dedicated and crazily-committed casts
and crews breathe life into each playwright and director's vision of the show they'd like to see unfold on stage. But there is one area in which most are missing an important opportunity, and that's in making their audiences feel they are part of the show rather than just attending and passively watching it. I'm not talking about audience participation. It's more about involving audience members in the story in a direct and creative way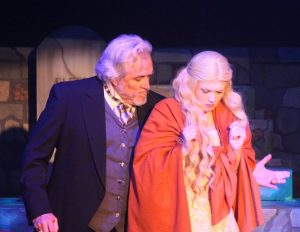 from the very second that they pass through the doors into the lobby or vestibule. With Sweeney, Lab is doing just that.
Lab had an evening where attendees could learn the art of making inventive props and stage blood, and another where they could stay after the show for a ghost hunt with a paranormal investigator. But for the shows themselves, Lab set the tone with dim blackout lighting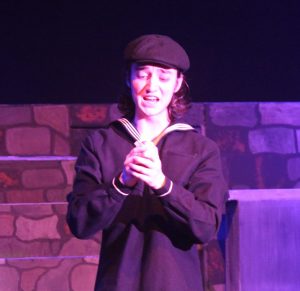 and wisps of mist and fog that amp up the mystery, foreboding and trepidation of the graveyard motif of that marvelously executes Director Paul Graffy's vision for the musical as a ghost story that happened centuries ago.
Sunday's show was sold out. They all should be.
Sunday's show ended in a prolonged and vigorous standing ovation. I hear that happens every show. It's well deserved. The acting, singing and choreographed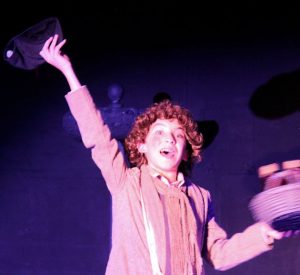 movement is that superlative, and it all starts with Dave Rode in the role of Sweeney.
Now, I'm no music critic, but everyone seems to be of one mind: Sondheim is tough and the score he wrote for Sweeney is difficult. No matter. Rode navigates his musical solos and duets with the dexterity of a brain surgeon, never mind Fleet Street's most fabled barber. He didn't just rock the house. He tore it down with indignant vengeance. But something unexpected happened along the way. A Greek tragedy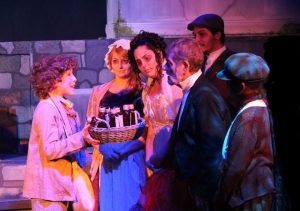 broke out! His fatal flaw, his blind and all-consuming rage destroyed the very thing he loved most and for which he demanded retribution. And we – me and the rest of the audience felt sorry for Sweeney. Now that's a masterful acting!
On Sunday, Sharon True played Nelly Lovett. She also delivered the goods. Tough enough to keep pace with Dave Rode,
but to do it with a Cockney accent is truly remarkable. To be blunt, Lovett is not all that lovable. What I love about this character is her ambiguity. Did she conceal Lucy's true fate from Sweeney because she wanted him for herself or did she conceal the truth out of kindness? Whether love or pity motivated her subterfuge, her denouement makes her a just as tragic as Sweeney, but in a Shakespearean way. Whether she's more akin to Lavinia or or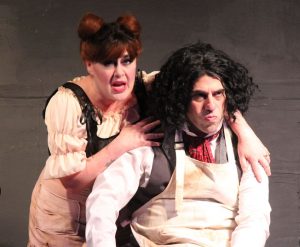 Cordelia is debatable. Either way [spoiler alert] she ends up dead and there isn't even enough left of her for a barbequed meat pie. True was magical and if MaryAnne McKerrow is even better in the role, she must be magnificent because Sharon was pretty damn good in the role!
Off stage, Trace Meier is a kind and lovable guy. He's even kind and lovable as a TechnoDog. But as Judge Turpin,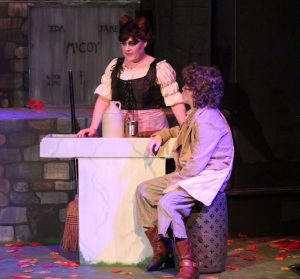 he's a vile and reprehensible sexual predator cut from the same cloth as Harvey Weinstein. Meier plays the part to the hilt, including the way he saunters across the floor of the proscenium and sidles up to Lucy in the rape sequence early in Act One. Sure, John Lennon wrote "Come Together" about Timothy Leary, but it could just as easily be Judge Turpin's theme song. Just ask his ward, Johanna, "hold you in his armchair you can feel his disease." It was fitting that Turpin doesn't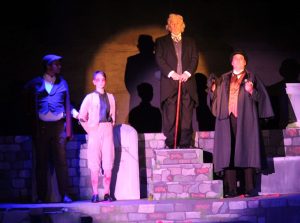 die immediately, but it should have been him in the oven instead of Lovett.
Gabrielle Landsden is wonderful in the dual roles of Lucy and Johanna, and she really nails the emotion of revulsion. By contrast, she and Cameron Rogers couldn't be cuter in the duet "Kiss Me." As with any theatrical show, it's the little things that count and Lansden's hand jive toward the end of the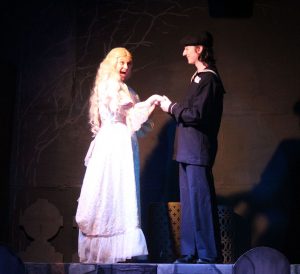 number when she importunes Anthony to shut up and kiss her is one of the most endearing moments in a production that contains conspicuously few such instances.
But that is not say the play is without humor. There's Jack Weld singing falsetto in the role of Judge Turpin's heavy-handed enforcer. There's Steven Michael Kennedy feigning an Italian accent as Barber of Seville Adolfo Pirelli. There's John McKerrow and Mark King making Andrew Zimmern and Guy Fieri faces,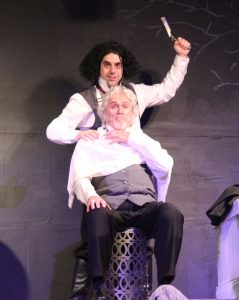 complete with quasi-orgasmic eyerolls, as they sample Mrs. Lovett's heavenly meat pies that never arrive overdone. But it's Lauren Miller's lewd and bawdy come-ons to Anthony the Sailor Man that takes the cake … or is it pie in this case?
And then there's River Reed, who is astonishing in the role of Tobias. It's easy to see why he's destined for greatness in the world of theater, assuming that remains his goal. He easily handles a wide range of emotions, and his scenes with Mrs. Lovett are especially well played. His protective impulses when it comes to this mother figure belies the suggestion made in the Tim Burton film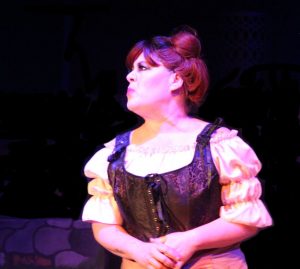 that Tobias would go on to become Jack the Ripper. Pretty much every profiler agrees that Saucy Jack hated women, which probably originated with his feelings about his own mother. But setting that observation aside, Sweeney Todd takes place in 1785. Jack the Ripper killed the Canon 5 in 1888. Which means that Tobias would have had to live to the age of at least 115 to pull off the slashings. By then, Sweeney's blade would have been too dull to do the deed.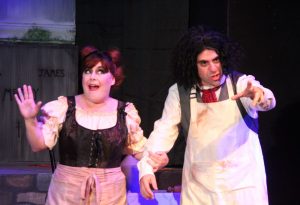 But I digress.
From top to bottom, everyone involved in Sweeney earned that prolonged and enthusiastic standing O that the audience gave them last Sunday. They're earn your standing O, as well. If you haven't seen this show, you should. Its time well spent.
March 09, 2023.