Focus on campaign managers Scott Carpenter and Jack Weld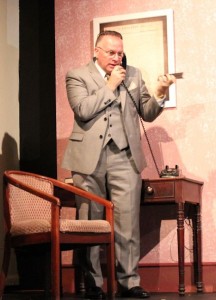 On view through October 29 at The Lab is Gore Vidal's The Best Man. The play takes place at the national convention of an unnamed political party in Philadelphia where two candidates vie for their party's nomination for President of the United States and a former president's endorsement.
The two candidates are a statesman by the name of William Russell and an unprincipled, unscrupulous senator by the name of Joe Cantwell. Russell's campaign manager is Dick Jensen, who is played by Scott Carpenter. Jensen is a pragmatist. His candidate is an idealist, prone to quoting Shakespeare and Bennett to a baffled press corps. Jensen's biggest challenge, though, is to dig up dirt on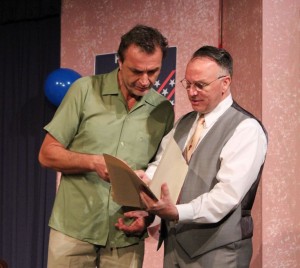 Russell's opponent in a pre-emptive strike designed to dissuade Cantwell from releasing Russell's psychiatric records to the delegates in order to disqualify Russell's qualifications to assume the highest office in the land.
Carpenter has a B.A. in Theater from the William Paterson University and is a member of SAG/AFTA. He was seen most recently on the Lab Theater stage in Yasmina Reza's Art, and before that in Cabaret. Past roles include George in Who's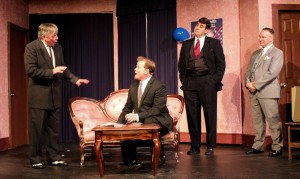 Afraid of Virginial Woolf? and Roma in Glengarry Glen Ross. Scott has also directed numerous productions, including Same Time, Next Year, Jekyll & Hyde, the Musical, South Pacific, Mame, and Steel Magnolias.
Don Blades is Joe Cantwell's campaign manager. Jack Weld plays this part. As Don Blades, Weld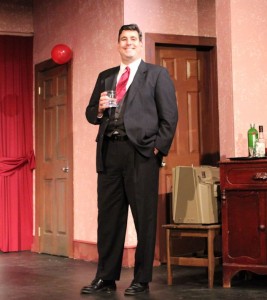 spends most of his on-stage time in the dark as his candidate actually runs the show and Blades is a campaign manager in name only.
Weld is happy to be back on the Lab Theater stage. He was last seen at The Lab in Stage Kiss. Weld's other roles at The Lab include Mr. van Daan in The Diary of Anne Frank, Kit Kat boy Viktor in the 2015 smash hit Cabaret, Glengarry Glen Ross, In the Next Room, The Laramie Project and Romeo & Juliet previous to that. Local audiences also saw him in Young Frankenstein with the Naples Players. He has also appeared in the chorus of La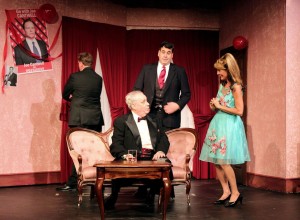 Boheme with Opera Naples and Les Miserables, The Producers and several other musicals with The Naples Players.
Although theirs are admittedly minor supporting roles, both Carpenter and Weld excel in their roles and their performances add to the professional tenor of this prescient 1957 play that predicted so much of our current malfunctioning political
system.
Posted October 16, 2016.
RELATED POSTS.