Joann Haley brings grace to Alice Russell's marriage of convenience in 'The Best Man'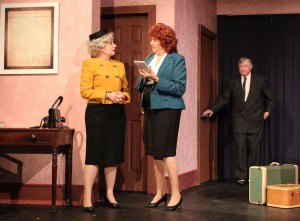 On stage now at The Lab is Gore Vidal's The Best Man. One of the political candidates vying for that honor is William Russell, a former Secretary of State and statesman with a pedigree of philandering and an unabashed marriage of convenience to his wife, Alice, played by Joann Haley.
One need look no further than Netflix's House of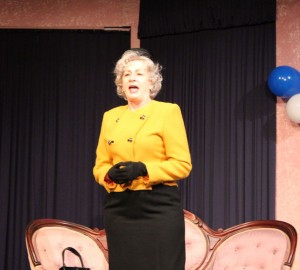 Cards for an example of a famous fictional marriage of convenience. The show's many viewers have become obsessed over House of Cards' four seasons with power couple Francis and Clair Underwood, who seem to be and stay together solely to advance their pursuit of power. And that has prompted parallels to (quelle surprise) Bill and Hillary Clinton.
"In modern times, there has been no political marriage as shrouded in controversy, myth-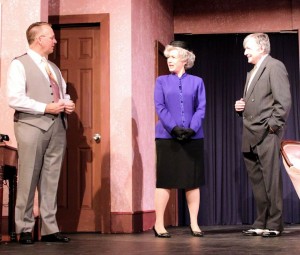 making, and speculation as the union of Bill and Hillary Clinton," writes book reviewer William O'Connor. "It has been dogged by his infidelity and snide asides about her lack of sex appeal. It has also withstood one of the greatest challenges to a marriage—time. While each Clinton would surely have had a sterling career on their own, there is little doubt that it was the combination of their personalities that propelled them to dizzying heights of power and wealth."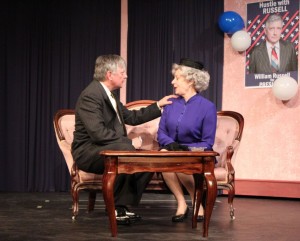 O'Connor made these observations in connection with a book on Benjamin and Mary Anne Disraeli, whose 19th century marriage was also a source of endless speculation. "He was part-Jewish, a wannabe Romantic with eye-popping debts; he faced rumors of his sexuality and suffered from an outsized ambition handicapped by piddling achievements. She was 12 years his senior, swimming in money left to her by her recently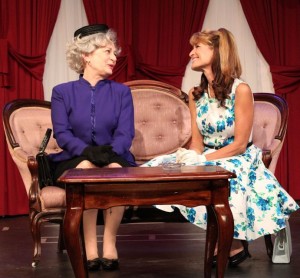 deceased elderly husband, but widely considered an eccentric social climber with little to say for her heritage."
And in The Best Man we are given William and Alice Russell. He's a serial philanderer. In one telling interlude, he delivers bad news while they sit together on the couch in their hotel room. When he lays his hand on her shoulder, she softly responds, "That's the first time you've touched me in years." Even though she's been spurned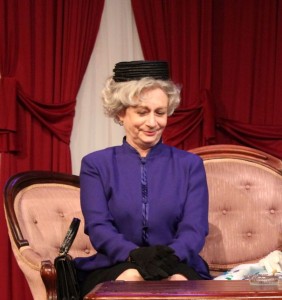 physically, emotionally and mentally, Alice Russell is still willing to be with her husband as he makes a run for the presidency, with full knowledge that she'd be required to share the White House as William's First Lady in a pretend mariage de convenance for the ages.
Joann Haley does as much as she can with the role Vidal has given her. Clearly, this is not a play about political marriages of expediency. Vidal has other fish to fry. Still, the grace and reserve with which Haley portrays her character invite so many questions about
this couple's backstory. Did they love each once upon a time? If so, what changed? And how can a woman so frequently humiliated by her husband's trysts, dalliances and compulsive infidelity want to see him in the oval office rather than a rectangular box beneath six feet of cold dark dirt. Of course, the answer to these questions are influenced by the timeframe in which this story takes place. Divorce today does not bear the stigma it did in the 1950s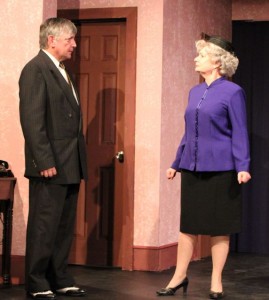 and '60s. Evidence Donald Trump, Rudi Giuliani and Newt Gingrich – each has been married thrice and engaged in very public extramarital affairs during the first two of their marriages.
But Haley does not let the audience become distracted by all the wrong her man has done her. The sad truth is that Alice Russell is still in love with her husband. She's wistful rather than bitter. Hopeful rather than resigned. Rather than an object to be scorned for settling for less, Haley's Alice Russell is a sympathetic figure during her brief interludes on the Lab Theater stage.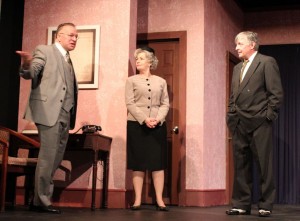 Many women across the age and economic divide can identify with Alice Russell. Countless women trapped in loveless marriages choose to stay in the "relationship" rather than leave, whether it's for the sake of the children or because they simply cannot afford the price of divorce and the cost of starting over alone and someplace else. Some of the women in The Best Man audience have likely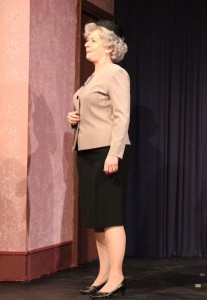 made that choice as recently as the Great Recession or as they enter retirement with husbands from whom they've grown apart both mentally and emotionally. Love is hard to find and even harder to keep, and romance is as elusive as firefly beckoning on the forest's edge.
Joann Haley stands in for all such women, and she is to be complimented for understanding both her character and her role. Haley has been acting on a variety of Southwest Florida stages since 1996. She was last seen as the lead in Theatre Conspiracy's The Book of Liz, in which she played cheeseball-making Sister Elizabeth Donderstock who ventures forth from her religious community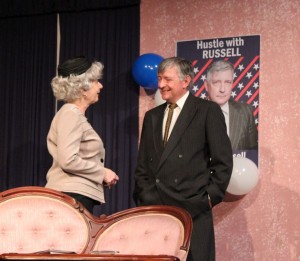 because she feels unappreciated and undervalued. Some of her favorite roles have been Nurse Ratched in One Flew Over the Cuckoo's Nest, Queen Gertrude in Hamlet, and Linda Loman in Death of a Salesman (all for Lab Theater). Other credits include Mother Superior in Agnes of God (Lab Theater), Arcadia, Time and Ina Meyerhoff, Sylvia and Invasion of Privacy (all for Theatre Conspiracy).
Posted October 12, 2016.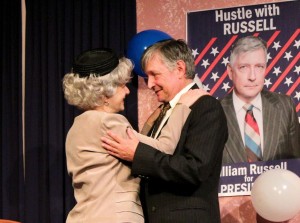 RELATED POSTS.