Patrick Erhardt is Wardell 'Bubba' Owens in Lab's 'Sordid Lives'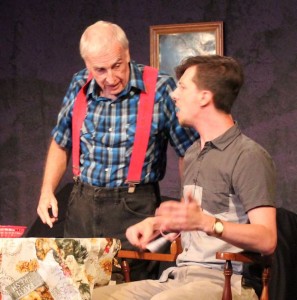 Sordid Lives opens at Lab Theater on September 15. Joining the cast is Patrick Erhardt, who's had a busy summer.
When Lab audiences last saw him, Patrick was playing a woman in the cult classic summer smash Whatever Happened to Baby James: A Parody of the Horror. Sordid Lives is also something of a cult classic with LGBT fans, particularly in the South. And in Sordid Lives, Erhardt's character finds himself at the vortex of considerable controversy and angst.
E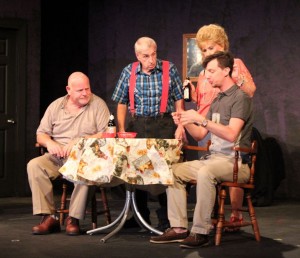 rhardt reprises the role of Wardell "Bubba" Owens. The proprietor of Bubba's Bar, he employs lounge singer Bitsy Mae Harling (played by Shelley Rae Sanders). Bubba is also G.W. Nethercott's good friend. G.W. is persona non grata at Peggy Ingram's wake and funeral. It seems, you see, that Peggy tripped over G.W.'s prosthetic wooden legs in the seedy motel where they were enjoying a clandestine tryst. Not as nimble or agile as she was when she was younger, the cougar lunged forward, struck her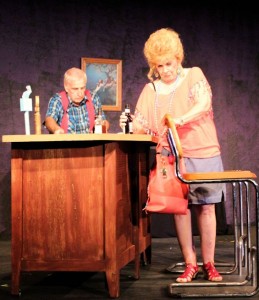 head on the bathroom sink, and bled to death right then and there. Sad and unfortunate in its own right, the event turns out to be shockingly scandalous considering that G.W. was Peggy's much, much younger neighbor and married, to boot. He and his wife, Noleta, also live next door to Peggy's chain-smoking younger sister, Sissy, and Noleta and Peggy's younger daughter, LaVonda Dupree, are best friends.
But wait!
There's more – much more – intrigue.
B
esides LaVonda, Peggy left behind two other children, a daughter by the name of Latrelle and a boy named Earl (what, you thought it was going to be Sue?). Nicknamed "Brother Boy," Earl is the black sheep of the family. Neither Peggy nor the small Texas town of Winters is terribly enlightened, and Peggy had her son institutionalized more than 20 years ago for being both gay and a cross-dresser. From Bubba's perspective,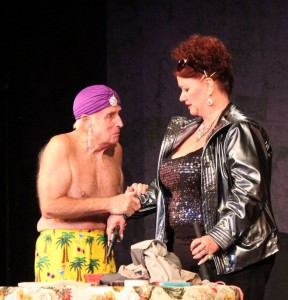 there are worse things than dressing up like Tammy Wynette. It's not that Bubba likes rock or hip hop. It's because Bubba has become the object of Brother Boy's affections.
Prior to playing Mrs. Bates in Baby Jane, Patrick was in Body & Sold. Erhardt made his Lab Theater stage debut earlier this season in Arthur Kopit's Wings, where he played the roles of one of the doctors and a stroke veteran by the name of Mr. Brownstein. Other Lab credits include The 24-Hour Playwriting Project, staged readings of True Colors and In the Shadow of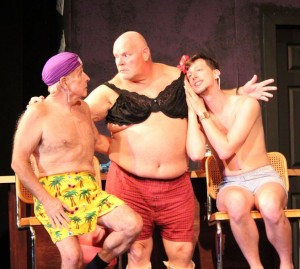 Queens.
Patrick has more than 26 years of theatrical experience, both on stage and behind the director's chair. His favorite roles have been Tevye in Fiddler on the Roof, Peter in Jesus Christ Superstar, Jacques in Stinkin' Rich and five characters in Les Miserables. Some of Pat's directing projects include On Golden Pond, A Christmas Story and The Psychic (which earned him a Broadway World Best Director nomination). In addition to acting and directing,
Pat also sings.
After working closely with Randall Kenneth Jones, Rob Green, Jack Weld and the rest of the Baby Jane cast, Erhardt is primed to work with another large cast and roster of zany characters. Be sure to see him in Sordid Lives.
August 29, 2017.
RELATED POSTS.