'Sordid Lives' play dates, times and ticket info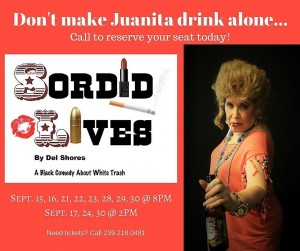 Play: Sordid Lives
Playwright: Del Shores
Synopsis: Set in a small town in Texas, a family gathers to deal with the death of their elderly matriarch. Their grief is made all the more difficult because the details of her demise are sure to cause embarrassment. However, the family members themselves give reason enough for embarrassment, as we see them at both their best and their worst (think big hair, lots of booze, cheating, revenge, cross-dressing and guns)! Loosely based on the playwright's own life, this is an over-the-top black comedy about white trash … and what it means to be yourself.
Cast: TBA
Director: TBA
What Say the Critics:
"Sordid Lives delightfully mixes humor and heart …" Orlando Sentinel.
"… a great comedy with broadly drawn characters … the right touch of humanity to make them just real enough." Chicago Theater Beat.
Play Dates and Times: September 15, 16, 21, 22, 23, 28, 29 and 30 at 8:00 p.m., with 2:00 p.m. matinees on September 17, 24 and 30.
Tickets: $23.00 adults; $20.00 military and senior (65 and older); $10 students.
Ticket info: Telephone 239-218-0481 for tickets.