Spotlight on 'Musical Comedy Murders' cast member Kayleigh O'Connell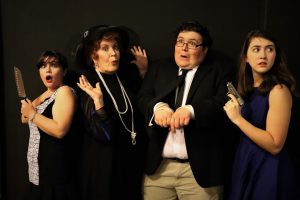 The Musical Comedy Murders of the 1940s is coming to Lab Theater, and included in Director Carmen Crussard's cast for this zany, madcap Whodunnit is Kayleigh O'Connell, who last appeared on the Lab Theater boards as the condescending cousin Chick Boyle in Crimes of the Heart. But Lab Theater audiences are still talking about Kayleigh's portrayal of Elvira in last summer's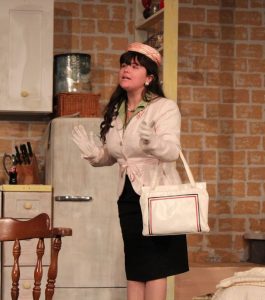 campy cult classic, Whatever Happened to Baby Jane – a Parody of the Horror.
In Baby Jane, Kayleigh enjoyed many memorable show-stopping scenes. There was an early sequence, for example, in which Elvira arrives for work and proceeds to square off around the living room divan with Baby Jane Paso-Doble-style to the strains of the theme from The Good, The Bad and the Ugly. Even better, though, was the one in which she reacts rather strongly to some suggestive language Baby Jane writes on a manila envelope. It was not quite as suggestive as Meg Ryan's When Harry Met Sally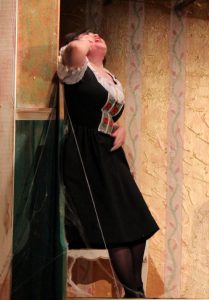 fake orgasm scene, or as hysterical as Bernadette's fake laugh scene in "The Hesitation Ramification" episode of The Big Bang Theory, but it was in the same zip code. Priceless.
The point is simple. If you haven't seen Kayleigh O'Connell, you're in for a treat. She is easy to spot. Look for a small bundle of energy that's big on attitude. That's Kayleigh O'Connell.
Prior to Elvira, Kayleigh depicted a 17-year-old high school student by the name of Marla Smitty Smith in Play On! In addition to Play On!, Kayleigh's acting resume includes parts in Anything Goes and Thoroughly Modern Millie for Florida Repertory Theatre and Hairspray for North Fort Myers High School for the Performing Arts.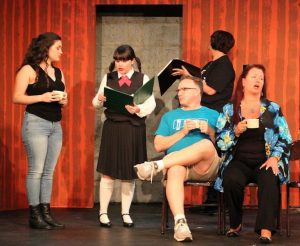 Kayleigh is currently majoring in theatre studies at Florida SouthWestern State College.
March 1, 2018.
RELATED POSTS.