Summer Stock 2015
Lab Theater has announced its Summer Stock 2015 schedule:
June: The Underpants by Steve Martin
July: I'll Eat You Last: A Chat with Sue Mengers by John Logan
August: Happy by Robert Carlisle
Steve Martin's 'Underpants' leads off Summer Stock 2015 season (05-17-15)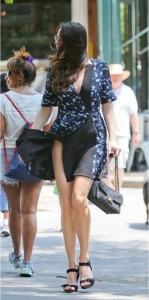 There was Janet Jackson's famous 2004 Super Bowl wardrobe malfunction. Selena Gomez wasn't even wearing underwear when she flashed her bits during a concert in 2013. Rihanna showed some cheek at the 2014 Met Gala, and Liv Tyler accidentally showed off her black underwear when a particularly strong gust of wind brought her Proenza Schouler wrap dress flying up on July 2, 2014 in New York City. Nowadays, it's a common occurrence for the Hollywood rich and famous, but imagine dropping your drawers in 1910 at the King's Parade in provincial Germany. Well, that's the jumping off point for The Underpants, the first of Lab Theater's summer stock for 2015.
The Underpants is an adaptation of Carl Sternheim's 1911 work Die Hose. It's smartly written by Steve Martin. Yes, the uproariously funny comedian and actor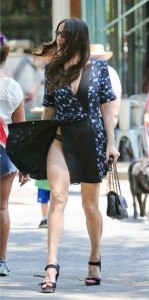 who is also a playwright, director, banjo master, art collector and totally crazy guy.
The audience does not actually see the mortifying faux pas. It happens off stage to a respectable middle class woman by the name of Louise Maske. Right in the middle of the festivities, Louise's underpants fell down, right to her pretty little ankles, and everybody in Düsseldorf was there to see it.
Louise laughs it off. It was no big deal, she insists. But her uptight husband, Theo, is convinced that the Louise's panties (more like bloomers a hundred years ago) spell the end to his pedestrian but remunerative Civil Service job. And the incident sparks lurid interest on the part of two prospective tenants who are intent on renting a room from the couple. The first is a rakish poet who is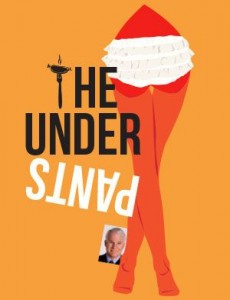 confident of carrying out his seduction. The other is a nerdy guy (yes, there were nerds back then too) who apparently just plans to fantasize.
The ensuing romp is filled with hilarious situational comedy, zesty one liners and sizzling sexual innuendo – all at the expense of poor Louise Maske, who is forced to suffer the highs and lows associated with her 15-minutes-of-fame. Never underestimate the power of a glimpse of lingerie. Mark your calendar. Show dates are June 12, 13, 19, 20, 26 and 27 at 8 p.m. and June 27 at 2 p.m.