The Underpants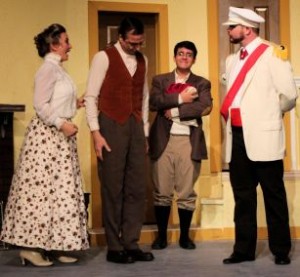 The Underpants opens Lab Theater' 2015 summer stock, with performances on June 12, 13, 19, 20, 26 and 27 at 8 p.m. and June 27 at 2 p.m. Read on for all the news, announcements, articles and reviews about the play, the playwright, and the production's director and actors.
* * * * * * * * * * * * * * * * * * * * * * *
Dena Galyean and Angie Koch bring energy, vitality to Lab Theater's 'Underpants' (06-19-15)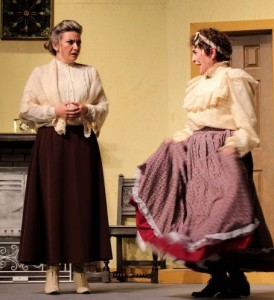 On stage at Lab Theater through June 28 is Steve Martin's Underpants. It stars Mike Dinko as Theo, Dena Galyean as Louise, Angie Koch as Gertrude, Andy Savoie as Versati, Stephen E. Hooper as Klingelhoff, and Marcos Martins as Benjamin Cohen.
As the audience quickly discovers, the panty-less Louise is trapped like a canary in a colorless, sexless marriage. "Except for my wedding night, I'd be a virgin," Louise complains to her nosy upstairs neighbor Gertrude. But once Louise's bloomers come untied and fall to her ankles while she is straining for a better look at the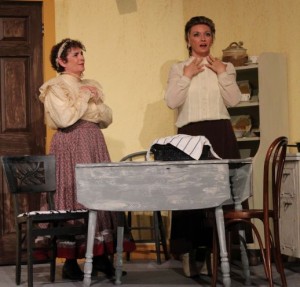 passing king, her sexuality is placed front and center. Oh, her tyrant of a husband, Theo, is not eroticized. To the contrary, he is traumatized by the prospect that his wife's sudden notoriety could adversely impact his position as a government administrator. But Louise barely notices because she suddenly finds herself the fancy of a series of suitors who, after witnessing the sexy episode, show up to rent a room that she and Theo have to let.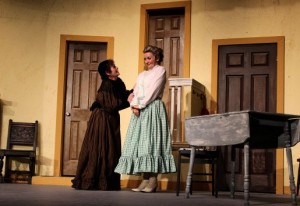 As soon as she sizes up the situation, Gertrude unabashedly volunteers to run interference for Louise so that she can avail herself of the opportunities springing up all around her. "There are lots of better men out there," prods Gertrude, who is intent on living through Louise, vicariously enjoying Louise's dalliances. Louise doesn't put up much of a fight. In fact, she is enjoying her fifteen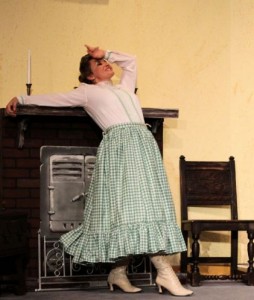 minutes of fame and only too eager to be swept off her feet by the poetic Versati, who offers the prospect if not the reality of romance.
Angie Koch brings both exuberance and energy to her character. She is irrepressible in best traditions of farcical comedy. But it is the lively, lovely and lovelorn Dena Galyean who, as the object of everyone else's attention, makes all the action and all the dialogue work. Galyean is convincing as the browbeaten, sex-starved hausfrau, and hilarious as she gets more and more frustrated and overheated by her inability to get the verbose, self-enamored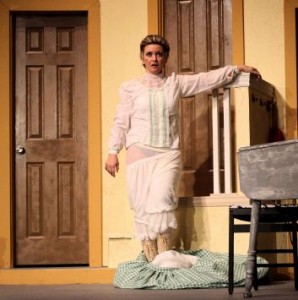 Versati to satisfy the itch her husband has been loath to scratch since their wedding night. Apparently Galyean's Louise is attracted to men who neglect and discard her once they've won her affections.
But don't expect the characters to ring true or the plot to make sense in every detail. This is, after all, a farce, and it is, even more to the point, a product from the imagination of Steve Martin. So just show up, sit back and enjoy.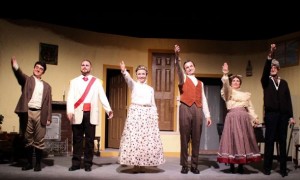 Angie Koch has previously been seen on the Laboratory Theater stage in Deathtrap and Rimers of Eldritch. This is Dena Galyean's debut with Lab Theater, and she thanks director Rick Sebastian and the rest of her Underpants cast for making the experience one she will never forget.
See above for remaining play dates, times and ticket information.
___________________________________________________
Andy Savoie is Versati in Steve Martin's 'Underpants' (06-18-15)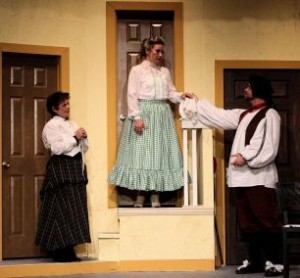 On stage now at Lab Theater is Steve Martin's The Underpants. It stars Mike Dinko as Theo, Dena Galyean as Louise, Angie Koch as Gertrude, Andy Savoie as Versati, Stephen E. Hooper as Klingelhoff, and Marcos Martins as Benjamin Cohen.
Of all the characters, that of Versati had the most potential to inject laugh-out-loud humor into this production. At director Rick Sebastian's behest, Andy Savoie takes a more theatrical (read, serious)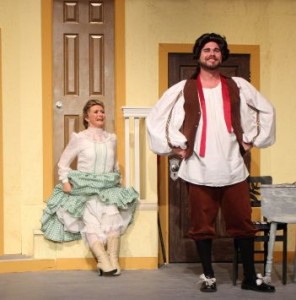 tact. Too bad. Versati is a foppish Don Juan poet who is more interested in the words of seduction than the act of seduction itself, a situation that bewilders and befuddles the sexually frustrated Louise almost the point of distraction. Even so, Savoie's Versati is hysterical. He's just not as hilarious as he could have been.
Savoie recently played the roles of Bobby and Rudy in Lab Theater's production of Cabaret last season. Prior to that, he has been Skip Snip in Little Shop of Horrors, Peter in Jesus Christ Superstar and Charlie/Ensemble in Sweet Charity.
The Underpants runs through June 27. Please see above for remaining play dates, times and ticket information
______________________________________________________________________
Marcos Martins plays role of Benjamin Cohen in Steve Martin's 'Underpants' (06-17-15)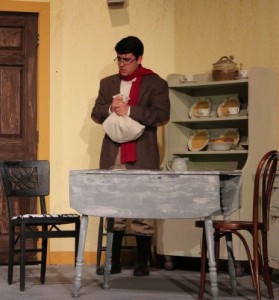 On stage now at Lab Theater is Steve Martin's The Underpants. It stars Mike Dinko as Theo, Dena Galyean as Louise, Angie Koch as Gertrude, Andy Savoie as Versati, Stephen E. Hooper as Klingelhoff, and Marcos Martins as Benjamin Cohen.
It's fortunate for Martins that he's young otherwise he might risk being typecast. This is the second Lab Theater play in a row in which he is playing a Jewish boy. He just finished The Diary of Anne Frank, in which he played the part of Anne Frank's love interest, Peter van Daan. Some of this young actor's other roles include Harry the Horse in Guys and Dolls and Tim Allgood in Noises Off, both at Cypress Lake High School.
Marcos will be attending Florida Southern College in the fall.
Please see above for play dates, times and ticket information
________________________________________________________________________________
Though superfluous, Klingelhoff is most comic and farcical character in 'The Underpants' (06-16-15)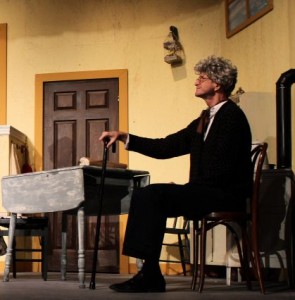 On stage now at Lab Theater is Steve Martin's The Underpants. It stars Mike Dinko as Theo, Dena Galyean as Louise, Angie Koch as Gertrude, Andy Savoie as Versati, Marcos Martins as Benjamin Cohen and Stephen E. Hooper as Klingelhoff.
Klingelhoff is the most comical of the six characters Martin includes in his play, although he is also the most superfluous. Keeping it real, it's hard to see how the character adds to the overall storyline or the development of the other characters. That's no fault of Stephen Hooper, who is the one actor given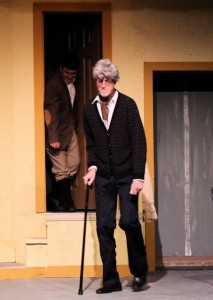 free rein by director Rick Sebastian to act the fool and be a farce. In fact, it's a shame that Hooper didn't have a bigger role or greater presence in this production.
Hooper has been involved in theater for more than thirty years. Some of his favorite roles include Col. Jessup in A Few Good Men (produced by the Peninsula Players), Mittler in Dispatches from Hell (Theatre Conspiracy), Ernie Cusack in Rumors (Florida Rep) and Harding in One Flew Over the Cuckoo's Nest (Lab Theater). Stephen also directed The Whale at Theatre Conspiracy and is a member of Theatre Conspiracy Playwrights.
Please see above for remaining play dates, times and ticket information
_____________________________________________________________
Lab Theater's 'Underpants' chock full of situational comedy, sexual puns and bawdy double entendre (06-15-15)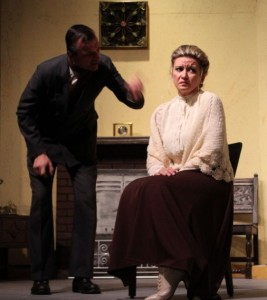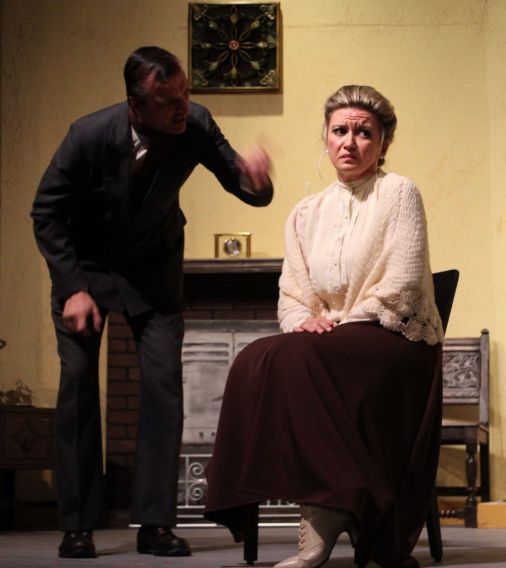 On stage now at Lab Theater is Steve Martin's The Underpants. It stars Mike Dinko as Theo, Dena Galyean as Louise, Angie Koch as Gertrude, Andy Savoie as Versati, Marcos Martins as Benjamin Cohen and Stephen E. Hooper as Klingelhoff.
Galyean was sitting backstage for a show some 12 years ago when a fellow cast member handed her the script for The Underpants and told her it was hilarious. "He was right," says Galyean, who fell in love with the play and hoped she be able to perform in it someday. Local audiences are now discovering what Galyean did more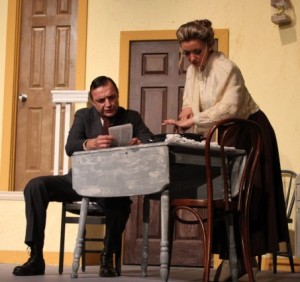 than a decade ago. The Underpants is chock full of situational comedy, sexual puns and bawdy double entendre, not to mention farce in its truest literary sense. Even though the action is set in 1910 Dusseldorf, the play resonates even with younger audience members thanks in large measure to Martin's affinity for the outrageous.
With lesser talent, The Underpants could tend toward uncomfortable dull patches, but the acting here is really quite good. Dinko revels in the role of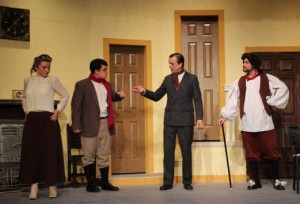 the overbearing, autocratic bureaucrat, Theo, who is chagrined when his wife drops her panties on a bench as she strains on tiptoes for a better look at the king as he passes by on parade. He handles the part with an obtuse obnoxiousness that not only captures his character, but all men of Theo's ilk. His performance is all the more impressive given that it is his first lead and only the third year he's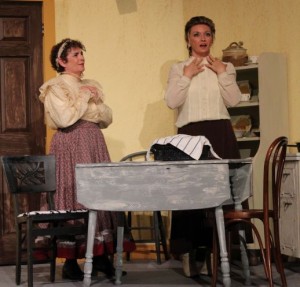 been on stage.
Dean Galyean is a treasure as Theo's long-suffering, sexually repressed wife, who becomes the object of barely restrained lust and desire following her wardrobe malfunction. As tightly wrapped as her long tresses, Galyean delights as she suddenly discovers that she not only has sexual game but players are lining up for their turn at the table, including the lady upstairs who offers to serve as look-out during proffered dalliances so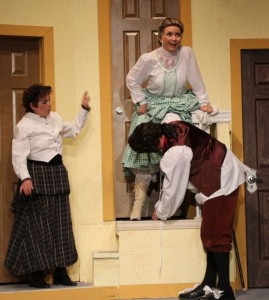 that she can live vicariously through Louise, effusing orgasmicly "if you're having an affair, I'll be having an affair too in my mind."
Savoie, high schooler Marcos Martins, Stephen E. Hooper and Angie Koch all turn in strong performances, embracing their characters' farcical excesses each in their own way.
Special recognition must also be given to Rick Sebastian, Mike Eyth, Mike Dinko, Chris Bethuy, Annette Trossbach and her sons Ziggy and Felix for set design and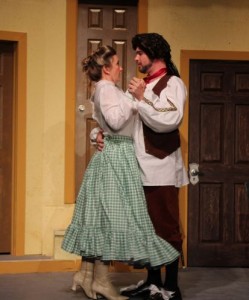 construction, Dianela Gil for costumes and Rosie DeLeon for sound and lighting. Together with the cast, they do Steve Martin a solid, letting the audience discover a side of the comedian/actor/musician they might not otherwise know. As a playwright and writer, Martin combines highbrow intellectualism with low brow humor in a way that everyone can enjoy, regardless of education, social status or gender … although the ladies just might like the outcome here a little more than their guys.
See above for remaining play dates, times and ticket information.
________________________________________________________________________________
With 'The Underpants' Front of House Manager Mike Dinko is upping his theatrical game (06-04-15)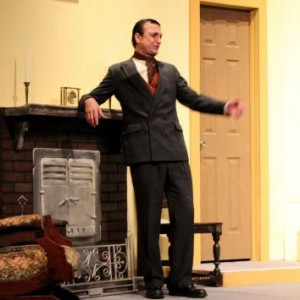 Steve Martin's The Underpants opens June 12 at Laboratory Theater. A familiar face will be on stage rather than behind the ticket and concession counter. Front of House Manager Mike Dinko plays Theo, the uptight, authoritarian husband who browbeats and ridicules his submissive wife, Louise, until the day she becomes something of a sexualized sensation after accidentally dropping her panties as she's straining for a better look at the king during a passing parade.
"This has been a real step up for him,"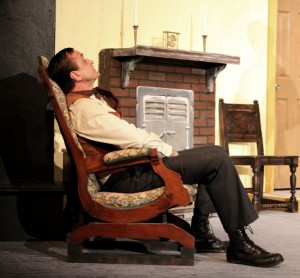 says director Rick Sebastian. "He's had minor roles before, but now he's taking his game to a new level."
Dinko recently played Kraler in The Diary of Anne Frank, and before that was Frank in Scrooge TV. Last summer, he made audiences laugh playing three Jewish husbands in the locally written and produced 2nd Book of Ruth by Zalman Velvel. Other parts include Detective Baylen in Glengarry Glen Ross, Peck Johnson in The Rimers of Eldritch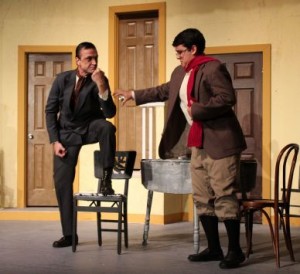 and Bill Ray in On Golden Pond. In all, Mike has had seven bit and supporting roles, but this is the first time he's been cast in the lead.
"Dinko has the voice and characterization down," Sebastian says with satisfaction. "But I've warned him that for the first three-quarters of the play, the women in the audience are going to want to throw rocks at him. Theo's very controlling; a very dominant male authority figure. You don't find out until later in the play that he has a reason for being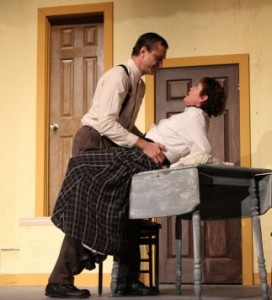 like this, but he's just the world's worst communicator."
Well, it is possible to quibble with Sebastian as to Theo's reasons for being like he is. At his job, Theo is a bureaucrat who defines success as being nondescript, even invisible. But at home with his wife, he is a tyrant, the Kaiser of his own domain. Not able to afford a child, his form of birth control is abstinence. Little does he care that his avoidance, even aversion to all forms of affection, physical contact and emotional connection claws at his wife's self-worth and self-esteem. And when his wife's wardrobe malfunction brings renters and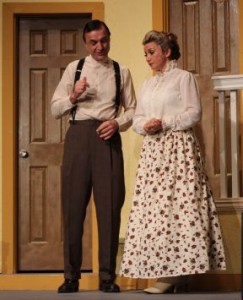 rental income, he expects Louise to swoon at his announcement that they can now afford to have a child. Far from justifying his pompous, self-aggrandizing behavior, Theo's desire to procreate begs the question of why Louise, or any other woman, would want to bear his child. The fact that the audience feels this way is testament to Dinko's skills at playing the role of the paternalistic, verbally abusive spouse.
Get your tickets now for The Underpants. But ladies, please leave your rocks and stones in the parking lot.
See above for play dates, times and ticket information.
_______________________________________________________________________________
Director Rick Sebastian provides cliff notes for appreciating Steve Martin's 'Underpants' (06-03-15)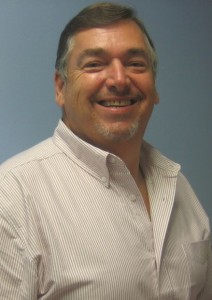 What happens when a cloistered, browbeaten frau suddenly gains a little self-worth, self-confidence and self-esteem? Well that's the theme of The Underpants, a play written by comedian Steve Martin that opens Friday, June 12 at the Laboratory Theater of Florida.
The frau's name is Louise, and she's "this little haus frau who feels like a trapped bird in a cage," relates the play's director, Rick Sebastian. In fact, to underscore this point, there's  a metaphorical canary in a cage on the set. "And she has dreams about what life should really be like, and then this little accident happens. She's watching this parade and when the king goes by, she gets up on her tiptoes to get a better view, her underpants fall down."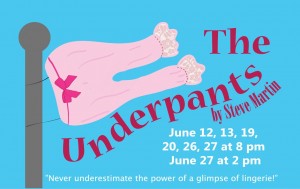 Oh, the audience doesn't get to see the show. "As I told the cast before the first rehearsal," laughs Sebastian, "the underpants fall down before the curtain goes up."
But that's when downtrodden Louise, played by Dena Galyeaan, first begins to surmise her true worth. Suddenly, men appear on the pretext of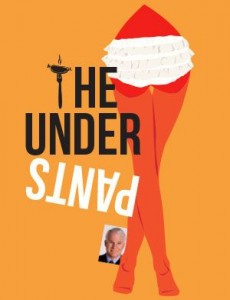 renting a room that she and her husband, Theo, have to let, but they're really there because they saw her underpants and have become infatuated, no, obsessed with her.
"At first, she's confused about why she's suddenly getting all this attention," explains Sebastian. "When she finds out why she's getting all this attention, she's ashamed and embarrassed. And then what really happens in the play is that as a woman, as an individual, she gets a little self-esteem and self-confidence and starts to bloom as a person. By the end of the play, she has the control and has a life."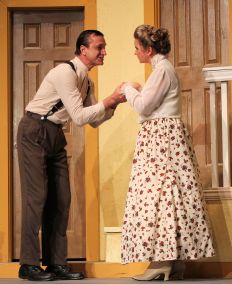 Opposing Louise's sudden enlightenment and emerging self-awareness is husband Theo, played by Mike Dinko (pictured in center of photo to right from Diary of Anne Frank). Theo is a self-righteous, self-important, autocratic clerk who claims that because he works hard at his job, he doesn't need to do anything else when he comes home. "For the first three quarters of the play, the women in the audience are going to want to kill him or throw rocks at him," Sebastian predicts. "But by the end, they'll soften."
Underlying the thematic tension between Theo, Louise and her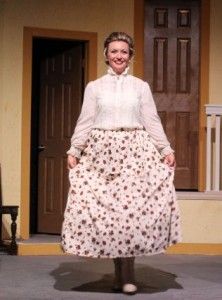 two would-be renters/suitors is a pervasive physicality. "I've put a lot of movement into the play," Sebastian explains. "When I think of Steve Martin, I think of a very physical brand of comedy in addition to his obvious intellectuality." In fact, if you're looking for a parallel, recall Roxanne, Martin's adaptation of Edmond Rostand's 1897 verse play Cyrano de Bergerac.In the movie, Martin's character, a fire chief by the name of Charlie Bales, writes love letters on behalf of one of his men in order to help him woo an astronomer who's searching for a new comet. But though devastatingly handsome, the fireman is disappointingly dim and once she recognizes her obsession with physical perfection, she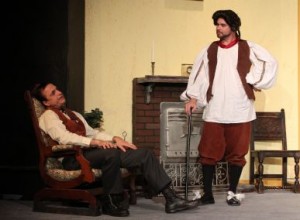 realizes that she's actually fallen in love with Bales in spite of his obscenely large nose.
The Underpants is another adaptation, this time of a 1911 work by Carl Sternheim titled Die Hose that pokes fun at the bourgeoisie small-minded middle class mentality and Victorian sensibility of propriety and social conformity. "The characters are very committed to doing what's proper, what's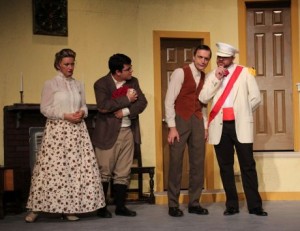 the right thing to do," Sebastian notes. Which creates the predicate for farcically hilarious scenes.
But you really need to draw  your own conclusions. The Underpants opens Friday, June 12 and closes June 27. There are only seven shows in this run, including a 2 p.m. matinee. All performance are a homage to the playwright. "Steve Martin is being honored with a Lifetime Achievement Award this month and that was the impetus for doing his play at Lab Theater during the summer season," Sebastian points out.
Please see above for performance dates, times and ticket information.
__________________________________________________
Rick Sebastian to direct Lab Theater's 'Underpants' (05-22-15)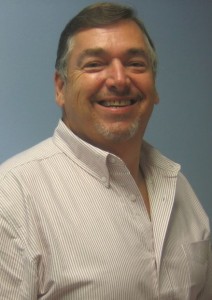 On June 12, The Underpants opens at Lab Theater. The play is directed by Rick Sebastian.
Sebastian studied acting and directing Florida Atlantic University in 1988, where he had the privilege of working with Zoe Caldwell and her husband, Robert Whitehead. His directing credits include last year's Theatre Conspiracy hit, Betrayal, starring James Recca, Patti Ford and Greg Sofranco, as well as numerous shows on Fort Myers Beach over the past three years. He has previously performed at Laboratory Theater as next door neighbor, Charley, in Death of a Saleman, Big Daddy in Cat on a Hot Tin Roof, and King Claudius in Hamlet. He has also appeared locally with Broadway Palm, the old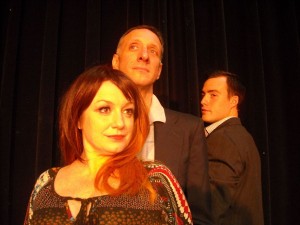 Naples Dinner Theatre, and at Theatre Conspiracy as Marjorie Kinnan Rawlingand's husband, Chrsylis, in School for Wives, and as a very human dog in Domestic Tranquility.
In fact, Sebastian credits Theatre Conspiracy Artistic Director Bill Taylor with infecting him with the acting bug. "I started acting under the direction of Richard Westlake when I went back to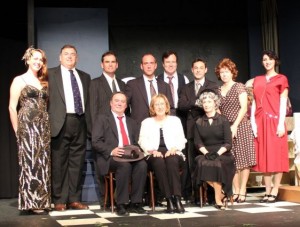 study at Edison Community College (now Florida SouthWestern State College)," recalls Rick. "My first role was as Bill Taylor's older brother in Table Settings by James Lapine. That was in 1982! Once bitten, I performed with several local theatre companies from Cape Coral to the Old Pirate Playhouse on Sanibel" before leaving for Boston and New York to work in television and film, where he appeared in Rosewood, The Witches of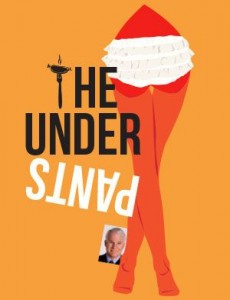 Eastwick, many commercials and the Miami Vice pilot. A member of the Screen Actors Guild, Rick uses his diverse acting experience to inform his directing.
Of late, Rick has ventured into the role of producer, bringing Theatre Conspiracy's hit play, The Bible: The Complete Word of God (abridged), to Fort Myers Beach in January and the Nora and Delia Ephron play, Love, Loss, And What I Wore, to the Fort Myers Beach Woman's Club for two performances in February.
Please see above for play dates and times.
____________________________________________________________
'The Underpants' one of many writing projects during Steve Martin's long and successful career (05-21-15)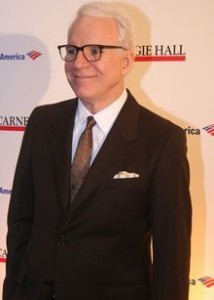 On June 12, Lab Theater will present The Underpants, a play written by Steve Martin. Yes, that Steve Martin.
Martin came to public notice as a writer for the Smothers Brothers Comedy Hour, and later became a frequent guest on The Tonight Show. Although he is best known as a comedian and actor, Martin has always fashioned himself as a writer. In fact, he wrote the first feature he starred in. It was short called The Absent-Minded Waiter, for which he was nominated for an Academy Award.
Two years later, Martin starred in The Jerk. It was the first of many collaborations between Martin and director Carl Reiner that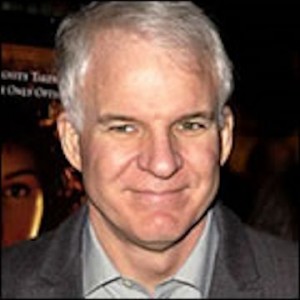 included the lampoon of detective thrillers Dead Men Don't Wear Plaid (1982), the sci-fi comedy The Man With Two Brains (1983) and the identity-swapping comedy All of Me (1984) with Lily Tomlin. Martin received Best Actor awards from both the New York Film Critics Association and the National Board of Review for his performance in All of Me. He also won rave reviews for his portrayal of a demented dentist in Frank Oz's Little Shop of Horrors (1986).
In 1987, Martin returned to writing, co-authoring,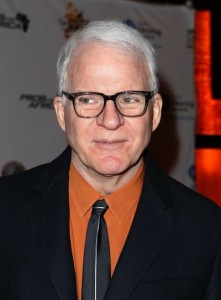 co-producing and starring in Roxanne, a modern interpretation of the story of Cyrano De Bergerac that garnered Martin an award for Best Screenplay from the Writers Guild of America as well as a Best Actor award from the Los Angeles Film Critics Association. In 1991, Martin wrote, starred in and co-executive produced L.A. Story. He also starred in the Disney remake of Father of the Bride in 1992 and its 1995 sequel.
In 1993, Martin decided to take a stab at playwriting with Picasso at the Lapin Agile, which opened at Chicago's Steppenwolf Theatre, moving to Boston and Los Angeles as well as running off-Broadway. The one-act play creates a hypothetical meeting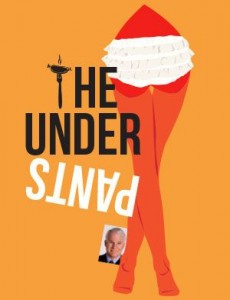 between Pablo Picasso and Albert Einstein in Paris, 1904, shortly before Einstein published "The Special Theory of Relativity" and Picasso painted Les Demoiselles D'Avignon.
"I was starting to get really interested in theater," Martin explained of his first foray into playwriting. "It looked like a real challenge. I thought, 'I wonder if I could do that, because if I could do that . . . I think you go through your career trying to prove to yourself that you can do something. And even after you've done it, you're still trying to prove it. So I thought that would prove if I were a writer or not, if I could write a play."
"Actually, I was just struck by the play," amplifies Randall Arney, who directed the inaugural production of the play at Chicago's Steppenwolf Theatre. "It's really wild, with wonderful roles. One of the things that so attracted me was that it defies categorization. I just find it wonderfully funny, as you might expect with Steve's having written it, and yet at the same time it's very smart."
Following a David Mamet's The Spanish Prisoner (1997), a voice role in the animated Dreamworks film The Prince of Egypt (1998), and a co-starring role with Goldie Hawn in a remake of The Out of Towners (1999), Martin wrote and starred in the comedy Bowfinger with Eddie Murphy in 1999. Three years later, he returned to the theater, adapting the Carl Sternheim play The Underpants, which ran Off Broadway at Classic Stage Company, and in 2008, co-wrote and produced Traitor. During this time, he also wrote two novellas, Shopgirl (2000) and The Pleasure of My Company (2003), both more wry in tone than raucous. A story of a 28-year-old woman working behind the glove counter at the Saks Fifth Avenue department store in Beverly Hills, Shopgirl was made into a film starring Martin and Claire Danes. The film premiered at the Toronto Film Festival in September 2005 and was featured at the Chicago International Film Festival and the Austin Film Festival before going into limited release in the US. In 2007, he published a memoir, Born Standing Up, which Time magazine named as one of the Top 10 Nonfiction Books of 2007, ranking it at No. 6, and praising it as "a funny, moving, surprisingly frank memoir." In 2010, he published the novel An Object of Beauty.
In 2003, Martin starred opposite Queen Latifah in the romantic comedy Bringing Down the House, which debuted at a surprising No. 1 at the box office. In 2004, Martin costarred with Bonnie Hunt to reprise the 1950s comedy Cheaper by the Dozen. He then wrote and starred in another remake, 2006's Pink Panther, which performed well at the box office. In 2008, Martin appeared in the Tina Fey/Amy Poehler comedy Baby Mama. The movie skyrocketed to No. 1 at the box office and grossed more than $17 million its first weekend.
In 2004, Comedy Central ranked Martin at sixth place in a list of the 100 greatest stand-up comics.
For his body of work, Martin received an honorary Oscar in 2013.
However, if you want to see Steve Martin in a completely different light, you need to take in The Underpants during its run at Laboratory Theater. See above for play dates, times and ticket information.
____________________________________________________________
Steve Martin's 'Underpants' leads off Summer Stock 2015 season (05-17-15)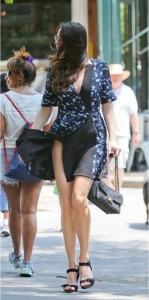 There was Janet Jackson's famous 2004 Super Bowl wardrobe malfunction. Selena Gomez wasn't even wearing underwear when she flashed her bits during a concert in 2013. Rihanna showed some cheek at the 2014 Met Gala, and Liv Tyler accidentally showed off her black underwear when a particularly strong gust of wind on July 2, 2014 brought her Proenza Schouler wrap dress flying up in New York City. Nowadays, it's a common occurrence for the Hollywood rich and famous, but imagine dropping your drawers in 1910 at the King's Parade in provincial Germany. Well, that's the jumping off point for The Underpants, the first of Lab Theater's summer stock for 2015.
The Underpants is an adaptation of Carl Sternheim's 1911 work Die Hose. It's smartly written by Steve Martin. Yes, the uproariously funny comedian and actor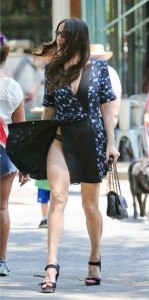 who is also a playwright, director, banjo master, art collector and all around wild and crazy guy.
The audience does not actually see the mortifying faux pas. It happens off stage to a respectable middle class woman by the name of Louise Maske. Right in the middle of the festivities, Louise's underpants fall down, right to her pretty little ankles, and everybody in Düsseldorf is there to see it.
Louise laughs it off. It was no big deal, she insists. But her uptight husband, Theo, is convinced that the Louise's panties (more like bloomers a hundred years ago) spell the end to his pedestrian but remunerative Civil Service job. And the incident sparks lurid interest on the part of two prospective tenants who are intent on renting a room from the couple. The first is a rakish poet who is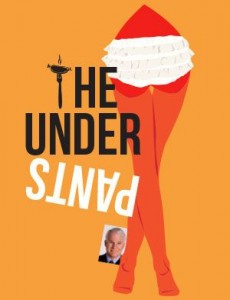 confident of carrying out his seduction. The other is a nerdy guy (yes, there were nerds back then too) who apparently just plans to fantasize.
The ensuing romp is filled with hilarious situational comedy, zesty one liners and sizzling sexual innuendo – all at the expense of poor Louise Maske, who is forced to suffer the highs and lows associated with her 15-minutes-of-fame. Never underestimate the power of a glimpse of lingerie. Mark your calendar. Show dates are June 12, 13, 19, 20, 26 and 27 at 8 p.m. and June 27 at 2 p.m.