Plot, Play Dates and Times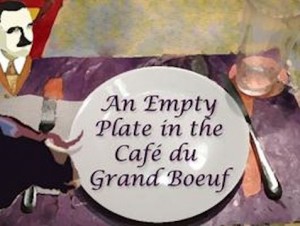 Play:  An Empty Plate at the Cafe du Grand Boeuf
Playwright:  Michael Hollinger
Play Dates and Times:  June 3, 4, 10, 11, 17, 18, 24 and 25 and July 1 and 2 at 8 p.m.; June 19 and 26 at 2 p.m.
Plot: Don't let the fancy title fool you. This is comedy of the rib-tickling, laugh-out-loud variety, even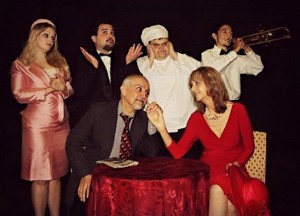 if it takes place in the best restaurant in Paris. Victor, a tall, handsome American millionaire has opened a restaurant that serves just one patron – himself. An incomparable chef, a subservient waiter, a comely waitress, and the newly-hired busboy are tasked with one purpose – to satisfy his demanding palette and refined gastronomic needs. But to their hrror, Victor has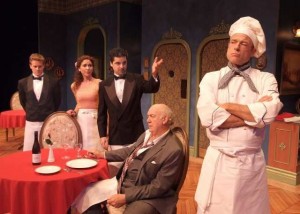 arrived at the café on this particular evening with tie askew, his shirt unfurled, and his face a mask of despair. He's bereft of the love of his life and although he is willing to sit down at his table, he refuses to eat. Nay, he plans to starve himself to death in the company of his staff, the only family and friends he has left.
What will his loyal staff do to get the heartbroken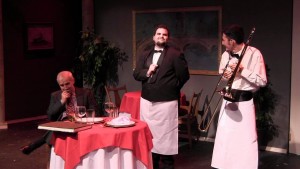 American to eat? And why has the sullen and morose Victor lost his appetite for life in the first place? The answer is as spicy as wild game consommé, as whimsical as leg of pheasant, as lunatic as vodka tomato sorbet, as delectable as chateaubriand, and as tempting as, what proves to be, an irresistible crème brûlée. That food,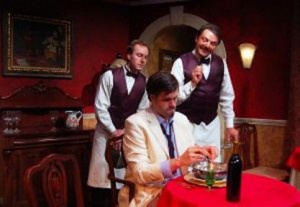 described in loving detail, is designed to prompt a little hunger for life, but instead prompts petit confessions from the staff, giving each of the characters a touching human dimension in the midst of the general hilarity.
Presiding over the proceedings is an obsequious waiter by the name of Claude. The other characters in this romp include:
Claude's long-suffering wife, Mimi, who is the apple of Gaston's eye in spite of her marital status;

Gaston, Victor's clueless chef;

a busboy by the name of Antoine, who must do his best to fill in for Pierre, a beloved former employee, now deceased;

and

a mystery woman by the name of Miss Berger, who holds the key to Victor's happiness.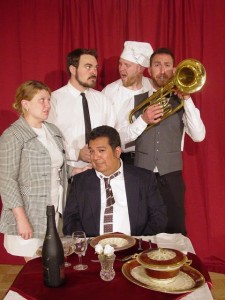 All may not end well for the cast, but for the audience, it's a different story. An Empty Plate at the Café du Grand Boeuf is a night out you deserve to give yourself. It has been described as "a refreshing journey away from the usual community theater fare" that is characterized by dry humor and a refreshingly odd situation and cast. If you are looking to spend an enjoyable evening with a unique comedy, a few belly laughs and an interesting story, this show will satisfy that craving.
What Say the Critics:
Boston Globe: "An absurdist tragicomedy…that manages to pay homage to Hemingway and Beckett in an…often hilarious existential romp."
New York Times: "Operatic looniness…"
New York Daily News: "[a] treat on the Off-Broadway menu…"