Kayleigh O'Connell is Elvira, the Hudson Sisters' housekeeper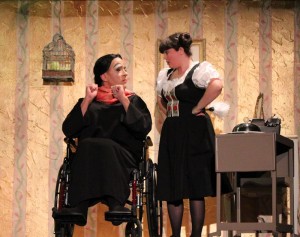 Whatever Happened to Baby Jane: A Parody of the Horror is a spoof of the 1962 film made famous by aging Hollywood icons Bette Davis and Joan Crawford. Written by Dale Gutzman and directed by Annette Trossbach, the parody is on stage through July 9. One of the young actors who delivers a stand-out performance in this hip, campy interactive theatrical experience is Kayleigh O'Connell.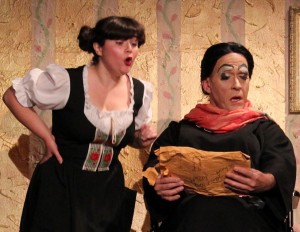 When last Lab Theater audiences saw young Kayleigh, she was playing the role of a 17-year-old high school student by the name of Marla Smitty Smith in Play On! Ironically, her role in the play within a play was that of a feather-dusting maid. [Read here.] At the risk of becoming type cast, in Baby Jane Kayleight plays the Hudson sisters' maid, Elvira. She's perfecting the role.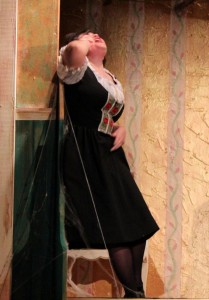 As Elvira, Kayleigh has a love-hate relationship with the Hudson girls. She absolutely loves the wheelchair-bound Blanche and could not detest the cruel, overbearing Baby Jane more. There's an early scene in which Elvira arrives for work and proceeds to square off around the living room divan with Baby Jane Paso-Doble-style to the strains of the theme from The Good, The Bad and the Ugly. It's a priceless scene.
Also priceless is a scene in which Kayleigh, er, well let's just say she reacts rather strongly to some suggestive language Baby Jane writes on a manila envelope. It's not quite as suggestive as Meg Ryan's When Harry Met Sally fake orgasm scene, or as hysterical as Bernadette's fake laugh scene in "The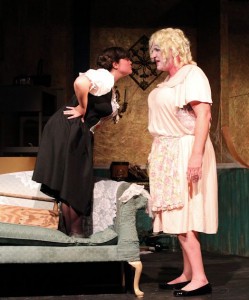 Hesitation Ramification" episode of The Big Bang Theory, but it's in the same zip code. Priceless.
There's more to compliment the actress on, but it would be unfair to give away too much. Just go see the play. Kayleigh and the rest of the cast will really appreciate it.
In addition to Play On!, Kayleigh's acting resume includes parts in Anything Goes and Thoroughly Modern Millie for Florida Repertory Theatre and Hairspray for North Fort Myers High School for the Performing Arts.
Kayleigh is currently majoring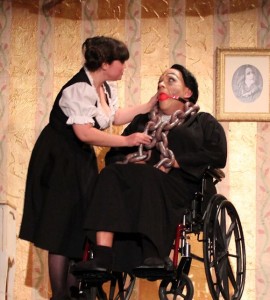 in theatre studies at Florida SouthWestern State College.
June 19, 2017.
RELATED LINKS.