'Les Mis' play dates, times and ticket information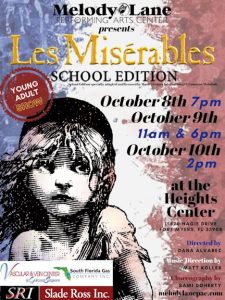 Musical:  Les Miserables
Novelist:  Victor Hugo
Synopsis:  Les Misérables tells the story of Jean Valjean, a former convict who spends a lifetime seeking redemption. Set against the backdrop of 19th-century France and the aftermath of the French Revolution, this timeless story of intertwined destinies reveals the power of compassion and the quiet evil of indifference to human suffering. As Valjean's quest for a new life carries him into Paris and to the barricades of the Student Revolution, he is hunted by Inspector Javert and the ghosts of his past. Amidst a battle for the soul of Paris, he discovers the true meaning of love and salvation.
Director:  Dana Alvarez
Music Director:  Matt Koller (of the City of Palms choir and former Fort Myer High Choir Director)
Choreographer: Sami Doherty
Tech Director: Tyler Young
Cast:
Jean Valjean-  Harvey Evans
Javert- Theo Rosso
Fantine- Katae Boswell
Young Cosette- Evangeline Nudi
Gavroche- River Reed
Thenardier- Matthew Clay
Madame Thenardier- Yovanna Ignjatic
Eponine- Ava Stoeberl
Marius- Keith Williams
Enjolras- Elijah Grant
Cosette- Aubrey Barnhouse
Combeferre- Landon Graham
Feuilly- Gabe Nudi
Courfeyrac- Nicholas Salerno
Joly- Landon O'Brien
Prouvaire- Nicholas Schrijver
Lesgles- Jack Pustizzi
Grantaire- Ethan McKay
Ensemble: Addison Smith, Adelle Rivera, Amya Vosler, Ashlynn Richardson, Athena Belis, Braden Odum, Brianna Gaeta, Camryn Valenti, Cassie Grossarth, Elizabeth Robb, Emily Feichthaler, Emma Bambrey, Emma Justice, Faith Farnsworth, Georgia Rainero, Grace McGugan, Izy Sedorchuk, Kailey Smith, Kendra Simpson, Kennedy Fields, Madison Tripp, Mia Odum, Paige Burch, Robbie Goslin, Shaelyn Crabtree, Soel Novello, Sophia Brook, Tatiana Rodriguez
Play Dates and Times:
Friday, October 8:  7:00 p.m.
Saturday, October 9:  11:00 a.m. and 6:00 p.m.
Sunday, October 10: 2:00 p.m.
Tickets: $15 for all ages. Seating is best-available: meaning based on party-size, date/time of purchase, and socially-distanced seating at CPT. No physical tickets will be given out. You will receive a confirmation email, will check-in with the ushers at the show, and be shown to your assigned seats.
Place:  Heights Center, 15570 Hagie Drive, Fort Myers, FL 33908
September 9, 2021.