'Rock of Ages' play dates, times and ticketing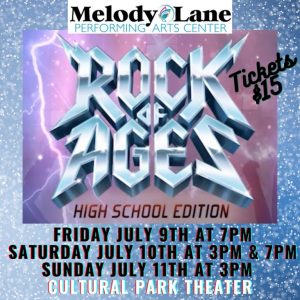 Play:   Rock of Ages High School Edition
Playwright: Chris D'Arienzo
Synopsis: It's the tail end of the big, bad 1980s in Hollywood, and the party has been raging hard. Aqua Net, Lycra, Heavy Metal flow freely at one of the Sunset Strips last legendary venues, a place where legendary rocker Stacee Jaxx takes the stage and groupies line up for their chance at an autograph. Amidst the madness, aspiring rock star (and resident toilet cleaner) Drew longs to take the stage as the next big thing (and longs for small-town girl Sherri, fresh off the bus from Kansas with stars in her eyes). But the rock and roll fairy-tale is about to end when German developers sweep into town with plans to turn the fabled Strip into just another capitalist strip mall. Can Drew, Sherri and the gang save the strip — and themselves — before it's too late? Only the music of hit bands Styx, Journey, Bon Jovi, Whitesnake and more hold the answer.
Director:  Dana Alvarez
Choreographer:  Sami Doherty
Stage Manager/Tech Director:  Tyler Young
Cast:
Lonny Barnett- Theo Rosso
Drew Boley- Jeremy Garzon
Dennis Dupree- Spencer Barney
Sherrie Christian- Pepper Rhodes
Stacee Jaxx- Javen Fischer
Anita Bath- Sophia Albrecht
Hilda Klinemann- Madison Tripp
Franz Klinemann- Landon Graham
Justice Charlier- Yovanna Ignjatic
Constance Sak- Cheyenne Laurance
Ja'Keith Gill- Greg Laurance
Sherrie's Mother/Producer- Sofia Quintero
Mayor- Adelle Rivera
Joey Primo- River Reed
Bourbon Room Soloists: Georgia Rainero (Waitress #1), Elizabeth Robb (Waitress #2) and Bailey McArthur (Waitress #3)
Rocker- Gabe Nudi
Band Members: Evan Barrero, River Reed, Gabe Nudi, Robbie Gosling
Protestor #1- Faith Farnsworth
Protestor #2/Record Producer 2- Camryn Valenti
Protestor #3- Jada Tourony
Venus A-Go-Go Girls- Adelle Rivera, Athena Belis, Bailey McArthur, Elizabeth Robb, Georgia Rainero, Jada Tourony
Record Producer: Athena Belis
Play Dates and Times:
Friday, July 9 at 7:00 p.m.
Saturday, July 10 at 3:00 p.m.
Saturday, July 10 at 7:00 p.m.
Sunday July 11 at 3:00 p.m.
Tickets: $15 for all ages. Seating is best-available: meaning based on party-size, date/time of purchase, and socially-distanced seating at CPT. No physical tickets will be given out. You will receive a confirmation email, will check-in with the ushers at the show, and be shown to your assigned seats.
Location:  Cultural Park Theater, 528 Cultural Park Blvd, Cape Coral.