Reacting to the loss of cherished American playwright Terrence McNally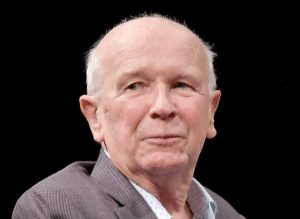 The Coronavirus has dealt a double blow to the cast of New Phoenix Theatre's production of The Full Monty. First, the theatre was constrained by the pandemic to cut the production short, eliminating the show's final four performances. Then COVID-19 claimed the life of 81-year-old Full Monty playwright Terrence McNally. A lung cancer survivor living with chronic COPD, the cherished American playwright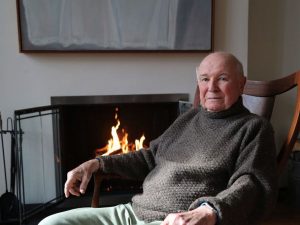 died on Tuesday, March 24, at Sarasota Memorial Hospital.
McNally celebrated his 80th birthday last year with his 25th Broadway production. In addition to The Full Monty, his repertoire included Anastasia (2017), Mothers and Sons (2014), Catch Me If You Can (2011), Master Class (2011, 1995), Ragtime (2009, 1998), The Ritz (2007, 1983, 1975), Frankie and Johnny in the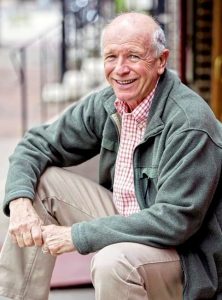 Clair de Lune (2002, 1982), Love! Valour! Compassion! (1995), Kiss of the Spider Woman (1993), Lips Together, Teeth Apart (1991), The Rink (1984) and Things That Go Bump in the Night (1965). In all, McNally's body of work encompassed some four dozen plays and musicals, many of which went to Broadway.
In addition to four Tonys, McNally received the Tony Award for Lifetime Achievement in the Theatre last year. Among his other awards were an Emmy, two Guggenheim Fellowships, four Drama Desk Awards, two Obies and an induction into the American Academy of Arts and Letters.
"The great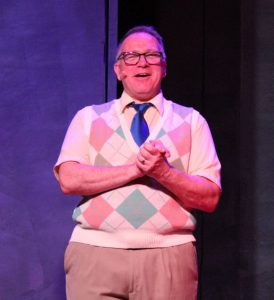 works of Terrance McNally have been a constant in my life," states Scott Carpenter, who played the part of Harold Nichols in New Phoenix Theatre's production of The Full Monty.
"His plays and books for musicals were driven by the human journey through life.  His characters encountered great challenges and adversity and were the roles most actors yearned to play!"
Carpenter's first brush with McNally was The Ritz, a wild, eye-opening comedy taking place in a bath house.
"The TV film of the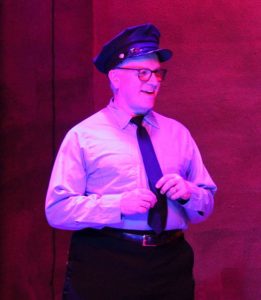 play Andre's Mother left an imprint on my heart," Carpenter adds. "It was so poignant and real for so many gay men that had survived and lost during the AIDS Crisis.  He wrote the books for so many of my favorite musicals."
In addition to seeing Kiss of the Spiderwoman, Ragtime, The Full Monty, Anastasia and Love! Valour! Compassion! on Broadway, Carpenter directed and starred in Lab Theater's 2019 production of It's Only a Play.
"It is sad to know that there will never be another new work by Terrance McNally," says Carpenter.
Gerri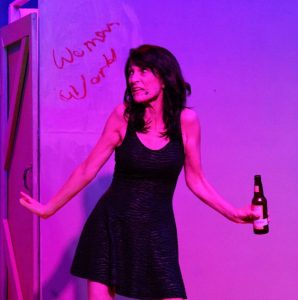 Benzing put an even finer point on that sentiment. "One minute we're singing the songs of this wonderful prolific author, and the next minute he's dead because of this dreadful virus. Who knows how much longer he would have lived, what other wonderful plays he'd have written and how many more Terrence McNally openings there would have been!"
For Benzing, who played liberated, fun-loving Susan Hershey in the show, losing McNally to COVID-19 was tantamount to losing a member of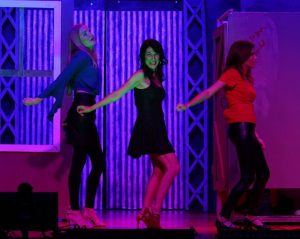 her own family.
"When you perform somebody's show – say their lines and sing their songs – you know them in a very intimate way. You hear about people dying and it's awful, but suddenly, boom, this is someone you know. It really underscores just how deadly serious, just how really awful, this is."
For Kristen Wilson, it's a triple whammy. First, The Full Monty closed early.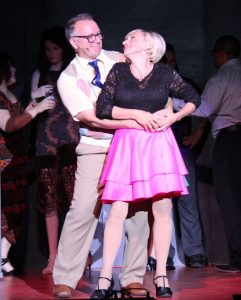 Then Artistic Director Brenda Kensler had to cancel New Phoenix's next show, McNally's Lips Together, Teeth Apart. And now, McNally's demise.
"It made it really hit home."
It really hits home for members of our local LGBTQ community and LGBTQ people across the United States.
In the shadow of the AIDS epidemic, McNally (who lost his longtime partner, Gary Bonasorte, to the disease in 2000) met the demands of that critical time with warm, Tony-winning works like Love! Valour! Compassion! and Master Class. And Mothers and Sons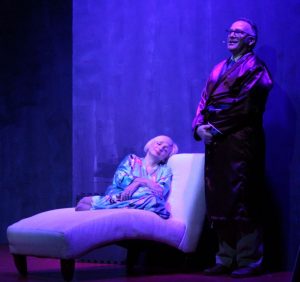 represented the first time a legally wed gay couple was portrayed on Broadway.
"Terrence McNally was a legend among legends on Broadway," George Takei tweeted. "If you are an actor, there's a good chance you have performed one of his works. If not, you surely will in your career, he was that prolific and gifted. Ah, my heart breaks at the news!"
April 3, 2020.