Players Circle makes itself over into part museum, part upscale NY night club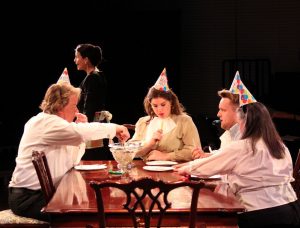 Players Circle Theatre hasn't had the easiest time of it. First, they encountered delays in being able to occupy and operate out of their space at The Shell Factory that forced Robert Cacioppo to move the company's inaugural play, The Dining Room, to alternative, makeshift locations characterized by inadequate lighting and sound. Then on the opening night of Curious Incident of the Dog in the Night Time, theaters across the nation and throughout Southwest Florida closed down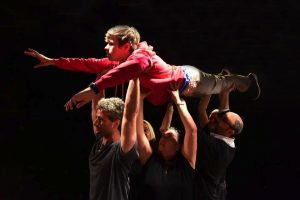 because of the COVID-19 pandemic. Players Circle followed suit and shuttered its doors the very next day.
Since then, a number of local theaters have scrambled to devise alternative programming. Many, such as Lab Theater, Theatre Conspiracy at the Alliance,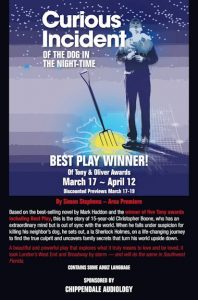 Florida Rep and The Naples Players, introduced video productions ranging from Zoom performances to filmed theater productions.  But the public never truly embraced virtual theater and by Fall all these theaters tremulously moved their productions outdoors. Because of the size of its main stage venue, Broadway Palm reinstated productions at reduced capacity and substituted table service for its popular salad, main course and dessert bars.
But these options were not really available to Cacioppo and Players Circle.
Because of many of Shell Factory's activities take place outside, outdoor productions just weren't feasible.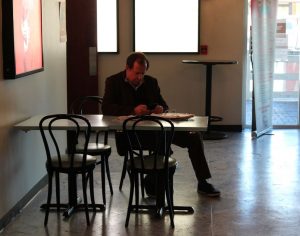 And because Cacioppo designed Players Circle an intimate theater where audiences sit within feet of the actors on stage or in the round, the CDC and Florida Department of Health social distancing guidelines precluded Robert from fitting enough people in the theater to cover the cost of staging a theater production (such as licensing fees, set design, costumes, lighting and rehearsal time).
So with necessity being the mother of invention,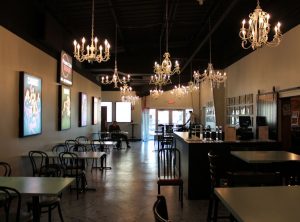 Caccioppo and wife, Carrie Lund, put their three-plus decades of theater experience (ten on Sanibel and twenty at the helm of Florida Repertory Theatre) to work making over their business plan. The result is a live event space that's part museum and part upscale New York night club. And people are starting to take notice.
Gone is the old dreary, tin-roofed foyer where people would congregate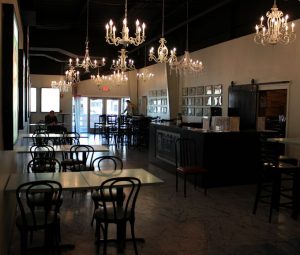 before heading into the theater. In its place is a sophisticated lobby with sparkling concrete floors and a black ceiling that extends high above room's sandstone-colored walls, reminiscent of the interior architecture at five-star Las Vegas hotels like The Venetian, Paris Las Vegas and Bally's. A medley of vintage brass and white enamel 6, 8 and 10 light candle chandeliers bathe 26 black tables and matching chairs in soft white light, which is augmented by lighted theater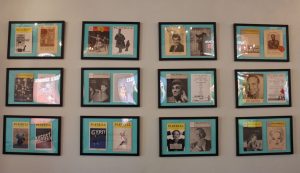 signs that extend down the lobby's north wall. And down the opposing wall, which is bisected by a handsome handcrafted wooden bar, are dozens of framed Playbills spanning the decades from 1929 to the present.
Theater lovers can lose themselves for hours in the history evidenced by those Playbills.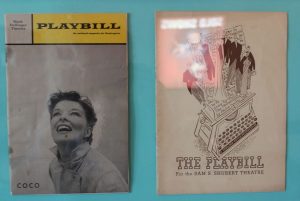 Unlike programs, which are multi-page documents, a Playbill describes a performance on one side of one sheet of paper. Most surviving Playbills are small handbills, though some are poster size.
"There's Lawrence Olivier on Broadway," says Cacioppo pointing to a framed pairing of Playbills as breaks into an impromptu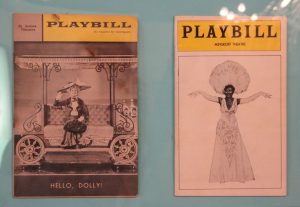 docent's tour. "There's Marcel Marceau with a cool article, and the original West Side Story with the ticket stub. And this is the original Arsenic and Old Lace with the ticket stub for 55 cents."
Playbills have become a beloved keepsake of Broadway shows. They're typically displayed on coffee tables, preserved in Playbill binders, and framed and mounted on walls.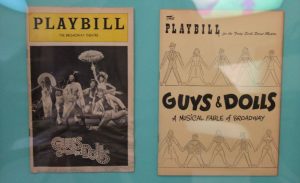 The largest known collection is maintained by The Folger, which boasts an inventory of approximately 250,000 Playbills, most from late 18th and 19th century British and U.S. shows.
Cacioppo's collection is just a fraction of The Folger's, but at 2,000 articles, it's certainly the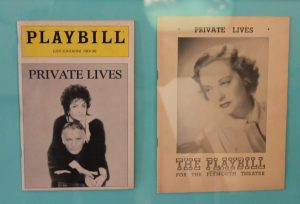 largest in Southwest Florida.
Robert began collecting Playbills beginning with his first Broadway show in 1980. Over the ensuing four decades, he's amassed a sizable personal collection totaling 400 pieces of theatrical history.
"Then, about ten years ago, a friend of mine who ran a restaurant in Saginaw [Michigan] called French Quarters willed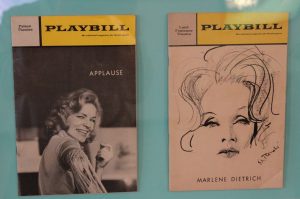 me his and his mother's collection of Playbills from 1929-1959. [It contained] eight hundred Playbills in leather-bound books."
A Florida Rep patron gave Cacioppo his collection of Playbills sometime after that. Dating from 1960 to 1980, it consisted of eight hundred more Playbills.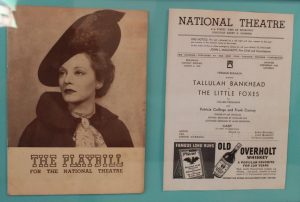 Cacioppo and wife Carrie are still sifting through the collection.
For the Players Circle make-over, Robert selected a number of his favorites.
"There's Tallulah Bankhead in The Little Foxes," Caccioppo goes on. "Jimmy Stewart and Helen Hayes in Harvey at ANTA Theatre.  Katherine Hepburn in her first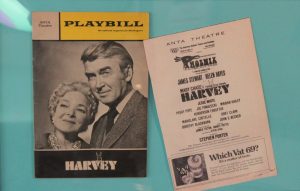 Broadway Show, The Philadelphia Story, and Lauren Bacall in Applause. If you're a theater nerd, this is super cool."
It's more than that, of course. Just as compelling as the Playbills he selected are the shows he paired them with under the glass of each boxed set. For example, he paired 1776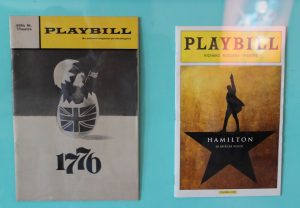 with Hamilton, Carousel with South Pacific and Curious Incident of the Dog in the Night-Time with The Lifespan of a Fact. The former is the show that closed following opening night due to COVID. The latter is the first play Cacioppo hopes to bring to the stage this Fall when it is safe to resume theater productions (assuming enough people have been vaccinated by then, of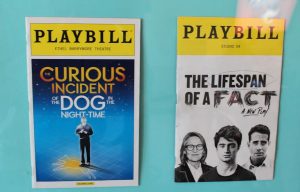 course).
Cacioppo has no plans to swap out these Playbills for others in his private collection, but he is contemplating conducting some promotions that invite patrons and the public to share some of their Playbills with fellow theater and night club audiences. Stay tuned for details.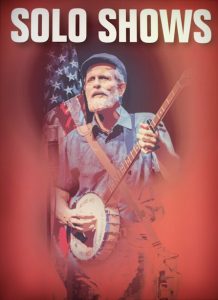 But museum-level theater history aside, the chief reason to flock to the revamped Players Circle remains the entertainment. Until it makes sense to resume theatrical programming, Players Circle is focusing on night club entertainment such as stand-up comedy, solo shows, jazz and Broadway tune concerts and burlesque and cabaret.
"We had the theater set up for Curious Incident and turned it into a nightclub," Robert explains.
There are coffee tables and chairs set up on the floor of the theater and the risers where patrons can sit, sip wine, cocktails and specialty drinks and sample sliders and other menu items while taking in a show.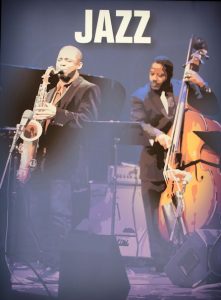 "Our chef created a menu exclusively for our theater."
It contains a number of savory shareable small plates such as Wagyu Sliders (smoked gouda, caramelized onions and tomato jam), Shrimp Explosion (2 Coconut with Rum Sauce, 2 Bacon-Wrapped Bar-B-Q and 2 Cocktail with Horseradish Cocktail Sauce) and Italian Sliders (Genoa Salami, Soppressata, Capocollo, Provolone, Tomato, Red Onion and Banana Peppers) and desserts such as Cheesecake Du Jour and Chocolate Lava Cake.
Dinner is also available with the regular Southern Grill menu at the adjoining Shell Factory restaurant.
With its trademark blackout ceiling,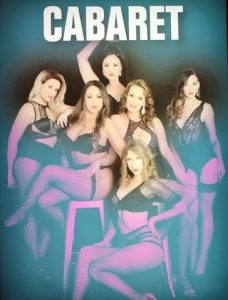 walls and floor and hundreds of twinkle lights left over from Curious Incident, the refined and contemporary space is perfect for easy listening, energetic Broadway medleys, boisterous burlesque and irreverent stand-up comics alike.
"So it's really a great place to come, sort of like a New York or Chicago night club," Cacioppo adds.
"Danny Sinoff Jazz Trio plays every Thursday night [between now and April 1]." Each performance has its own theme, ranging from Gershwin to Rodgers and Hart and Jimmy Van Heusen to little known love songs and the Frank Sinatra songbook."
February features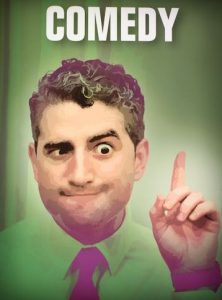 Guys and Doll: Love on the Rocks. And in addition to nationally-known comic Carmen Ciricillo, March will feature two shows by Rebecca O'Quinn singing the songs of Patsy, Tammy, June and Dolly (March 19 & 21) with the ever-popular girls of Glam! Bam! Burlesque! sandwiched in between on March 20.
Cacioppo concedes that Players Circle isn't making a huge profit in the revamped venue, but he's keeping Players Circle in the public's eye while putting some money into the pockets of artists who haven't had much, if any, income since the shut-down last March. He's not just treading water though. He's guardedly optimistic that he'll be able to qualify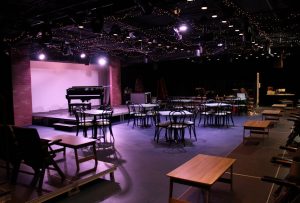 for one of the "Save Our Stages" grants provided by last December's COVID-19 stimulus package (which allocated $15 Billion to help shuttered live event venues safely reopen).
In the meantime, he's content to make lemonade from lemons.
Or to be more accurate –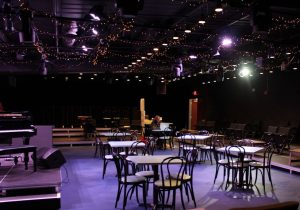 theater history from old Playbills and specialty drinks from Campari and Bombay Sapphire Gin (Pam's Nigroni) and Skyy Blood Orange Vodka, Triple Sec, Cranberry and Lime Juice.
February 8, 2021.