'Nuts' play dates, times and ticket information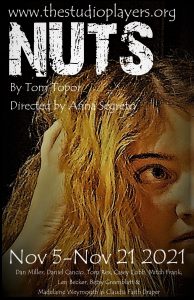 Play:  Nuts
Playwright: Tom Topor
Genre: Suspense, psychodrama
Synopsis: The story follows Claudia Faith Draper, a divorcee turned high-class call girl who killed a violent "john." The State charges her with manslaughter, but she claims self-defense. When her mother, Rose Kirk, and stepfather, Arthur, try to avoid an embarrassing public trial by having her declared mentally incompetent even though it means she'll spend the rest of her life in a mental hospital, Claudia launches a fierce battle to convince the court that she is sane enough to stand trial. As testimony from experts,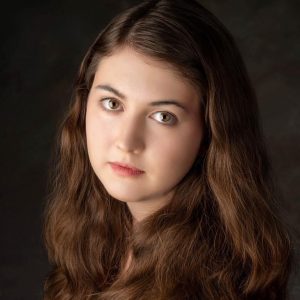 physicians and her parents unfolds, the painful truth about Clausia's childhood is exposed.
Critical Acclaim:  Nuts has been called the best courtroom melodrama since Witness for the Prosecution and The Caine Mutiny Court Martial.
Setting:  A courtroom in the psychiatric wing of Bellevue Hospital in New York City.
Director: Anna Segreto
Cast:
Officer Harry Haggerty – Dan Miller
Aaron Levinsky – Daniel Cancio
Franklin MacMillan – Tom Rex
Rose Kirk – Casey Cobb
Arthur Kirk – Mitch Frank
Dr. Herbert Rosenthal – Len Becker
Judge Murdock – Betsy Greenblatt
Claudia Faith Draper – Madelaine Weymouth
Historical Note: Nuts opened Off Broadway in 1979. After Universal Studios purchased the film rights, the play moved to Broadway, opening on April 28, 1980 at the Biltmore. It closed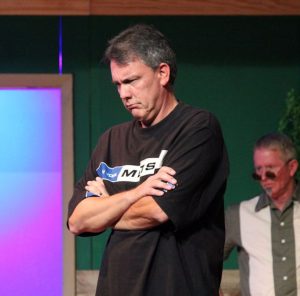 on July 20 after 96 performances, garnering Anne Twomey (who played Claudia) a Theatre World Award and Tony nomination for Best Performance by a Leading Actress in a Play. The film starred Barbra Streisand in the role of Claudia along with Richard Dreyfuss.
Play Dates and Times: November 5, 6, 11, 12, 13, 18, 19 & 20 at 7:30 p.m. and November 7, 14 and 21 at 3:00 p.m.
Tickets: $30; please call 239-398-9191 or visit https://www.thestudioplayers.org.
Running Time:  3 acts, 2 hours
Place:  Joan Jenks Auditorium at Golden Gate Community Center, 4701 Golden Gate Parkway, Naples, FL 34116.
October 3, 2021.