'Nuts' is so much more than best courtroom drama since 'Witness for the Prosecution'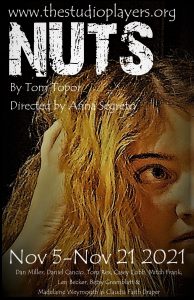 For several years now, America has been divided over pop star Britney Spears' struggles to end the conservatorship that a California court ordered in 2008 at the behest of her father. While there is growing sentiment to "Free Britney," there are those who point to instances of bad behavior as evidence that the singer/entertainer is "nuts" and needs to have every aspect of her personal, professional and public life managed and controlled. Claudia Faith Draper knows exactly how Britney feels. In The Studio Players' production of Tom Topor's Nuts, Claudia too struggles for control of her life when her mother and stepfather seek to have her declared mentally incompetent after Claudia kills a violent "john" in self-defense and is charged with manslaughter in the first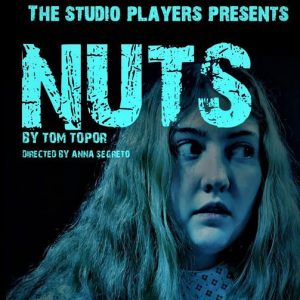 degree.
Nuts has been called the best courtroom melodrama since Witness for the Prosecution and The Caine Mutiny Court Martial. But Artistic Director Scott Lily and Director Anna Segreto will tell you at great length that there is so much more to Nuts than this. Part suspense, part psychodrama, the play is a raw and somber examination of dysfunctional family dynamics, childhood sexual abuse and the way in which the criminal justice system operates to enforce white patriarchal social structures and concomitant societal demands and expectations.
Just as Spears' erratic behavior complicated her efforts to end her conservatorship, Claudia Draper's distrust of everyone around her combined with public altercations with her court-appointed lawyer hamper, if not impede, her own defense. While that certainly complicates matters within the confines of the play, her insistence of playing by her own rules rather than those imposed upon her by the courts and the legal system makes her a sympathetic if not entirely endearing character in the minds of the audiences who will come to the Joan Jenks Auditorium to see this play.
With recent roles like Vandy Jordan in Venus in Fur (for The Studio Players), Clarice Orsini in Botticelli in the Fire (for Lab Theater) and Jolene in Darlyne Franklin's Critic's Choice screenplay Florida Couple (for last year's Lab Theater 24-Hour Screenwriting Challenge), Madelaine Weymouth is uniquely qualified to portray Claudia Faith Draper. Weymouth is a rare talent, capable of highs and lows and a full range of murderous-to-vulnerable emotions in between. She needs to be. Draper is a deep, complex and beautifully flawed character, but played correctly (like Anne Twomey did when Nuts played on Broadway in 1980), it can be the role of a lifetime (no pressure).
Weymouth has the benefit of a strong cast, with Dan Miller playing Officer Harry Haggerty, Daniel Cancio playing Draper's court-appointed attorney Aaron Levinsky and Tom Rex playing Franklin MacMillan. But every drama needs a strong antagonist, and here Casey Cobb and Mitch Frank get to portray Claudia's mom and rich stepdad, Rose and Arthur Kirk.
Nuts opens November 5 and runs through November 21.
September 29, 2021.