'Slow Food' a comedy for anyone who's ever been hangry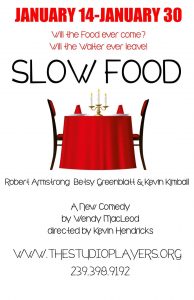 Slow Food comes to the Joan Jenks Auditorium at Golden Gate Community Center January 14-30. Wendy MacLeod's latest, Slow Food, is a comedy for anyone who's ever been hangry.
Ever notice how when your tummy is rumbling, you're more likely to lash out at unsuspecting family, friends, co-workers and even innocent bystanders? This sudden, irrational rage is often referred to as "hanger" (a combo of hunger and anger). It's a thing. Just ask Peter and Irene.
Peter and Irene are out for a nice meal on their big anniversary in Palm Springs. But not only won't their highly neurotic waiter bring them their food, Stephen has them examining everything from their menu choices to their very future together!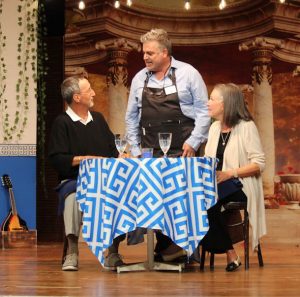 "The lower your blood sugar goes, the hangrier you are," Deena Adimoolam, MD, an assistant professor in the Division of Endocrinology, Diabetes, and Bone Disease at the Icahn School of Medicine at Mount Sinai. The explanation is based on sound physiology. When your blood sugar falls, cortisol and epinephrine are released in an attempt to raise it back to normal. But those hormones lead to irritability and a third hunger hormone, Neuropeptide Y, is linked to aggression.
"It's our body's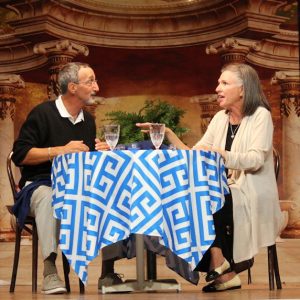 defense mechanism to get food ASAP," Dr. Adimoolam is quick to add.
Will Peter and Irene's shared desperation get them their spanakopita—or end their marriage? The proof is in the pudding. You'll have to catch a performance of Slow Food to discover how it all works out.
Kevin Hendricks (Cat on a Hot Tin Roof, Who's Afraid of Virginia Woolf) directs Kevin Kimball as Peter, Betsy Greenblatt (Nuts) as Irene and Robert Armstrong (Death of a Streetcar Named Virginia Woolf, Chicago) as Stephan the waiter.
November 23, 2021.