'One Slight Hitch' play dates, times and ticket info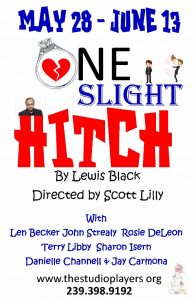 Play:  One Slight Hitch
Playwright:  Lewis Black
Synopsis:  It's Courtney's wedding day, and her mom, Delia, is making sure that everything is perfect. The groom is perfect. The dress is perfect. And the decorations (assuming they arrive) will be perfect. Then, like in any good farce, the doorbell rings. And all hell breaks loose. So much for perfect!
Director:  Scott Lilly
Cast:  Len Becker, John Strealy, Rosie DeLeon, Terry Libby, Sharon Isern, Danielle Channell and Jay Carmona
Dates:  May 28-June 13
Info:  For more information, please telephone 239-398-9192.
February 19, 2021.