Sharon Isern plays bride-to-be Courtney in Studio Players' 'One Slight Hitch'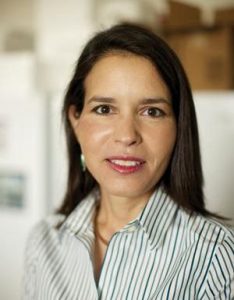 One Slight Hitch comes to the Joan Jenks stage beginning May 28. In this Lewis Black farce, Doc and Delia Coleman's daughter is getting married and Sharon Isern plays the blushing bride, Courtney.
A freelance writer, Courtney has just published her first novel, which was almost successful. Like every bride-to-be, Courtney expects just before the ceremony "something old, something new, something borrowed and something blue." But never in her wildest imagination did she dream that her something old would come in the form of her ex-boyfriend, Ryan, who shows up at her parents' home on the big day needing a shower and completely oblivious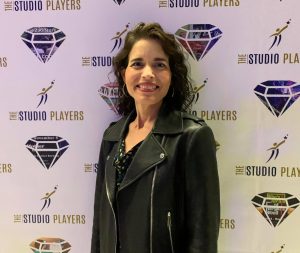 to the fact that Courtney has moved on with a capital "M." Or has she. The lady doth protest that she is not happy that Ryan is there, but it's also clear that she is not entirely convinced her wedding is a great idea.
Sharon Isern caught the acting bug just a couple of years ago, when she agreed to play a mother fleeing the war in Chechnya for Ghostbird Theatre Company in Everyone on this Train. Since then, Sharon has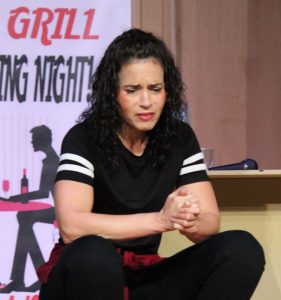 been working her ass off playing one character after another and another. Among her acting credits are Bare Truth for The Marco Players (2021), Wendy in On the Farce Day of Christmas for The Marco Players, a server in Saved by the Bell and the woman in Where is Man? (both part of The Studio Players' 3 Plays), Rocker in Rockaby (one of four plays run concurrently in Ghostbird Theatre Company's Langford-Kingston Home production of  Samuel Beckett's October House), exasperated campaign manager Alex Klein in Jason Odell Williams' Church & State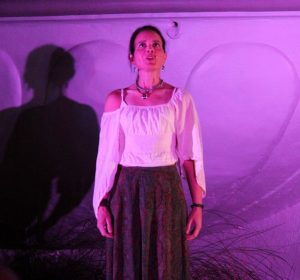 (for The Studio Players) and dutiful daughter Agnes in The Shadow Box (for New Phoenix Theatre). All this since January of 2019 … and in spite of a worldwide pandemic that shuttered theaters for much of 2020!
Speaking of pandemics, Sharon spends her days teaching and doing virus research with undergraduate students as a Professor of Biology at FGCU.
April 4, 2021.