'Venus in Fur' akin to verbal tango or intellectual Schottische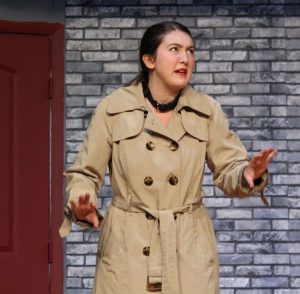 On stage at the Golden Gate Playhouse is The Studio Players' production of David Ives' Venus in Fur starring Steven Coe and Madelaine Weymouth. It's a complex psychodrama with tinges of eroticism that ultimately serves as an indictment of the entwinement of sex and power that has repercussions far beyond the workplace in this post-Harvey Weinstein era.
Before delving into the play itself, it's imperative to observe from the outset that not just any actors can play the roles of Thomas Novachek and Vandy Jordan. Required is the ability to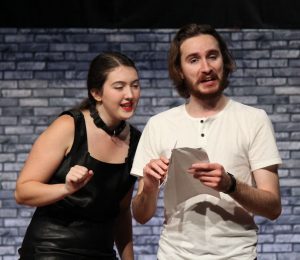 effectively convey a wide range of emotions and behavior. The male must be able to vacillate at the flip of a switch (pun intended) from haughtiness and arrogance to uncertainty and subservience. The female must be able to intertwine seduction and manipulation with sophistication on the one ungloved hand and unrefined crassness on the other. Fortunately for director Anne Segreto, Steven Coe and Madelaine Weymouth showed up at her audition. They're perfectly suited to the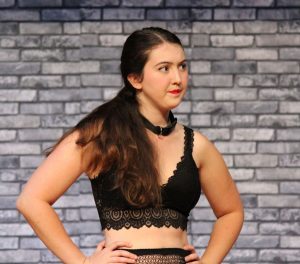 roles in both talent, theatricality and drama skills. Their ability to use voice and demeanor as additional props as they shift between roles is, well, uncanny.
Venus in Fur is actually a play within a play. Thomas Novachek is a playwright who's written an adaptation of Venus in Furs, Leopold von Sacher-Mosach's seminal novel that gave rise to the term sado-masochism. The novel is set in 1870 in a resort in the eastern part of the Austro-Hungarian Empire.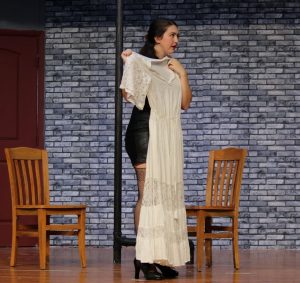 The protagonist is Severin von Kushemski, whose early experience of being birched by an aunt while being held down on a fur cape by two servants has left him longing to be dominated. He meets an aristocrat by the name of Madame von Dunajew, who possesses the attributes of his aunt. He begs the aristocratic seductress to take control of his body and soul. Slowly, with seeming reluctance, she agrees to become Severin's dominatrix and the 1870s were never the same.
Novachek has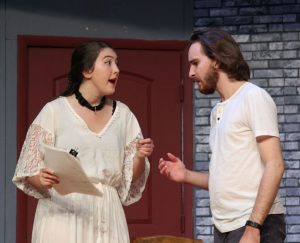 not only adapted the book into an off-off-off Broadway play, he's directing as well. But he's having no luck finding a woman with a skill set capable of doing justice to the role of Madame von Dunajew. Frustrated and worn out, he's about to lock up his studio and go home to his fiancée when in blows Vanda on the winds of a violent thunderstorm, whose flashes of lightning and peals of thunder conjure images of Mount Olympus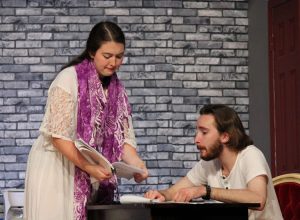 and the machinations of the gods (who are appropriately referenced with liberality throughout the 95-minute one-act play).
Vexed and dismissive, Thomas refuses to audition Vandy, prompting a string of f-bombs worthy of Megan Fox or Taylor Momsen (of Pretty Reckless fame). Unwilling to take no for an answer, she removes her drab tan jacket to reveal a dog collar choker ("wrong period"),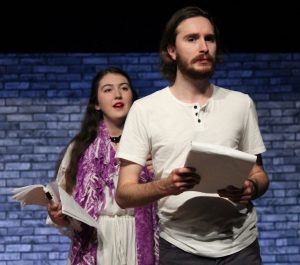 black leather skirt, fishnet stockings and black leather heels. Beneath that is an outfit straight out of Frederick's of Hollywood, complete with satin and lace black bra, waist cincher and double strapped garters. "That's not the look I want," Thomas shouts with palpable irritation. Unfazed, Vandy pulls a sheer white dress from her oversized travel bag that's more in keeping with the playwright's vision of Madame Dunajew's demure sophistication.
Ah, but
the expletives and lingerie have had their effect. Offguard and titillated, Thomas accedes to Vandy's overtures and agrees to read the script with her – she as Dunajew; he as Severin.
The dance has begun.
At times a verbal tango, at others an intellectual paso doble, Thomas and Vandy individually and in character as Severin and Dunajew circle each other, switching leads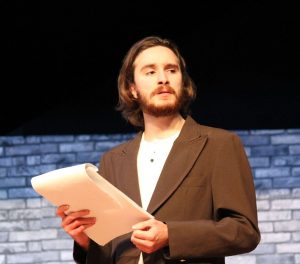 with the adroitness of Schottische dancers on a hot Madrid night.
Superficially, we're witnessing a fascinating game of flirtation and mental teasing that's designed to win Vandy a role for which she's ill-suited by upbringing and social class but that she nonetheless claims as a matter of destiny, her name (Vanda) being the same as Madame von Dunajew's.
But probe deeper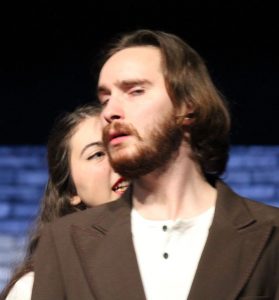 and what emerges is a matter of synchronicity. Vandy is not just playing Madame von Dunajew while she and Thomas are reading his script. She is playing Dunajew for real, subjugating the highbrow condescending playwright-ersatz-director mentally, emotionally and ultimately physically, making him wear the wrong-period dog collar that adorned her own slender neck when she arrived for the audition.
Dive even deeper, and the play takes on the aura of a diatribe against male presumption and manipulation.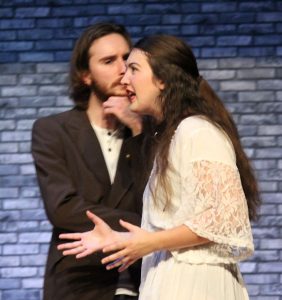 Vandy knows just what a man like Thomas wants and expects, and is willing to give it to him in order to gain the upper hand. You can almost hear her blissfully mouthing Billie Eilish:
"So you're a tough guy
"Like it really rough guy
"Just can't get enough guy
"Chest always so puffed guy
"I'm that bad type
"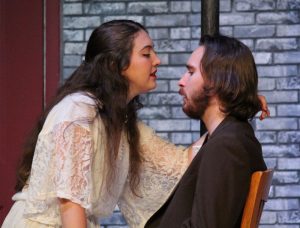 Make your mama sad type
"Make your girlfriend mad tight
"Might seduce your dad type
"I'm the bad guy.
"Duh."
Not only are Thomas' expectations demeaning and disparaging, they are as confining as a corset or Spanx. Even the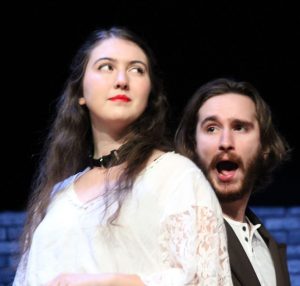 dominatrix is bound by her counterpart's sexist expectations. She ceases to exist as a woman, becoming instead the pedestaled goddess her minion demands. By god, it's exhausting. Isn't it bad enough to have to conform to the expectations of our families, employers and society at large without having to play a predetermined, designated role in the bedroom or wherever else sex plays out?
And therein lies the most delectable aspect of David Ives' dense script.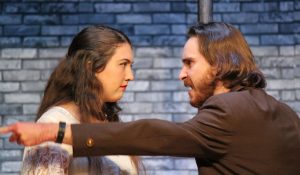 Why is it so important for Vanda to win the lead in Thomas Novachek's third-rate "s & m porno"? Why does she continue the dance even after the music has stopped and she's secured the role? How did she get a copy of the full script and why does she know it backward and forward? How does she know so much about the play, the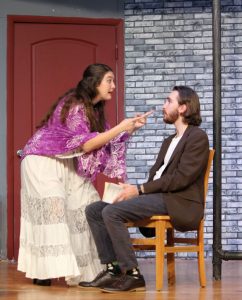 playwright and his fiancée? Ives leaves Vanda's motivation ambiguous — or "ambivalent", as Vanda repeatedly says. It's clearly up for discussion over an apres-theatre drink or on the ride home.
The Studio Players' current production of Venus in Fur is a masterpiece of writing, direction and acting. If you like mental gymnastics – or, more a' propos, verbal tango or an intellectual Schottische – then this is the play for you!
August 24, 2019.