'A Raisin in the Sun' considered one of 20th Century's greatest plays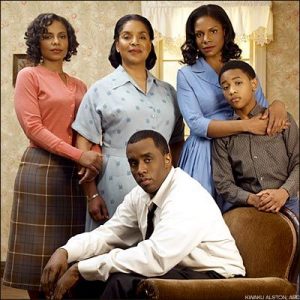 Theatre Conspiracy at the Alliance for the Arts will present A Raisin in the Sun by Lorraine Hansberry May 3-13. Considered by many to be one of the greatest plays of the 20th century, A Raisin in the Sun follows the story of the Younger family as they discover the dangers of dreaming big and the heartbreak of reality.
A drama in three acts, A Raisin in the Sun was first published and produced in 1959. The play's title is taken from "Harlem," a poem by Langston Hughes, which examines the question "What happens to a dream deferred?/Does it dry up/like a raisin in the sun?" This penetrating study of a working-class black family on the south side of Chicago in the 1950s reflected Hansberry's own experiences of racial harassment after her prosperous family moved into a white neighborhood.
"The play takes place in Chicago, but I felt it was important that my actors connect the play to the space we are currently living: southwest Florida," says Sonya McCarter in a director's note. "There are a number of people here in Fort Myers who lived through the Jim Crow laws and whose lives were influenced and changed by racism of the time. We don't have to research racism in Chicago in the 1950s to be able to relate the experiences of the characters. We can look at our own city's history."
In fact, we don't even need to go back in time to the 1950s or '60s to reflect on Fort Myers' checkered history when it comes to race relations. In January of 1997, an article in Population Today magazine named the greater Fort Myers area "one of the most segregated in the South." The magazine quoted a University of Michigan study of living patterns indicated by the 1990 U.S. Census Bureau. And in response to the article and the furor that ensued Fort Myers gained two important public artworks, Fort Myers: An Alternative History in the federal courthouse/Hotel Indigo courtyard and The 2nd Regiment USCT Memorial in Centennial Park. Both point to the little-known historical fact that but for two companies of African-American soldiers who defended the Union outpost from which the town was built in the years following the end of the Civil War there would probably be no Fort Myers today.
To widen the post-show conversation and discuss what the art onstage means to us as individuals and as a society, the Alliance will facilitate a community conversation on race and segregation through talkbacks on May 3 and May 13. For more on these opportunities, follow the links provided below.
April 1, 2018.
RELATED POSTS.