'Gidion's Knot' places school bullying front and center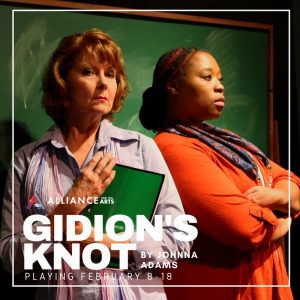 Building on its reputation for bringing timely dramas to the stage, Theatre Conspiracy is producing Johnna Adams' Gidion's Knot this month. The drama places the subjects of bullying and school shootings front and center in an intense, in-your-face way.
The action takes place against the backdrop of a 5th grade classroom, where a melancholy teacher by the name of Heather Clark contemplates the end of her day when she's confronted by the mother of one of her students, a boy she had to suspend. Clearly unhappy, Corryn Fell is on a mission to fix blame and has Heather Clark in the crosshairs of her sight. A literature professor at Northwestern, Corryn has the verbal skills for the task at hand and unleashes a torrent of sarcasm and acerbic wit on Clark, who employs her own brand of passive-aggressive courtesy and politeness to deflect the woman and the explanations she's demanding. But soon, the parent-teacher conference devolves into an intense examination of the interplay between bullying and freedom of expression – and a host of related emotionally-charged issues revolving around who's at fault when children go astray.
Characters and thematic content such as these demands two great actors, and director Rachel Endrizzi has cast two of Southwest Florida's best. Sonya McCarter stars as Corryn Fell and Lauren Drexler as Heather Clark.
A talkback with a panel and cast will take place after the February 18th performance. Talkbacks are open to the public and allow the discussion of ideas, themes and performance of the play. Principals Mara Vertrees and Ken Savage will host the panel. Seasoned education professional Brandi Couse will moderate.
Whether or not you have children or grandkids in school right now, Gidion's Knot is a play that's not to be missed. It opens in the Foulds Theatre at the Alliance for the Arts on February 8.