Hairpiece's bickering wigs absolutely hilarious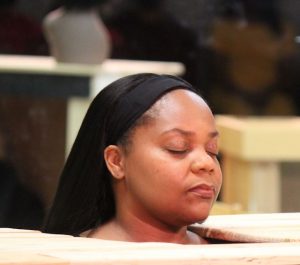 One of the better known exhibitions in George C. Wolfe's The Colored Museum is "The Hairpiece," an absolutely hilarious bit in which a young woman (Delisa Smith) is preparing to meet her two-timing boyfriend to break up with him. On her dressing table are two anthropomorphic wigs. One's an aggressive 1960s Afro. The other's a straightened 'do with a Marlo Thomas flip that symbolizes how African-American women have assayed over time to assimilate into white culture by taming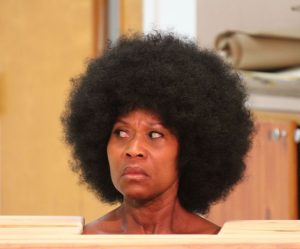 their locks and tresses. The two wigs (played by Renee Freeman and Tijuanna Clemons) get in a spirited argument about which hair style will give her the most power during the impending confrontation.
Wolfe's eleven vignettes are unique. Each has its own powerful message and underlying theme. But the banter and bickering that Wolfe weaves into the fabric of "The Hairpiece" does not just juxtapose humor with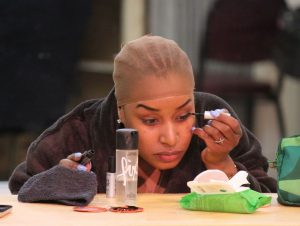 poignancy. It provides a platform for all three actors to develop and deliver split-second comedic timing.
Where Clemons and Freeman are concerned, the task is especially challenging as all the audience gets to see of them is their eye rolls and facial expressions. But don't misunderstand. Smith is the glue that makes it all work, and her reaction to her warring hairpieces is,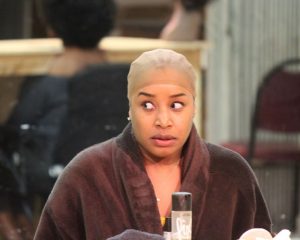 well, in a word, "priceless," as you'll see when you take in the exhibition.
Tijuanna Clemons is an aspiring young Southwest Florida actor whose stage credits include Doris (and the ensemble) in The Color Purple, Ruby in August Wilson's King Hedley II, Diana Dahner in Steven Dietz's Rancho Mirage, Bertha Holly in August Wilson's Joe Turner's Come and Gone and Louise in August Wilson's Seven Guitars, all for Theatre Conspiracy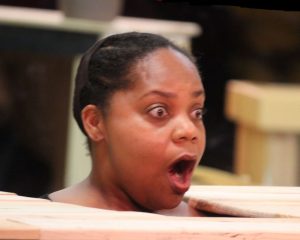 at the Alliance for the Arts.
Renee Freeman was last seen in the role of Gonzala in The Tempest at Lab Theater. A CHANGE program graduate, the Kansas City, Kansas native made her regional debut as Madre Maria in the regional premiere of Jordan Tannahill's Botticelli in the Fire.
Delisa Smith is making her theatrical debut with The Colored Museum.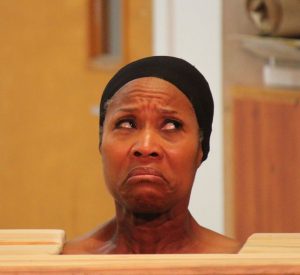 In addition to playing the Woman in "The Hairpiece," she shines as the Girl in "The Photo Session," where she's paired with Antwon Lindsey.
The Colored Museum continues this weekend with performances at 7:30 p.m. on Thursday through Saturday, January 20-22 before closing with a 2:00 p.m. matinee on Sunday, January 23.
January 17, 2022.