Spotlight on 'Nether' actress Beth Yazvac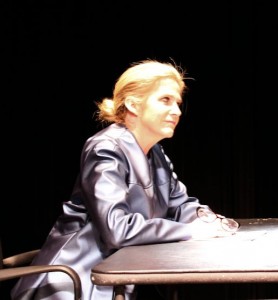 On stage now at Theatre Conspiracy is The Nether, a dark sci-fi crime thriller in which an internet investigator by the name of Morris seeks to shut down a virtual world called The Hideaway in which paying guests have sex with, murder and dismember the virtual children who live in a sylvan Victorian paradise. Beth Yasvac plays the role of the cop who is on this moral and ethical mission.
Playwright Jennifer Haley has crafted a number of complex, layered characters in The Nether, but none are more nuanced and conflicted than that of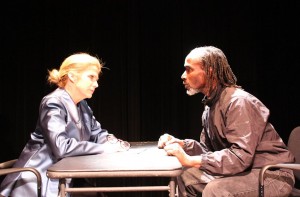 Detective Morris. Yasvac has several challenges in properly playing the role. First, she never leaves the cramped confines of the interrogation room located on an elevated platform center stage. In fact, she rarely leaves her seat at the interrogation table. Thus, Beth must find a way to emote in the course of her heated question and pitched verbal battles with the men she is interrogating through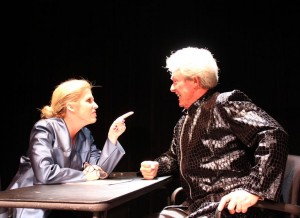 her tone, inflection, the tilt of her head and the motion of her hands and arms. But Yasvac channels her inner Kyra Sedgwick to give a Closer-like performance.
When the audience first meets Yasvac's character, she comes across as cold and callous. But she is as conflicted as the man who conceived The Hideaway and the guests who visit that virtual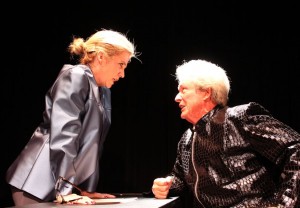 domain to act out their deepest, darkest desires. The script calls for Yasvac to reveal her inner emotions and motivations layer by layer like a sous chef patiently peeling a Vidalia onion. Yazvac's task is complicated by the fact that Morris is a caricature of an overzealous, power-crazed police detective who unabashedly acts as judge and jury. She is mean-spirited, devious and ruthless. Yet,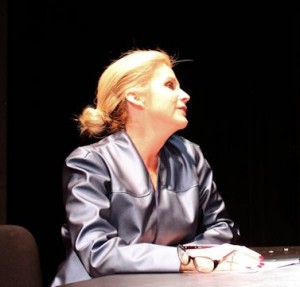 there is more – much more – to her than that, but Yasvac cannot let us know too much, too soon without spoiling the ending. You'll understand what she's up against when you see the show.
A native of Philadelphia, Beth has now lived in Florida for the past 10 years. Her most recent acting credits include the role of Lexie in The Dixie Swim Club at Cultural Park, Doreen in Relatively Speaking at Theatre Conspiracy and Mae Pollitt in Cat on a Hot Tin Roof at Lab Theater.
Published March 10, 2016.