PJ McCready is male nurse Mike in Theatre Conspiracy's '33 Variations'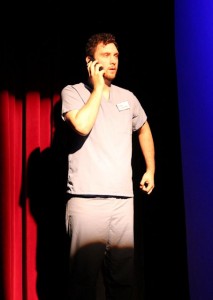 On stage now through February 4 on the Foulds Theatre stage at the Alliance is Theatre Conspiracy's 33 Variations. The production is denoted by superb performances by every member of the talented cast assembled by Director Rachael Endrizzi and Artistic Director Bill Taylor. Among these is the one turned in by PJ McCready who plays a male nurse by the name of Mike.
Mike is assigned early on to perform some tests and take measurements that Dr. Katherine Brandt's physicians will use to measure the progress of the terminal condition from which she suffers – amyotrophic lateral sclerosis or Lou Gehrig's Disease. He quickly becomes infatuated with his patient's daughter, Clara, and some of the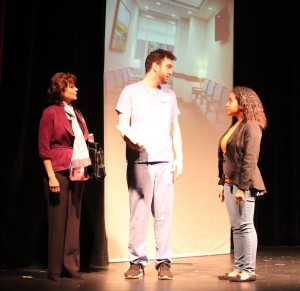 most genuine and humorous scenes involve Mike trying to screw up the courage first to ask her out, and then to hold her hand during a performance by the local symphony he takes her to see.
McCready's character is a catalyst. He's the one who nudges Clara to spend time with her emotionally unavailable mother as her condition worsens dramatically over the course of the play. After Clara's mother chooses the Beethoven archivist she's known only a handful of months as her health care surrogate instead of her, it is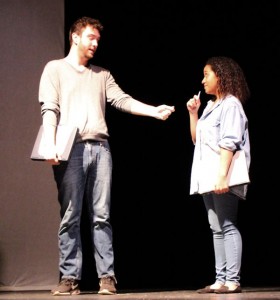 Mike who soberly reassures Clara that even if she's never able to break through her mother's judgmental shell and establish a warm and loving mother-daughter relationship, she will at least have the knowledge that she shared meaningful, quality time with her during her final days. Mike's that kind of guy.
33 Variations marks PJ's Theatre Conspiracy debut. Previous theater credits include First Date, American Falls, Into the Woods, Pippin and Legally Blonde. PJ works as a teaching artist/director for the Alliance of the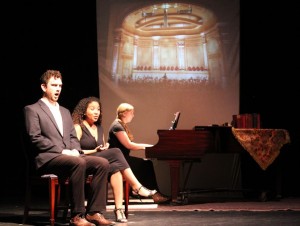 Arts and City Scenes youth theater program.
January 21, 2017.
RELATED POSTS.