Meet Curt Sheard who plays Ma Rainey's trombone-playing band leader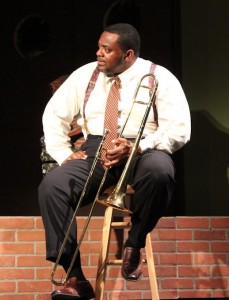 On stage through March 11 in the Foulds Theatre at the Alliance for the Arts is Theatre Conspiracy's production of August Wilson's Ma Rainey's Black Bottom. Playing the role of Ma's band leader on trombone is Curt Sheard.
Sheard is marvelous in the role of Cutler, a musician who loves playing Ma's songs in the same style and manner as they always have. He's a proponent of "don't mess with alright," and sees no reason why the band should embrace the updated, more modern version that the band's new trumpet player advocates in order to bring Ma and the band into conformity with trends in jazz popular in urban areas outside of the burbs. Sheard's character is calm,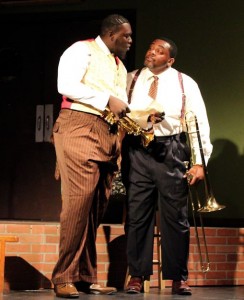 reflective and jovial, but also religious and spiritual. Ridicule his beliefs, and he'll just shake his head. Commit out-and-out blasphemy by attacking the existence of God or arguing that God is white and hates black men and women, and you're likely to find yourself at the receiving end of his fist. And Sheard handles both extremes with equanimity.
Ma Rainey's Black Bottom marks Sheard's acting debut. But he's no stranger to the stage. In 2003, Curt won a comedy contest and performed as the opening act for Tracey Morgan. The father of two, Curt is a native of Fort Myers who loves to laugh, cook and enjoy life.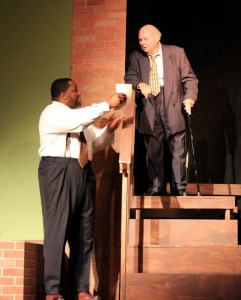 And speaking of cooking, Curt has a passion for barbeque. Ever hear of Big Boi's BBQ and King's Rub? Well, that's Curt's creation, and he sells his Big Boi BBQ products on a nationwide basis. In fact, last year his products caught the attention of Wal-Mart, which began stocking his goods on the shelves of its five stores in Lee County on September 1. They're now also available via the internet.
The deal came about after Sheard traveled to Wal-Mart headquarters in Bentonville, Arkansas, to make a 30-minute presentation to one of the company's product testers. He admits he was nervous, but that feeling soon turned to excitement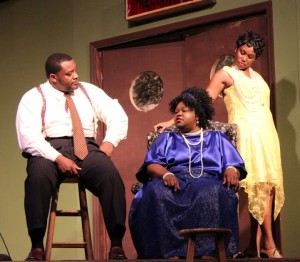 when the tester liked the product. It just goes to show what you can accomplish when you believe in yourself.
Like comedy and now acting.
Don't miss Curt's performance as Cutler in Ma Rainey's Black Bottom.
February 27, 2017.
RELATED POSTS.