'Country Wife' play dates, times and synopsis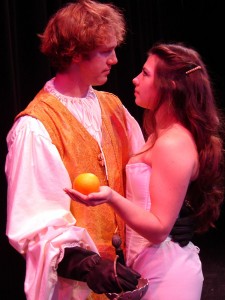 Play:  The Country Wife
Playwright:  William Wycherley
Opening:  December 1, 2016
Play Dates and Times: December 1, 2, 3, 8, 9, 10, 15, 16 and 17 at 8:00 p.m. with one 2:00 p.m. matinee on December 4.
Tag Line:  Bawdy, hilarious, subversive and wickedly satirical comedy.
Plot: Mr. Harry Horner is officially a eunuch. At least, that's what the rumors say. In truth, the lascivious man-about-town has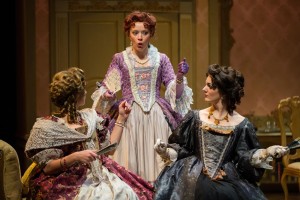 spread the rumor himself, the first step in an ingenious scheme to seduce all the young women of London society. He figures that men will let him near their wives and daughters because he can't have an affair with them, and the women keen on "the sport" are disgusted by his "condition" because they can't get it on with him.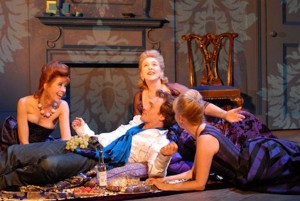 Meanwhile, Mr. Pinchwife has brought his new country wife, Margery, to London for his sister's wedding, but desperately locks her away to keep his bride safe from the clutches of predatory London bachelors. When she and Horner meet, events spin out of control and only hilarity can ensue.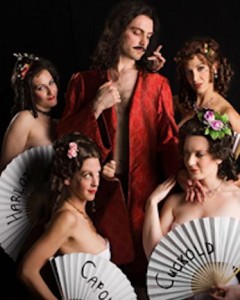 Seem farfetched and ridiculous? Well, perhaps it may help to know that it was written and performed for British audiences of the post-Puritan Restoration in the 17th century. Like many Comedies of Manners from this period, The Country Wife focuses on sexual relations as its primary theme, and Horner represents a trickster figure, a cad, and a no-good dirtbag who's really good at fooling people. We hate him because he's such a liar, but we also love him, because it's so much fun watching him do his thing.
Director:  Karen Goldberg
Cast:  The play stars
Shelley Sanders as Margery, the country wife,
Mitch Haley as Harry Horner,
Jim Yarnes as Pinchwife,
Dena Galyean as Alithea,
Stephen Hooper as Doctor Quack,
Elvis Mortley as Sir Jasper Fidget,
Cantrella Canady as Lady Fidget,
Tom Marsh as Sparkish,
Juan Alejandro as Harcourt, and
Tera Nicole Miller as Squeamish.