Meet 'Taming' actress Anna Grilli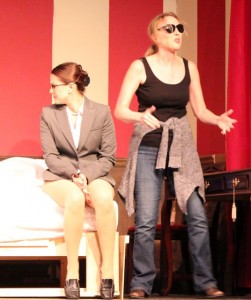 On stage now in the Foulds Theater at the Alliance for the Arts is Theatre Conspiracy's production of Lauren Gunderson's The Taming. Anna Grilli plays the part of Bianca, a crotchety lefty blogger who is kidnapped by a beauty pageant contestant and locked in an Atlanta hotel room with a conservative political operative who works for a Republican senator more interested in seducing his interns than passing the jobs bill drafted by his assistant.
In the guise of Bianca, Grilli takes on the role of a strident, over-the-top liberal intent on talking over and taking apart anyone who does not share her far left, tree-hugging point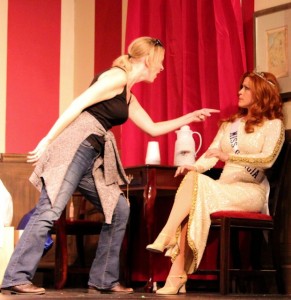 of view. But unlike her red state counterpart, Bianca is unprincipled and will do anything necessary to impress her policy positions on her two million blog followers who ostensibly hang on her every post. Without giving away too much, two of the funnier episodes in this very hilarious play involve Bianca. The first is the almost physical withdrawal she goes through when she awakes in the hotel room to discover that she has been deprived of her cell phone and, with it, to her ability to tweet and connect with her readerss.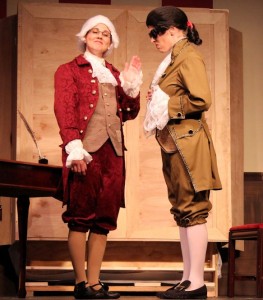 Bianca opposes the job bill that red-state Patricia has drafted and almost single-handedly pushed through her boss' Republican caucus because it means the virtual extinction of America's smallest mammal, a rodent called a panda shrew. These rodents have a right to life, Bianca steadfastly proclaims, and to expand the reach of her stories, she utilizes hashtags attached to the acronym NRA and the slogan "pro life." The look of sheet and utter dejection that Grilli conjures when she learns that her posts have been going to members of National Rifle Association and anti-abortion groups is priceless and worth the price of admission alone.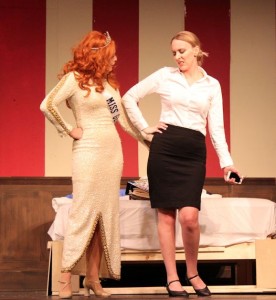 It's ironic that Producing Director Bill Taylor cast Grilli in this part. Originally from Minnesota, in real life Anna is the antithesis of her character. A former IRS agent and government auditor, by day Anna supervises an accounting team at CRE that provides accounting services for the numerous properties the company manages here in Southwest Florida. In contrast to the free-spirited, undisciplined Bianca, Anna's real-life responsibilities include financial reporting and analysis, accounts receivable and payable, collecting rent and paying sales tax, as well as improving job/work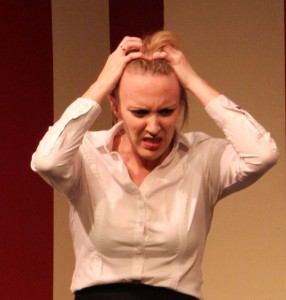 processes through paperless workflow implementation.
Like Lisa Kuchinski, Anna Grilli is making her Theatre Conspiracy debut with this role. Anna got her start by learning to play the piano at the age of six and continuing for more than 20 years. It was only later on that she took voice lessons and began to perform on stage. Some of her favorite roles include Matilda Cartwright in Guys and Dolls, Cecily Pigeon in The Odd Couple, and being part of the ensemble in Chicago.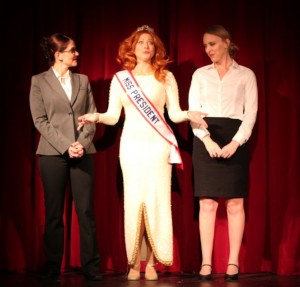 October 15, 2016.
RELATED POSTS.