Rose Thomas caught between warring wigs in 'Hairpiece'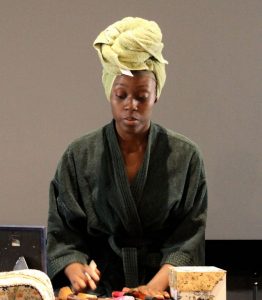 CHANGE is a project focused on getting more minority actors onto SWFL stages in culturally relevant productions. Made possible by a grant from the Southwest Florida Community Foundation, the Alliance for the Arts wrapped up its inaugural 9-week acting course with a graduation production of George Wolfe's edgy play, The Colored Museum. Among the 11 graduates of the inaugural CHANGE class were Tiffany Campbell, Sandra Dixon and Rose Thomas. This insanely talented trio combined their mad, crazy skills in a vignette titled "Hairpiece."
"Hairpiece," focuses on a woman (Rose Thomas) getting ready to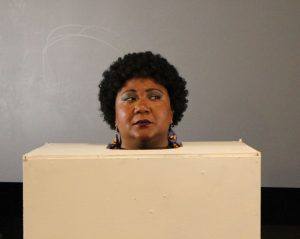 break up with her two-timing boyfriend while her wigs argue about which hair style will give her the most power during the impending confrontation. Tiffany Campbell portrays the first wig, a 1960s Afro with Sandra Dixon countering with a dyed and straightened wig that underscores how African-American women have assayed over time to assimilate into white culture by taming their wild locks and tresses.
It's
patently unfair to compare performances to each other. Wolfe's eleven vignettes are unique; each has its own powerful message and underlying theme. But the banter that Wolfe weaves into the fabric of his script does not just juxtapose humor with poignancy. It provides a platform for all three actors to develop and deliver split-second comedic timing, particularly where Campbell and Dixon are concerned – given that all the audience gets to see of them is their eye rolls and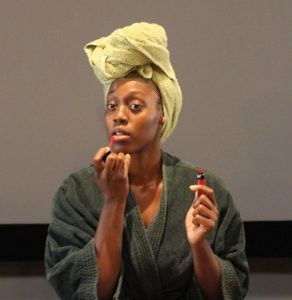 facial expressions. Theirs were truly mesmerizing performances.
Don't misunderstand. Rose Thomas was the glue that made it all work, and her reaction to her warring hairpieces was, well, in a word, "priceless."
All three of these women have as bright of futures as the work they put in in the weeks, months and years ahead.
Tiffany Campbell works as an Assistant Teacher at Edison Park Elementary School, the sound and lighting technician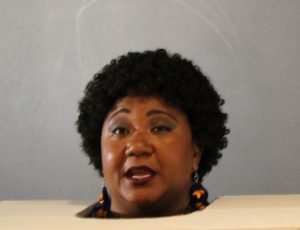 for the Alliance for the Arts, and the theatre instructor for Alliance Art Camp. Participating in the CHANGE course has been a "great refreshed" of the art of acting. "It reminded me of how much I love the craft and how challenging it is to balance the actor's life and the parent's life," Tiffany says.
Theatre Conspiracy audiences are already familiar with Rose Thomas' work.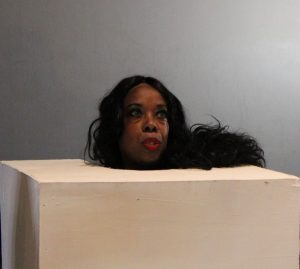 She just played Beneatha in the Lorraine Hansberry classic, A Raisin in the Sun. [You can read about that performance here.] Rose works within the customer service sector. Just 23, Thomas has two beautiful children and also owns her own online boutique called Hautesista.com. When she's not working, she enjoys spending time with the kiddos and doing photoshoots. She believes that nothing in life comes easy and is willing to work hard to get it. Participating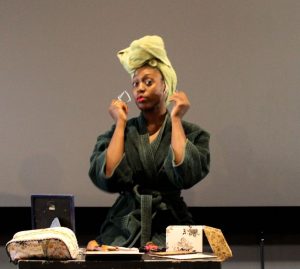 in the CHANGE course has taught her to "aim higher for what you are fighting for."
Sandra Dixon has the most theatrical experience of the trio. She too was in A Raisin in the Sun, where she played a busy-body neighbor hand with the disparaging remark. Prior to that, Sandra chilled Lab Theater audiences with her portrayal of evil Dr. Eve Bollinger in the Del Shores cult classic, Sordid Lives. Other credits include Body & Sold for Lab Theater and The Fantastiks, Agatha Christie's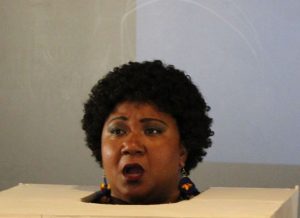 And Then There Were None, Music Man and Elvis Has Left the Building for Cultural Park Theatre.
This past December, Sandra bravely ventured into the realm of playwriting when she participated in The Lab's 24-Hour Playwriting Challenge.
Prior to relocating to the Cape in 2012, Dixon also performed in community theater productions of The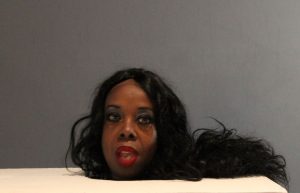 Women and Little Shop of Horrors.
Sandra has been an occupational therapist for 30 years. Participating in the CHANGE class taught her the "importance of building a character's depth, using action verbs, playing opposites and always fighting for what you want in a scene."
Southwest Florida theater-goers can look forward to great
things from each of these dedicated thespians.
August 8, 2018.