Homicide turns hilarious in Theatre Conspiracy's 'Murderers'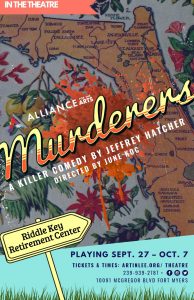 Theatre Conspiracy at the Alliance for the Arts continues its 25th consecutive theatre season with a world premiere play: Murderers by Jeffrey Hatcher. Shelley Sanders, Rob Green and Carolyn England star as the most delightful killers you'd ever want to meet!
Gerald, Lucy and Minka look like everyday people. Each relates to us as they would a trusted friend. But they have one dark secret in common. They're murderers! But homicide has never been so hilarious in this quirky whodunit. Except you know whodunit; the fun is finding out how they dunit and why. Set in Riddle Key Retirement Center in Riddle, Florida, three unlikely killers justify their crimes in the most outrageous ways. Let's just say, money, health, money, death and money are all involved!
The play opens September 27 in the Foulds Theatre at the Alliance for the Arts. June Koc directs.
September 21, 2018.