Shelley Sanders' Minka Lupino in a class of avenging angels all her own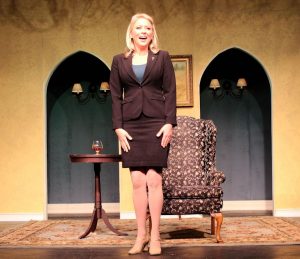 On stage through October 7 in the Foulds Theatre at the Alliance for the Arts is Theatre Conspiracy's production of Jeffrey Hatcher's Murderers. The action takes place in an upscale retirement community in Riddle, Florida where death has a gate pass, designated parking space and a cot in the infirmary. But at Riddle Key Retirement Center, only a few of the Grim Reaper's house calls result from natural causes. That's because there's murder afoot and the culprits are anything but the usual suspects.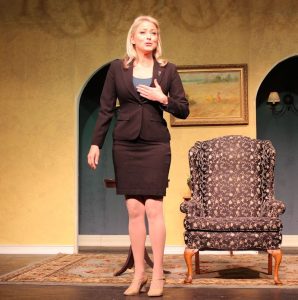 Take Minka Lupino, for example. She's the administrative assistant at Riddle Key Retirement Center. She's a murderer to be sure. But she doesn't kill for personal gain, profit or psychopathic propensity. She kills when people violate her highly-developed "just world view."
Shelley Sanders plays the part and is sensational in the role. But over the course of her 35-plus minute monologue, she doesn't just play the part of Minka Lupino. She breathes life into each of the denizens of Riddle Key who get their comeuppance with a gentle nudge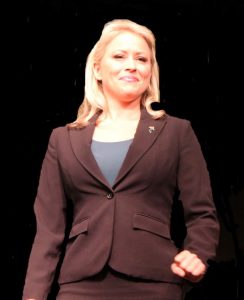 or more forceful assist from her carefully-manicured helping hands. Sanders uses a theatrical tool box filled with accents, inflections and non-verbal cues to effect these transitions and transformation in a spellbinding display that Southwest Florida theater-goers haven't seen since Tera Nicole Miller's jaw-dropping performance in The Amish Project. Yes, Sanders is that talented, although her Minka is admittedly the comedic flip side of the deeply dramatic characters and issues involved in The Amish Project.
With Minka, Sanders becomes the latest actor to bring cheaters and other scoundrels to justice dating back to The Lone Ranger between 1949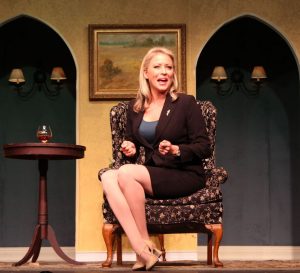 and 1957. While today most know Kemosabe through the 2013 film starring Armie Hammer as the Lone Ranger and Johnny Depp as Tonto, back in the '50s, the Lone Ranger rode the American plains righting wrongs and bringing fairness and justice to the wild, wild west.
In a similar vein, there was Zorro, especially the one played by Antonio Banderas. But these masked men rarely killed, and then only as a last resort.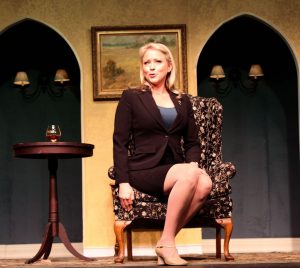 Dexter, by contrast, is a serial killer like Sanders' Minka Lupino. Both are serial killers, but they only off people who deserve to be killed. In Minka's case, her victims are unconscionable opportunists who'd get away with preying on Riddle Key's hapless residents but for her divinely-ordained intervention. And what Shelley Sanders seems to understand on a visceral basis if not in the frontal lobe of her big brain is that nothing triggers our own innate fairness circuitry than scoundrels who get away with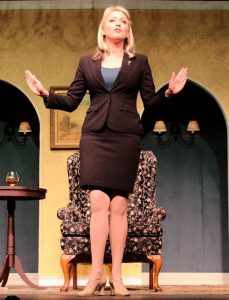 dastardly deeds perpetrated on the old, the infirm and the helpless.
But like the Lone Ranger and Dexter, the history of theater and film is strewn with men who've filled the role of avenger or Marvel Superhero. Until just recently. Fast forward to Jennifer Garner, who has emerged two weeks ago to seek revenge in Peppermint against those who killed her husband and daughter in a senseless act or violence, and the police, lawyers and judge who let them go free.
So, you're undoubtedly wondering, how does Sanders compare to Garner? Is it even fair or proper to utter both names in the same sentence?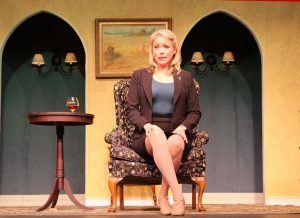 The answer is yes and what they have in common can be summarized with a single word – commitment. Both actors are totally committed to their character's psyche, motivation and intractable sense of justice and fairness.
While most reviewers panned Peppermint, they roundly praised Garner for her all-in rendition of a housewife-turned-vigilante, calling the "crazy, glazed quality to her eyes in the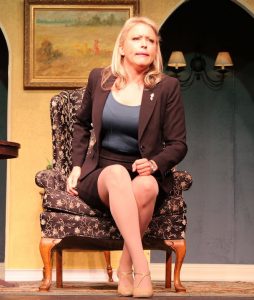 more extreme moments of violence" as "genuinely chilling at times." Sanders is equally chilling as judge, jury and executioner, albeit for a totally different reason. What stands out during her performance as Minka Lupino is the beatific serenity with which she recounts her misdeeds. Sanders' Minka is a woman who truly enjoys meting out justice to those who dare prey upon the sick and the elderly under her ersatz protection. And it's easy to envision that whether she's opening gifts on Christmas morning, enjoying a glass of fine wine or dispatching some scumbag to meet his or her maker, the smile is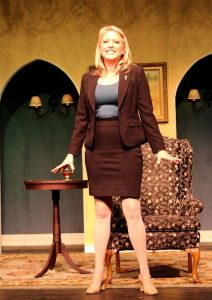 the same. And that complete lack of remorse, that absence of reservation, that amoral certitude in what she is doing places Shelley Sanders' Minka in a class of her own.
While her performance in Murderers stands on its own merits, an argument can be made that it's just prep for yet another character with a rep for protecting the vulnerable. Later this season, Ms. Sanders will play Maid Marian in Marian, or the True Tale of Robin Hood, where it is finally revealed to the world after all these years that Robin Hood is – and has always been – Maid Marian in disguise.
But before that,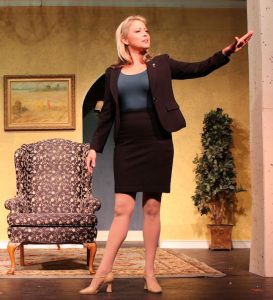 you can enjoy Sanders in Hand to God, where she will play the role of Margery, a woman runs a Christian Puppet Ministry at the local church in the tiny, conservative town of Cypress, Texas (which, coincidentally, is just an hour and a half drive through Houston to Shelley's home town of Friendswood, not far from Trinity and Galveston Bay).
Sanders was last seen in Cultural Park Theatre's production of The 39 Steps. She was last on the boards at Foulds Theatre as yet another Margery, in The Country Wife.
Other memorable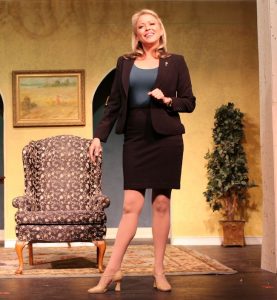 roles include ex-con lounge singer Bitsy Mae Harling in Del Shores' cult classic Sordid Lives (for Lab Theater), Miss Georgia in The Taming (for Theatre Conspiracy), Mr. Burns, The Post-Electric Play (also for Theatre Conspiracy) Lulu in Cabaret (for Lab), Cassie in A Chorus Line, Grace Farrell and Lilly St. Regis in Annie, Mona in Chicago, Eileen in Moon over Buffalo, Dinah in South Pacific, Sarah in Table Manners, Fermina in Man of LaMancha, and Bianca in Taming of the Shrew. She has also appeared as Suzette in Don't Dress for Dinner and Anna in The Closer, as well as Lab's 24-Hour Playwriting Challenge.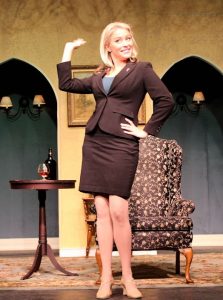 But if you want to see Shelley Sanders before Murderers leaves the stage, hurry on down to the Alliance for the Arts. The show closes on Sunday with a 2:00 p.m. matinee.
October 3, 2018.
RELATED POSTS.