Staged Readings
This page contains articles, news and reviews regarding staged readings taking place at Theatre Conspiracy.
Theatre Conspiracy to do staged reading of Wigglesworth's 'Afterlife of Swans' (01-10-17)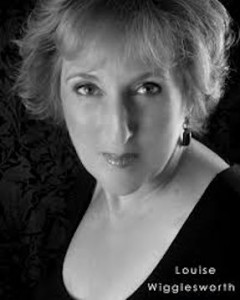 On January 23, Theatre Conspiracy will give a staged reading of Louise Wigglesworth's play The Afterlife of the Swans. The reading will take place in the Foulds Theatre at the Alliance for the Arts beginning at 8:00 p.m. Admission is free, although a $5 donation is requested.
The premise is somewhat dystopian. All the fail-safes have failed and the unthinkable has occurred. Manhattan is blacked out and violence rages in its streets. A renowned actress who has just given her farewell performance is wandering alone in the bowels of the city's oldest theater until she meets another of the theater's occupants, a stranger whose life she unknowingly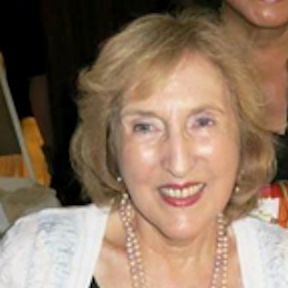 saved years before.
Theatre Conspiracy has given staged readings to two of Wigglesworth's other plays, Penumbra and Play Until You Win. Productions of other plays include
Coercion by Playwrights Round Table,
Seasonal Migrations at Foundation Theater,
her stage adaptation of Albert Camus' The Plague for The Laboratory Theater of Florida,
Final Stage, an adaptation for females of Anton Chekhov's Swan Song called at the Sidney & Berne Davis Art Center, and
Drawing the Human Form at Cultural Park Theatre.
Her 10-minute play Real Art was a finalist in a playwrighting contest hosted by City Theatre of Miami and is also published by Citywrights Anthology. Real Art, along with one-act plays Second Movement, Anywhere from Here and Penumbra have all won annual competitions at the
Naples Players. Other works under development include The Migrant's House, Dance Life and Gulls in the Wind.
Louise's youth plays, Seeing Red and In My Brother's Name, have had productions in schools and children's theater groups.
Her plays can be read on the New Play Exchange at https://newplayexchange.org/users/3413/louise-wigglesworth.
Believing that directing and performing helps a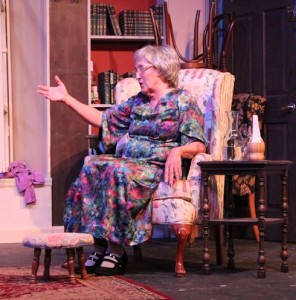 playwright better understand problems involved in writing for the stage, she has directed and performed in area theaters. Most recently, she appeared in Lab Theater's production of Arthur Kopit's Wings. Before coming out of a self-imposed hiatus last season to play the lead (Alexandra) in Eric Coble's Velocity of Autumn, her acting credits included Bernarda in The House of Bernarda Alba, Mary Winrod in The Rimers of Eldridge, Ethel Thayer in On Golden Pond, Mother in Women Beware of Women, Leda Largo in her own play,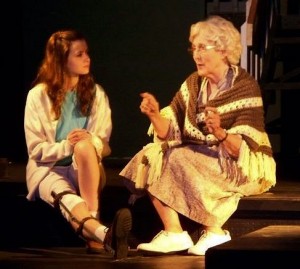 Final Stage, and Mrs. Trotsky in Variations on The Death of Trotsky, all for Laboratory Theater. Other roles have included Mrs. Gottleib in Dead Man's Cell Phone, Lucille in The Oldest Profession for Theatre Conspiracy, and Abby Brewster in Arsenic and Old Lace.
Louise teaches playwriting at Lab Theater, is a member of the Board, and a member of The Dramatists Guild, Theatre Conspiracy Playwrights and Playwrights Round Table, and the National League of American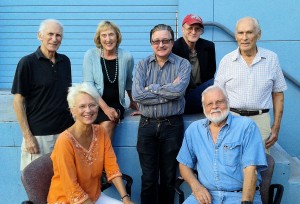 Pen Women (NLAPW). She is also a Fellow of The Geraldine R. Dodge Program for Teachers and Playwrights for six years, during which she had workshops and summer residencies with professional playwrights, actors and directors in the NYC area. She has a Master of Arts in Theatre from Catholic University and taught English and drama at the secondary and college levels in her native New Jersey. She has received grants from The American Association of University Women to support the development of work.
______________________________________________________
Staged Reading of Fay Ellen Graetz's 'The Pact' at Theatre Conspiracy on February 22 (02-13-16)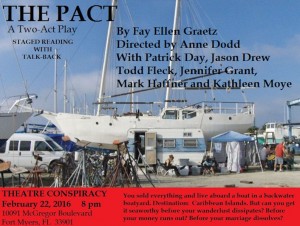 Fay Ellen Graetz has written a two-act play called The Pact. It's about a couple who lose their jobs and make a pact to postpone careers and parenthood to sail the Caribbean. So Tom and Victoria sell everything to live aboard a boat in a backwater boatyard while they undertake costly repairs to make the vessel seaworthy.The marina abounds with characters with their own reasons to live on the fringe. Revelations float to the surface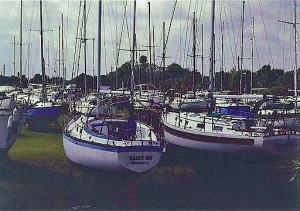 tangled in personal agendas, dark histories and unconventional solutions. Can Tom and Victoria get The Liberty seaworthy before their wanderlust dissipates? Before their money runs out? Before their marriage is scuttled? Find out at the Foulds Theater inside the Alliance for the Arts on February 22. That's when Theatre Conspiracy will hold a staged reading of the play.Find out at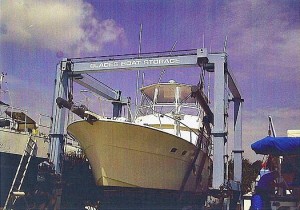 the Foulds Theater inside the Alliance for the Arts on February 22. That's when Theatre Conspiracy will hold a staged reading of the play.
Anne Dodd directs an all-star cast that consists of Patrick Day, Jason Drew, Todd Fleck, Jennifer Grant, Mark Haffner and Kathleen Moye.
Anne Dodd studied theatre at Vanderbilt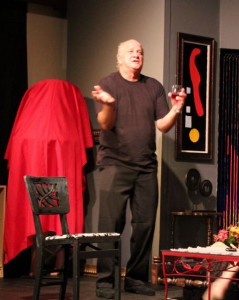 University and with Bill Hickey at HB Studio in New York City. She has acted in repertory theater throughout the United States. Locally, Anne has performed with Lab Theater, Theatre Conspiracy and Cultural Park Theatre. She was last seen in A.R. Gurney's Sylvia at the Herb Strauss Theatre in Sanibel. Anne directed CPT's sold-out run of The Dixie Swim Club as well as last summer's Lab Theater hit, Happy, which starred Todd Fleck and Patrick Day.
Patrick Day is an engineer by day and thespian by night. He was last seen on the Lab Theater stage playing Comet in The Eight: Reindeer Monologues. Before that, he was the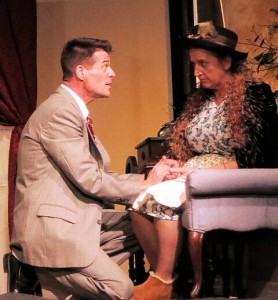 bubbly Eduardo in Happy and Emperor Joseph in Amadeus. He has performed at the Herb Strauss Theater in Sanibel, Theatre Conspiracy in Fort Myers, and Cultural Park Theater in Cape Coral. Some of Patrick's favorite roles include Greg in Sylvia, George Hay in Moon Over Buffalo, David Kahn in Social Security, Serge in Art, and Matthew Perry in A Little Murder Never Hurt Anybody.
Jason Drew gave memorable performances as Julian Berniers in Theatre Conspiracy's production of Lillian Hellman's Toys in the Attic and as Cliff Bradshaw in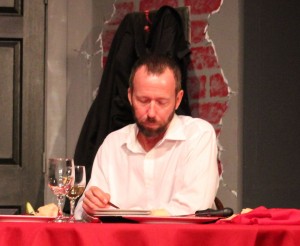 Lab Theater's blockbuster revival of Cabaret.
A graduate of Indiana University and former member of The Ensemble of Artists at The Bloomington Playwrights Project in Bloomington, Indiana, Todd Fleck starred opposite Stella Ruiz and along with Patrick Day in last summer's Happy. He has previously played Brick in Cat on a Hot Tin Roof, Marty Pascal in The House of Yes and Larry in Relatively Speaking. He has
appeared in independent and feature films, and has also worked on TV shows for The Discovery Channel and The History Channel while residing in Chicago.
Theatre Conspiracy audiences will remember Jennifer Grant from The Whale.
Mark Haffner just completed a run as son Chris in Lab Theater's production of Eric Coble's The Velocity of Autumn. He is an Emmy Award winning music, video and entertainment professional working for over 25 years as a writer, producer, songwriter, singer, voice actor and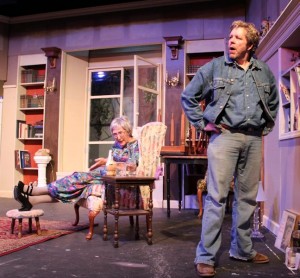 creative director for TV, film and radio ads and programs. He studied jazz composition, piano, and sax at North Texas State University and completed his BBA in Music Business at Belmont University in Nashville. Prior to moving to Southwest Florida to raise his three children, he established his career in San Francisco and Los Angeles working with broadcast and film clients worldwide. He has recorded his original music works with the Seattle Symphony and composed the theme for the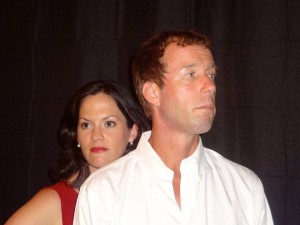 Magical World of Disney on the Disney Channel. Haffner advanced his acting skills through voice-acting by working with and learning from some of the world's top voice actors in L.A. Though he has worked extensively on dramatic and narrative storytelling projects in film and TV, The Velocity of Autumn marked his reintroduction to the theatrical stage since being a student actor and performer.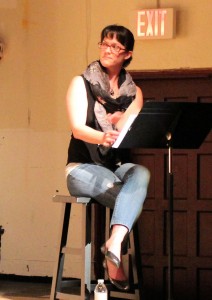 Kathleen Moye is an accredited public relations professional, specializing in content marketing and storytelling for businesses, individuals and projects. Local audiences will remember her roles in last year's production of Mr. Burns A Post-Electric Play at Theatre Conspiracy and opposite Todd Fleck as the incomparable Jackie O in House of Yes. Kathleen is no stranger to staged readings, either, having directed Huddle House Secrets for Lab Theater in January of 2015.
There will also be a talk-back after the reading.
The Alliance for the Arts is located at 10091 McGregor Blvd., just south of the intersection with Colonial Boulevard. The reading starts promptly at 8:00 p.m. Tickets are just $5 at the door.