Sophia Albrecht conveys uncompromising conviction as 'Rock of Ages' Anita Bath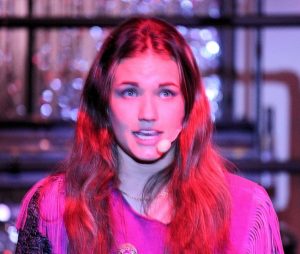 On stage for four (4) shows only at Cultural Park Theater is Melody Lane Theater Department's production of Rock of Ages: High School Edition. Playing the role of the Mayor's assistant, Anita Bath, is Sophia Albrecht.
In the story, a German developer sweeps into town bent on turning the fabled Sunset Strip into just another capitalist strip mall. The Mayor supports the plan because she wants more than anything to rid the Strip of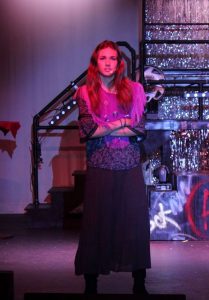 shady rock 'n roll clubs like the Bourbon Room. Her assistant, Anita Bath, couldn't disagree more with stripping the Strip of its character and history. To make her point, she organizes a protest to stop the developer and save the Bourbon Room. After all, we built this city on rock and roll.
The part of Anita Bath calls for an actor with a strong voice who is capable of conveying an uncompromising sense of purpose and conviction. In other words, it demands an actor with the skills, stage presence and work ethic of Sophia Albrecht to breathe life into the character and imbue her with authenticity. Albrecht does this and even more. She not wins over the audience, but induces them to become invested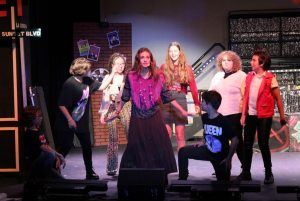 right along with her in the outcome of the show. In so doing, Albrecht demonstrates that she's a talent we should, and will be seeing in bigger and better parts as time goes on.
Albrecht attends Bishop Verot High School. She dances both in and out of school, doing theater in her free time. To date, Bet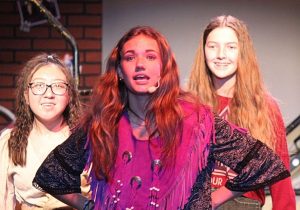 in the musical Oliver Twist has been her favorite role, but she also played Logainne "Schwartz" Schwartzandgrubenierre in The 25th Annual Putnam County Spelling Bee, splitting time with Julia Styner. But in the latter production, Sophia also took on the role of "swing" or understudy for a number of other roles.
July 9, 2021.