Jeremy Garzon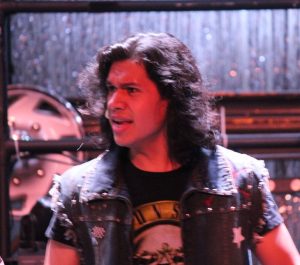 Jeremy Garzon is Drew Boley in Melody Lane Performing Arts Center's production of Rock of Ages High School Edition. After a year's interruption due to the COVID-19 pandemic, this aspiring actor is college bound. He'll be joining a select group of 200 students from around the country the Fall in the Theatre Conservatory of Chicago College of Performing Arts at Roosevelt University. He's poised for success. Jeremy's past stage credits include the roles of Leaf Coneybear in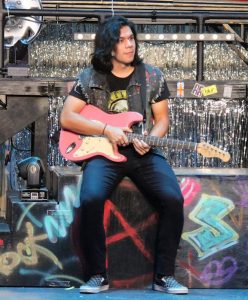 The 25th Annual Putnam County Spelling Bee, Tweedle Dum in Alice in Wonderland Jr. for Creative Theatre Workshop (2019), Mr. Bucket in Willy Wonka Junior for Creative Theatre Workshop (2018 ), Nicky in Avenue Q  and TJ in Sister Act 1 for Island Coast High School) and parts in Aladdin and Theory of Relativity.
As Drew Boley, Garzon's biggest challenge was line load, voice, blocking or choreography, but doing the research to get into the mindset of the platinum gods of the mid-to-late-'80s. That was more his mom's generation than his – a musical era dominated by hard rock and heavy metal bands that featured longhair, bad boy,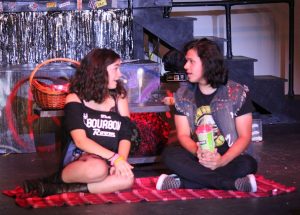 shock rock lead singers and guitarists such as Queen's Freddie Mercury, Bon Jovi (which created a unique blend of pop and hard rock), Vince Neil of Motley Crue, James Hetfield of Metallica, Anthrax' Belladonna and Dave Mustaine of Megadeath. Though criticized at times for its gruesome visuals, grinding riffs or screeching solos, both hard rock and heavy metal bands of the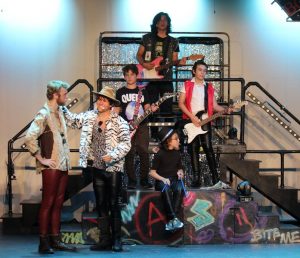 80's played a crucial role in the development of '90s alternative or grunge music. Along the way, they also vocalized the emotion and, sometimes, the anger for many, mostly young and male, fans. But Jeremy's research paid off. He definitely channels the wannabe rocker mentality that lies at the heart of the show.
July 11, 2021.